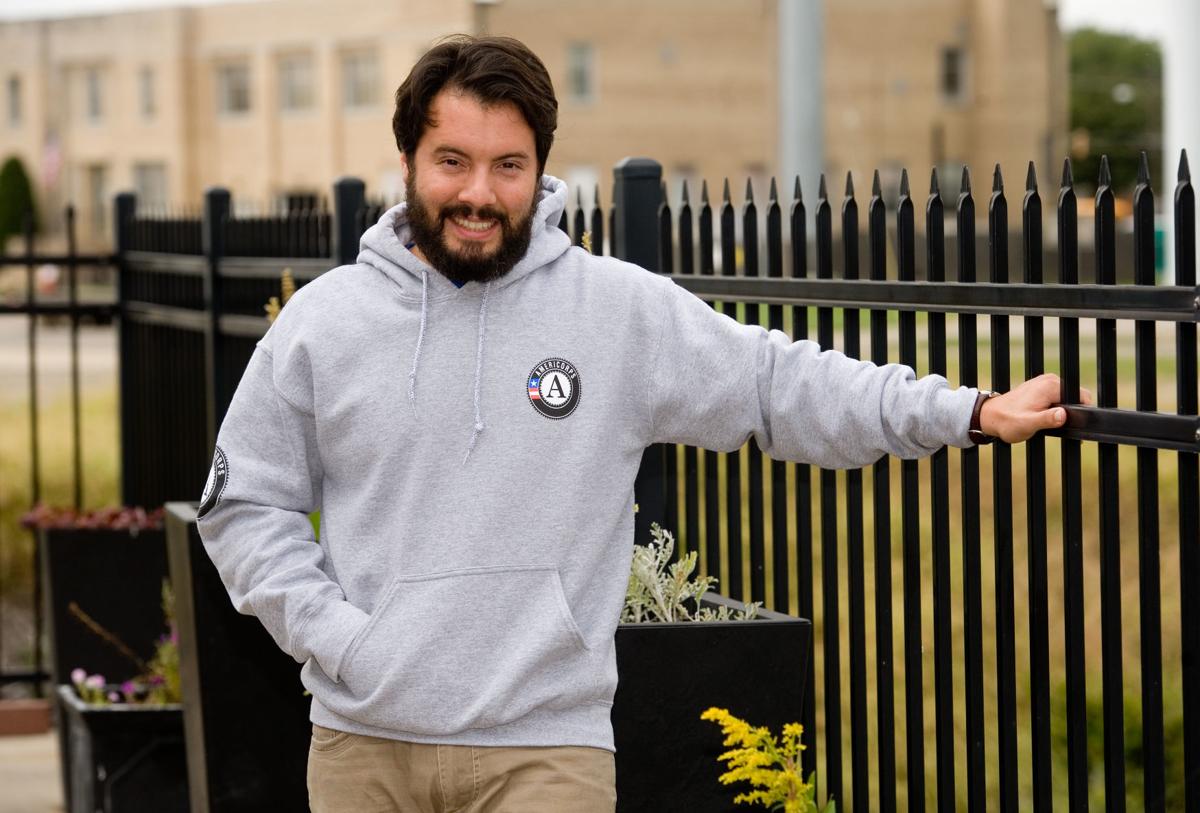 MATTOON -- The community's new Peace Corps Fellow intern, Carlos Ortega, is helping with efforts to create a business incubator at the Cross County Mall and with other community development projects.
The Springfield native started serving in Mattoon in mid-September as part of a program offered through AmeriCorps Illinois and the Illinois Institute of Rural Affairs in Macomb. His 11-month posting resulted from an application submitted by participants in the Mattoon in Motion community planning effort.
"I am just looking forward to serving the people of Mattoon and working with Mattoon in Motion to move along that process," Ortega said during an interview on the back patio of the train depot. Ortega has been given office space in the Mattoon Tourism and Arts Department office at the depot.
Ortega, 30, is pursuing a master's in public policy/administration at Western Illinois University in Macomb, where he also is a graduate assistant at the Illinois Small Business Development Center. The Mattoon Chamber of Commerce already has been utilizing Ortega to assist with a small business development project involving the local mall, which is owned by the Mattoon-based Rural King company.
"One exciting project Carlos has been helping with is a collaborative effort with Rural King and the (Mattoon in Motion) robust economy committee at the Cross County Mall to develop a workspace for entrepreneurs and innovators to reach their dreams and flourish here in Mattoon," wrote Chamber Director Ed Dowd in one of his recent newspaper columns.
Ortega said the business incubator, also known as an innovation center, will provide a location where fledgling businesses can start up their operations. Ortega said he and the Chamber recently submitted a Google Grant application to help fund the business incubator and they have been researching innovation centers in other communities.
Economic development is one of six long-term goal areas set by Mattoon in Motion participants. The other goal areas are workforce training, tourism promotion, youth development, parks and recreation upgrades, and housing improvements.
Ortega said Mattoon in Motion's economic development and workforce training subcommittees submitted the application to the Peace Corps Fellow program, but he will be working with all of the goal areas during his internship.
For example, Ortega said he is assisting the housing improvements subcommittee with creating a database of owner occupied homes that are eligible for a Coles County Habitat for Humanity housing renovation program. Ortega said he encourages other community members who are passionate about various issues in the community to volunteer with the related Mattoon in Motion subcommittees.
Mattoon City Council member Rick Hall introduced Ortega during the council meeting Tuesday evening. Hall said Ortega will be working on community development projects, including the business incubator, through an internship that has been completely funded by local donors.
The Peace Corps Fellows program is a graduate fellowship program that enrolls returning Peace Corps volunteers. Prior to enrolling in this program, Ortega served as a Peace Corps Volunteer for one year in Kenya and for three years in Namibia. He service include helping with health screening and vaccination programs in Kenya, and working as a teacher in Namibia.
Ortega said he has a passion for learning about other cultures and he has loved volunteering ever since he helped built homes as a teenage volunteer for four years with Sangamon County Habitat for Humanity.
"Seeing the joy on people's faces when they received the keys to their homes was something that always touched me. I felt dedicated to serve from then on," Ortega said.
More information about the community planning projects is available at the Mattoon in Motion page on Facebook. Ortega also is developing a Mattoon in Motion website.