---
MATTOON — A fire Thursday afternoon severely damaged part of the Motel 6 on south U.S. Route 45, displacing several overnight guests and long-term tenants.
Interim Chief Kris Phipps of the Mattoon Fire Department said one tenant was treated on scene by paramedics after he reportedly suffered burns to one of his hands and smoke inhalation while trying to rescue his dog from his room, but declined to be taken to the hospital. Phipps said a firefighter was hospitalized after getting dehydrated at the scene.
"Right now, this motel will be shut down due to safety concerns until the building is inspected and gone over," Phipps said. He added that the city's building inspection staff will ensure that utilities are temporarily turned off at this two-story motel, 4200 Lake Land Boulevard, just north of McDonald's.
Phipps said he did not have a count yet for how many guests were staying at the Motel 6 at the time of the fire, but the local chapter of the American Red Cross was called in to help get temporary lodging and other assistance for them.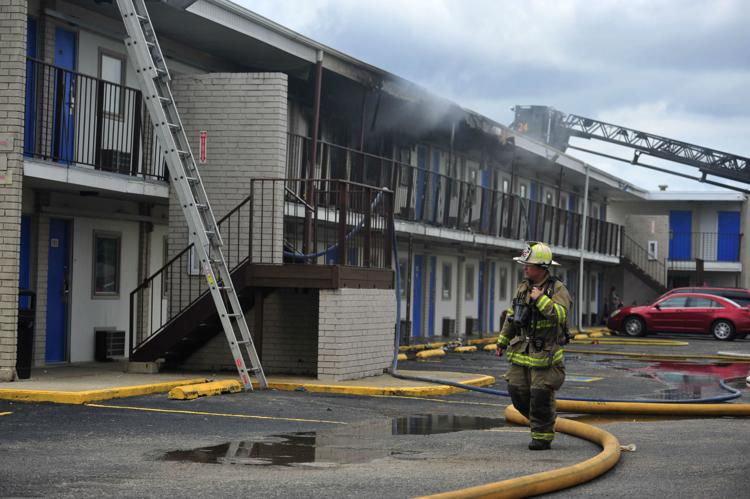 Firefighters were dispatched after 2 p.m. in response to 911 calls about the fire. Phipps said the firefighters found flames blowing out the door of a room on the east side of the second floor, where the fire appears to have started. He said they quickly knocked down the fire.
Phipps said later Thursday evening that fire investigators have determined that a malfunctioning air conditioner caused the fire.
Tenant and housekeeper Margi Craig said she had just finished cleaning a room on the first floor when she heard a loud "pop" sound. She said she then looked around and saw flames coming from the vicinity of an air conditioner at a room on the second floor, near her family's room. She said their belongings likely suffered smoke and water damage, at a minimum.
Craig and her husband, John, live on site with their grandson and their Jack Russell terrier. They gathered with their neighbors, some of whom also have dogs, in the back parking lot of Motel 6 as the firefighters finished up their work at the scene.
You have free articles remaining.
Keep reading for FREE!
Enjoy more articles by signing up or logging in. No credit card required.
"Everyone got out all right and that's the good thing," John Craig said.
One of the motel owners, who declined to give her name, said she was focused on making sure that all of her guests were all right. She said several of the motel rooms were in use on Thursday, but many of the long-term tenants were at work when the fire started.
Truck driver Willy LePage said he made reservations to stay at the Motel 6 on the way through Illinois because it is a pet-friendly motel. LePage travels with his 2-year-old pug and pit bull mix, Noodles. LePage had Noodles leashed on the grassy front lawn of the Motel 6 on Thursday as he contemplated other options for them staying the night.
"Now, I have to find a pet-friendly hotel down the road," LePage said.
Most of the firefighters cleared the scene by 5 p.m. Thursday. Mattoon fire was assisted with the response to the Motel 6 fire by the Charleston Fire Department, Cooks Mills and Lincoln fire protection districts, Mattoon Police Department and Mitchell-Jerdan Ambulance Service.
---