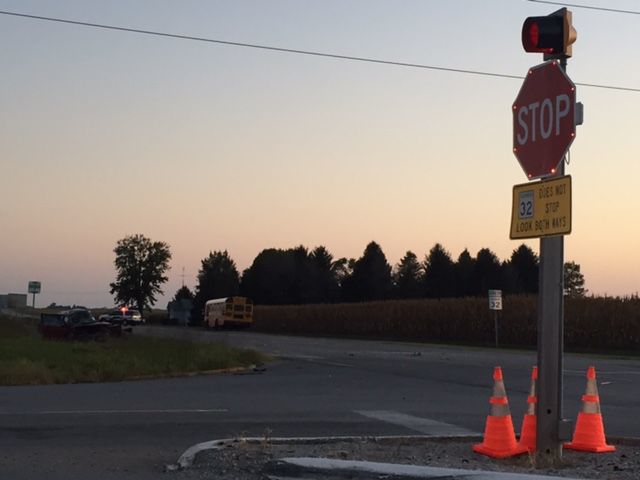 SULLIVAN — Communities are mourning after a crash that killed a 5-year-old student at Sullivan Elementary School and a 56-year-old former teacher from Decatur. 
Moultrie County Coroner Lynn Reed released the names of the victims on Saturday. The crash took place Friday afternoon between an SUV and school bus. Reed said he pronounced Tyson G. Mendoza, 5, from Gays, and Lori E. Samples, 56, of Decatur, dead at the scene.
Illinois State Police said Samples drove a maroon Ford Edge into the path of the school bus at 3:39 p.m. Friday. 
According to the preliminary crash investigation, the bus was southbound on Illinois 32. The eastbound SUV stopped at the marked intersection and then proceeded into the intersection and into the path of the bus. The bus struck the SUV's driver's side door.
There were 11 students on the bus. The SUV did not have any passengers. 
The crash remains under investigation.
An interfaith gathering is planned at 12:30 p.m. Sunday at Sullivan Elementary School. 
Sullivan schools superintendent Ted Walk also has scheduled an informal meeting offering tips and support for parents in discussing the tragedy with their children. Families can gather at 4:30 p.m. Sunday at the Sullivan Elementary School Gym. The area crisis team, consisting of school psychologists, social workers and counselors, will be available Monday for students and staff.
On Saturday, the school district said in another Facebook post that students and faculty were encouraged to wear blue, Tyson's favorite color, on Monday. The Sullivan community was invited to join as well. The Sullivan Parent-Teacher Organization will be collecting money for a memorial fund. 
"This tragedy has affected us all, regardless of whether or not we knew Tyson," the school district said. "In times like these, we need to rely on each other and grow as a school family."
In an obituary posted by the Shilling Funeral Home, Tyson's family described him as a great student who loved to play outside, ride his four-wheeler, make friends and learn, especially about dinosaurs.
"He was the sweetest and most loving little boy," it said. "Tyson's smile and tender heart will be deeply missed."
Decatur's Our Lady of Lourdes Principal Theresa Bowser notified parents and staff Friday evening about Samples' death in the accident. Samples was a teacher for 30 years at the school. During the 2018-2019 academic year, her last year of teaching at the school, she taught third grade.
"Please keep the Samples family and the Sullivan community in your prayers as they deal with this tragic loss," Bowser said in the email.
Counselors will be available on Monday at Our Lady of Lourdes and St. Teresa High School.
The same intersection was also the site of a crash between a minivan and school bus carrying Teutopolis High School basketball players, cheerleaders and faculty in February 2017. Five students were taken to a hospital with injuries in that crash. The minivan driver pleaded guilty to a charge of aggravated driving under the influence. 
Contact Donnette Beckett at (217) 421-6983. Follow her on Twitter: @donnettebHR
Be the first to know
Get local news delivered to your inbox!