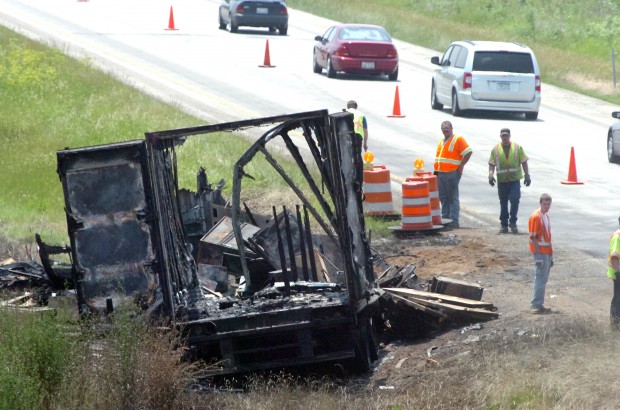 Authorities in three counties have identified three dead, including a Toledo resident, from Tuesday's semi-truck crashes along Interstate 57 near Mattoon and Neoga.
Raymond P. Houser Jr., 67, of Toledo was pronounced dead at 6:25 p.m. Tuesday in the Carle Foundation Hospital emergency department in Urbana, according to the Champaign County coroner's office. Houser was a passenger in a van struck by a semi-rig near the U.S. Route 45 interchange near mile post marker 185 of I-57.
Dale E. Tanksley, 56, Bee Branch, Ark., died in a burning truck tractor rig right before 3 p.m. after the chain-reaction crash involving four other vehicles, said Coles County Coroner Ed Schniers today. An autopsy is planned for Tanksley, who reportedly failed to stop for slowed traffic and struck a pickup truck, leading to multiple collisions involving the van carrying Houser, another semi-truck, an additional van and a pickup truck, based on information released Wednesday morning from Illinois State Police District 10 Headquarters in Pesotum.
The accident near Mattoon occurred after a semi failed to reduce speed upon approaching the stalled southbound traffic from the first accident on I-57 near Neoga.
Tanksley's semi hit a pickup truck in the right lane that was slowing down, forcing it into the median, according to an ISP report. The semi continued to hit a minivan in the right lane also sending it into the median, and hit a second semi in the left lane. The semi then burst into flames and came to rest on the right side of the road. The vehicle in front of the second semi was damaged by flames from the fire.
Authorities identified Lawrence Baunsgard, 50, of Waterford, Mich. as the single fatality from the first accident at about 2 p.m. two miles north of Neoga. The resulting traffic jam on the interstate from that crash was a contributing factor to the fatalities near Mattoon an hour later, based on ISP reports. What caused the truck drivers to strike vehicles at the separate accident scenes is still under investigation.
David Erlinger, 24, of Albers, Ill., was treated at Sarah Bush Lincoln Health Center after receiving injuries from the accident north of Neoga, according to the Illinois State Police District 12 Headquarters in Effingham.
Erlinger was parked on the shoulder of the southbound lane and was outside of his semi checking the condition of a blown tire at the time of the accident. His rig was hit by a second semi driven by Baunsgard, who was later pronounced dead at the scene, where his semi caught fire after crashing into the median.
There were several injured from the Mattoon accident. Injured and hospitalized were Dale F. Hulsey of Kinmundy, a driver of the van carrying Houser, and other passengers, Katie M. Harvey of Newton and Jacob E. Thompson of Cowden; Bobby S. Beach of Adamsville, Tenn., a semi-truck driver, and passenger Gregory K. Anderson of Union, Miss.; and Hope J. Timmons of Effingham, a van driver.
Harvey was airlifted to Carle Hospital from the accident scene, while Thompson and Hulsey were also taken to the Urbana hospital. Beach, Anderson and Timmons were taken to Sarah Bush Lincoln Health Center.
Hulsey was listed in serious condition this morning at Carle Hospital, a hospital spokeswoman said. Thompson was listed in fair condition, and no information was available Wednesday for Harvey.
One driver from the Mattoon accident refused medical treatment at the scene. Timothy D. Buenker of Charleston was driving a pickup that took the initial impact in the crash, sending his truck into the median.
Be the first to know
Get local news delivered to your inbox!