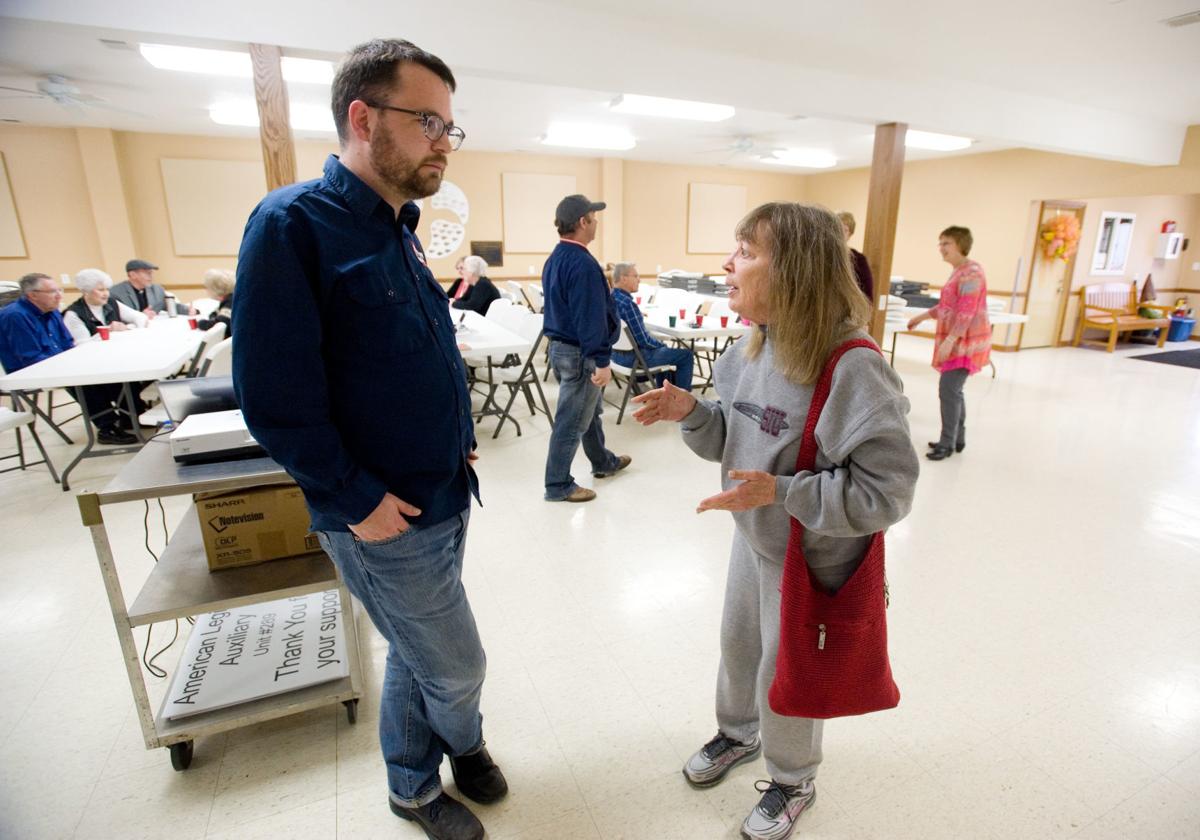 STRASBURG -- A Strasbourg, France resident's quest to visit and document cities of this name throughout the world has taken him to Strasburg, Illinois.
Translator and photographer Jean-Yves Bart arrived in this Shelby County community on Friday en route from Strasburg, Missouri to Strasburg, Ohio. Bart has been visiting with Strasburg, Illinois residents and is scheduled to continue touring this community for a couple more days.
Approximately 30 Strasburg residents turned out Sunday afternoon to meet with Bart during a reception at the Strasburg Community Center and to hear him give a presentation about his quest. Bart said he noticed Strasburg, Colorado during a previous trip to the United States and that got him thinking about the links between his adopted hometown in France and other places that bear this name.
"I decided, 'Let's do something completely ridiculous,'" Bart said of his goal to become possibly the first person to ever visit all 16 current or former Strasburgs that he knows of in the world. "I like the idea. I am fascinated by language and words. I like that all these places are connected by the sheer fact that they have the same name."
Bart said he found that his Strasbourg, which has more than 200,000 residents without counting its suburbs, has done little to highlight any connections it might have to other Strasburgs. Bart said he also has found that most of the Strasburgs in the United States are small towns and some of them have not documented much of their heritage.
"I was even more committed to visiting those places and having images that I could bring back," Bart said, adding that he hopes to eventually write a book about his travel experiences.
The Frenchman said his quest will likely take many years years while traveling as his time and financial resources allow. He toured Strasburgs in the western U.S. and Canada during a previous trip and is scheduled to visit locations in Pennsylvania and Virginia before his current trip ends on May 10. Bart said he also plans to visit Strasburgs, or former Strasburgs, in Europe and Algeria in years to come.
Bart said his Strasbourg, which means city of roads, is located along the Rhine River in the Alsace region on the border with Germany. He said this city went back and forth between French and German ownership in the 19th and 20th centuries. He said this city had the Germanic Strasburg name in the late 19th century when many Germans immigrated to the United States and took this place name with them.
In Illinois' Strasburg, Bart said he was pleasantly surprised by how dynamic the town is for only having a population of approximately 600 people. Bart said nearly all of the downtown buildings are in use, including the 32 Below Bar & Grill that he visited. Bart also noted how this community has adopted garden gnomes as a symbol and has decorated the town with them.
Strasburg Community Action Network member Jane Giertz presented Bart with a gnome bearing the Strasburg name during the reception Sunday. Bart said afterwards that all the Strasburgs that he has toured so far have been very welcoming to him.