MATTOON -- It is just what Mattoon people do.
"When disaster hits, Mattoon people self deploy-- they just start bringing stuff," said Doug Overmyer, a longtime resident and volunteer with Red Cross. "I don't know if it is an American thing. I don't know if is a Midwestern thing."
They just come out to serve, he said.
As a fire roared on the top floor of the Shores Jewelry building Thursday night, people in the community took it upon themselves to donate water bottles, snacks, burgers, coffee, and anything else to feed the firefighter on scene.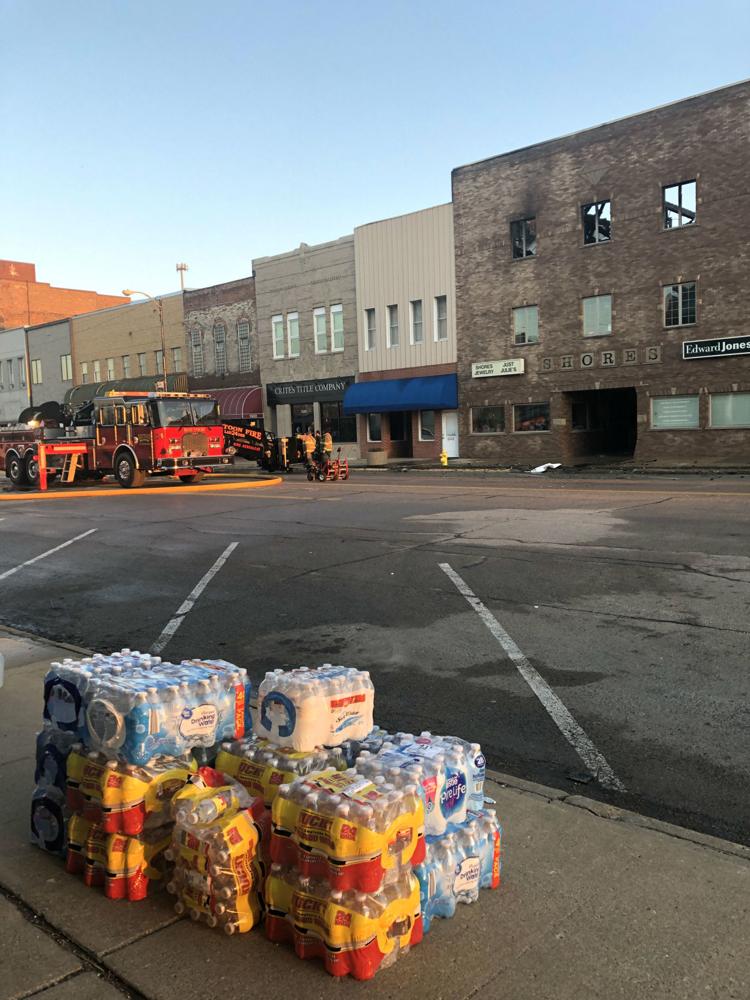 The fire was reported at 5:37 p.m. Thursday, and many of these firefighters had not eaten for hours.
About 20 minutes after the fire broke out, Overmyer and Travis Spencer, Fields Church pastor, both of whom made their way to the scene shortly after the fire erupted, decided to set up a makeshift relief station.
"We both together agreed that putting together some food would be very helpful for the firefighters," Spencer said.
"I was so hungry," said Shift Captain Rex Barnes of the Mattoon Fire Department. "When this came in at 5:45 p.m. most of us hadn't had dinner yet. We hadn't eaten in like eight hours by 9 p.m."
Unprompted, the food came.
"We just made some arrangement to create more of a relief station just for water and coffee and food," Spencer said. "When we did that-- without even asking-- people just started bringing food."
Pizza from Villa Pizza and Angelo's. Sandwiches from Arby's. Homemade PBJ sandwiches and coffee from one individual.
And in one of the bigger donations, Legion Ladies' Auxiliary Unit 88 cooked up 85 hamburgers for the firefighters upon hearing about the blaze.
It did not take much time at all before one of the members of the auxiliary, Peggy Bolin, suggested they cook up some food for the firefighters. The stove was hot and the burgers were there, so they did it, said Auxiliary president Gina Lockhart.
Lockhart said it was announced to the crowd that night that they would be cooking up cheeseburgers for the firefighters. Soon after, crowd members, one after the other, came up to donate, $5, $10, even $20.
Register for more free articles.
Stay logged in to skip the surveys.
"They started bringing money up to the window of the kitchen and say 'this goes for the firefighters,'" Lockhart said.
They collected roughly $80 to $100 that would be used to offset the cost of the burgers, but Lockhart noted they would have cooked all of those burgers anyways.
"If we had the ability to do it, we just would," Lockhart said.
"It was very awesome," she said of the collective effort.
Along with burgers, they sent chips and bottled water.
The list of those who donated was immense, Spencer said. Overmyer reiterated this is Mattoon.
"All I know is I was touched but I was not surprised at the outpouring of love," he said.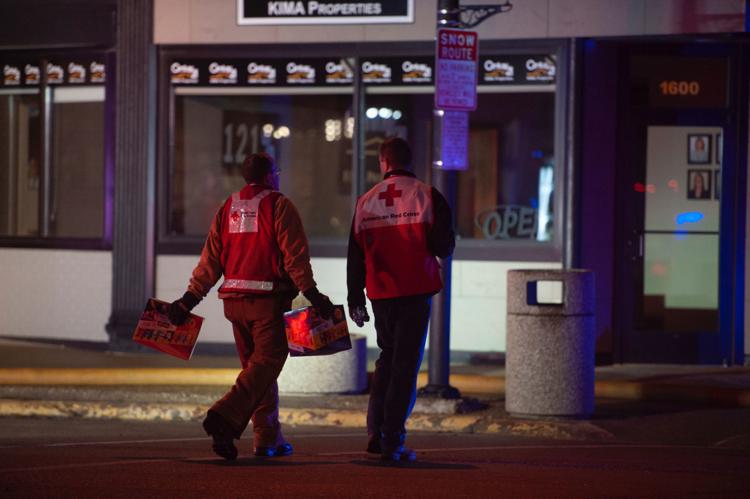 Spencer noted that the community jumped out to help with this as they did to help following the Mattoon shooting a couple of years ago.
The Mattoon Family YMCA stayed open Thursday until midnight to serve as a place for firefighters to go the restroom and eat some pizza. It normally would have closed around 7 p.m., said Alex Swango of the YMCA.
The deeds Thursday did not go unnoticed.
"We carry water and Gatorade on the trucks. Some of us carry like a protein bar or something," Barnes said. "But, when you are a scene like this for hours on end, you get tired and worn out, because you are working strenuously. You need food and energy to keep going."
"It is awesome," Barnes said. "We are super appreciative of it... It is very important. No fooling."
Food from other restaurants like McDonald's and Burger King was donated at breakfast and lunch on Friday, as well.