MATTOON — Heavy rains from thunderstorms late Monday and early Tuesday largely left Coles County unscathed, but Rocky Reynolds wasn't one of the lucky ones.
Reynolds' home on South Lawn Drive in Mattoon sustained major damage when a tree fell and hit its roof about 10:30 p.m. Monday.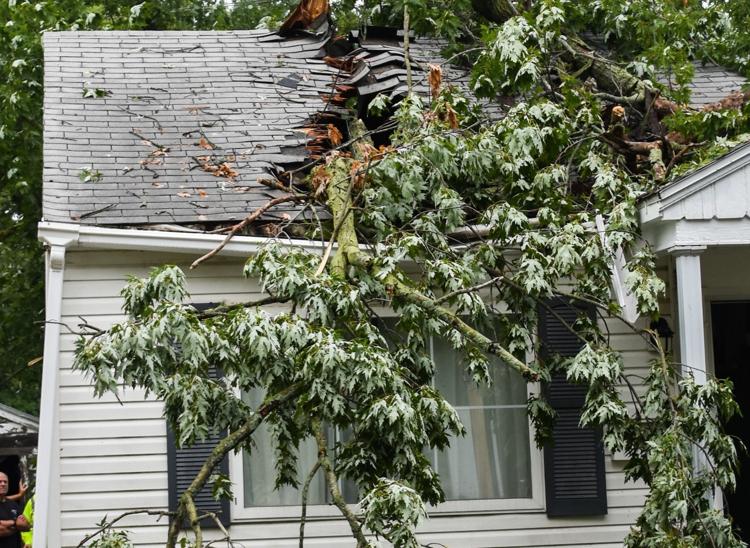 A large hole could be seen in the roof with the tree still up against the house as he looked over the damage Tuesday morning.
Reynolds said none of the four people in the house were injured but they'll have to stay somewhere else until repairs can be made.
The damage took place during what was the heaviest part of the thunderstorm and rains that lasted about four hours from Monday night into Tuesday morning.
A tornado watch and a severe thunderstorm warning were issued during the storm that was first tracking away from the area, Coles County Emergency Management Agency Director Dan Ensign said.
"It hit all of Coles County," he said. "We were expecting it to miss us."
Ensign said the National Weather Service issued the watch and warning about 8:30 p.m. Monday. They were both canceled by early Tuesday but heavy rain was still falling then, he said.
Ensign said reported damage was otherwise limited to some downed limbs and power lines.
You have free articles remaining.
Keep reading for FREE!
Enjoy more articles by signing up or logging in. No credit card required.
The area received about 1 ⅓ inches of rain overnight and that ended a two-week dry spell, according to Cameron Craig, climatologist with the Eastern Illinois University weather center.
The storm brought the first measurable rainfall this month, he said. The last was on July 30 with a quarter-inch.
The storm had sustained winds of about 25 mph with gusts of 35 mph, Craig said. The conditions meant down tree limbs and power lines were "isolated" but "widespread," he said.
Coles County was "in the right place" for the storm because of a low pressure system in place with warm and cold fronts moving through, Craig also said.
He said the forecast for the next month is for slightly below average precipitation, making it unlikely that the area will reach its August average of about 3 inches.
The city of Charleston announced a leaf and limb pickup will take place to collect storm debris on Friday.
The announcement said debris without bags can be placed on curbs before 7 a.m. and city crews will make one pass through the city to collect it.
It said bagged yard waste will not be accepted. Anyone with questions can call City Hall at 217-345-5650, it said.
The city of Mattoon doesn't plan to conduct a limb pickup, according to an announcement from the city.
It said the city's yard waste facility at Logan Street and Shelby Avenue will remain open as usual each day during daylight hours.