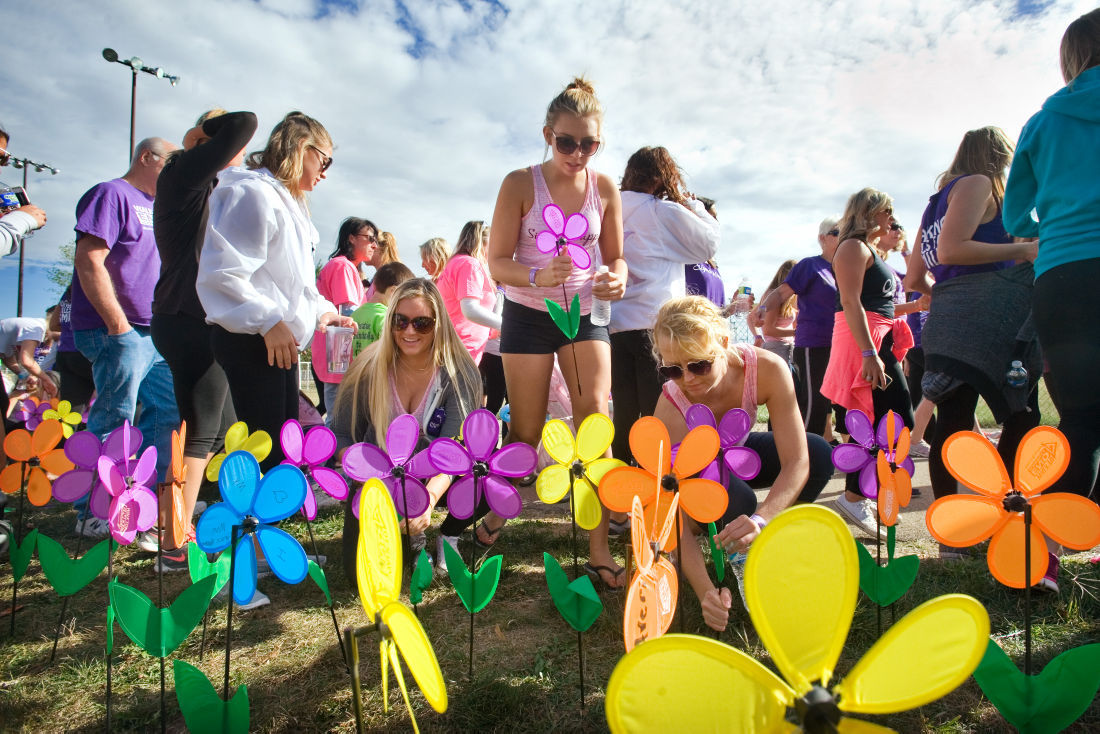 MATTOON -- There was a rainbow of reasons why people attended Mattoon's first-ever "Walk to End Alzheimer's" event Saturday morning.
Amy Hall of Mattoon was there because she cared for her mother and then wanted to continue to do something after she was gone.
"I almost wanted to go into the street and ask if anyone needed (help)," she said in her story. "I feel like I can help my friends on their journeys just like I was."
Julia Degler, co-emcee of Saturday's fundraiser for the Alzheimer's Association, read Hall's story during the event's opening ceremony.
Hall sat the the stage and listened along with the day's other walkers, who all held plastic pinwheel flowers of different colors to represent what brought them to the event.
Perhaps they lost a family member to Alzheimer's, cared for someone affected or merely want to see a cure found.
"These flowers are reasons to end Alzheimer's," Degler said.
Jim Whitmore, the ceremony's other emcee, said he knew someone who "watched her mother become her child" because of Alzheimer's. His friend became the head of her household at the age of 16 and "I'm not sure she ever truly recovered from that," he said.
Saturday's event drew more than 220 people to raise money and then walk part of Mattoon's softball roundhouse complex. Before the walking began, they heard facts about Alzheimer's, such as how there are 5 million people in the country with the disease, more than 200,000 in Illinois alone.
"Its prevalence continues to grow," Degler said. "We're all here today because the disease has gone too far."
By the start of the walking, the event had brought in nearly $45,000, exceeding the goal of $40,000, said Carrie Otto, special events manager with the regional Alzheimer's Association office.
"We're really happy for our first year," Otto said, adding that there are plans to make the walk an annual event.
She said the Alzheimer's Association regional office is based in Bloomington and covers 15 counties. Walks take place each year in Bloomington-Normal and Champaign-Urbana, she said.
"We didn't have a walk in the nearby area," Otto said of the decision to start one in Mattoon. "We knew we had a lot of interest and support."
Sponsoring organizations that had informational booths during the event were Gowin Parc, Brookstone Estates, Hilltop Convalescent Center, Carriage Crossing, Villas of Hollbrook, J&J Ventures, Health Alliance and the Old Fellow-Rebekah Home.