CHARLESTON — VFW Post 1592 in Charleston has long been a place where veterans, their families and friends can enjoy a meal and fellowship.
Now, there will be a constant reminder in front of the VFW building at 1821 20th St. that someone is missing from these gatherings. The Rolling Thunder Illinois Chapter 3 veterans advocacy group held a dedication ceremony on Saturday for a new POW/MIA chair that will always remain empty outside the post in memory of the more than 80,000 U.S. military service members still unaccounted for since World War I.
"A lot of families have not gotten the closure they so desperately need," said chapter President Tony Schmidt of Olney.
Chapter spokesman Faron Lancaster of Olney said their Rolling Thunder group has been reaching out to veterans organizations, municipalities and others about placing POW/MIA chairs to help ensure that those missing service members are not forgotten. That outreach effort led them to VFW Post 1592 in Charleston and its quartermaster, Bob Creek.
"I thought it was a great idea. I wanted to do it immediately," Creek said, adding that he then invited Rolling Thunder representatives to make a presentation to the Charleston post. Creek said the post is excited about being able to offer this new memorial for the community, so it helped organize the public dedication ceremony on Saturday.
During this ceremony, Rolling Thunder and the VFW also dedicated a flag retirement box that has been placed alongside the POW/MIA chair. Schmidt said this metal box will provide a place where community members can drop off old, worn out U.S. flags for proper disposal. This box includes the names of 28 fallen service members from Coles County who remain unaccounted or whose remains had not been recovered until recent years.
Rolling Thunder member Marlene Van Matre of Mahomet, formerly of Toledo, said her husband, David, has crafted this flag retirement box and others that have been placed by the veterans advocacy group, including one that is set to be dedicated alongside a POW/MIA chair at 1 p.m. Nov. 14 at the Greenup VFW post.
Van Matre said she joined Rolling Thunder after this group took part in ceremonies in 2018 honoring her brother, Specialist Michael Flood, who was killed in action during the Vietnam War. The Illinois Department of Transportation posted signs on Illinois Route 121 between County Road 1450 East and 1600 East that year to rename it the "SPC Michael Flood Memorial Highway" in honor of the fallen service member.
Rolling Thunder includes men and women, veterans and nonveterans, and motorcycle enthusiasts and nonriders among its members. This nonprofit group's charitable efforts include visiting veterans and bringing supplies to them at U.S. Department of Veterans Affairs hospitals and at nursing homes.
Van Matre said she has been honored to be part of Rolling Thunder as this group has provided escorts for military funerals and other services, and as it has been placing POW/MIA chairs in communities. 
"The more we were with Rolling Thunder we saw there was a need for people to be aware of all the losses their communities have had," Van Matre said.
---
From the Archives: Honoring our veterans
From the Archives: Honoring our veterans
Veterans of Foreign Wars Post-1952 Commander Jim Hood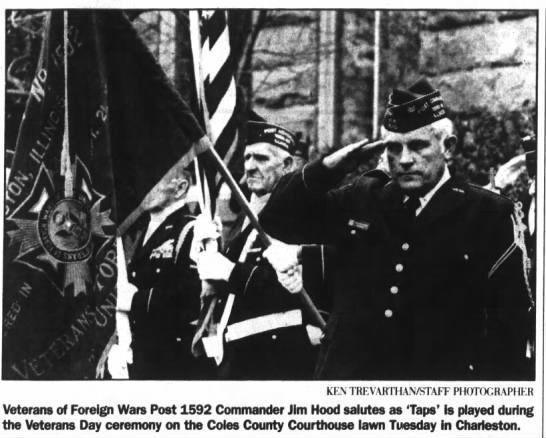 Mattoon American Legion members stand with WWII M3 Stuart Tank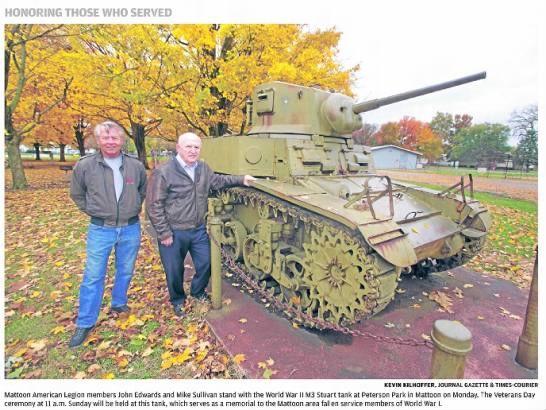 Mattoon High School's Veterans Day assembly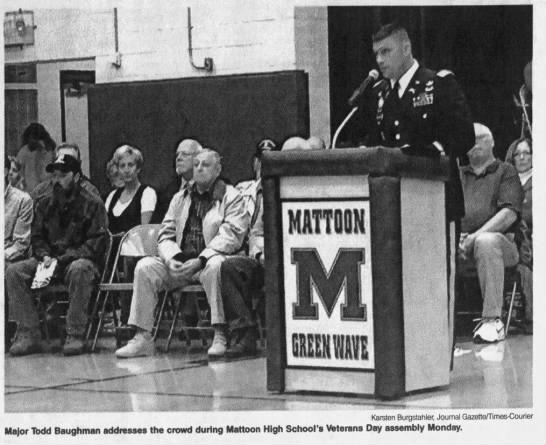 Eric Debault, a Lake Land College student veteran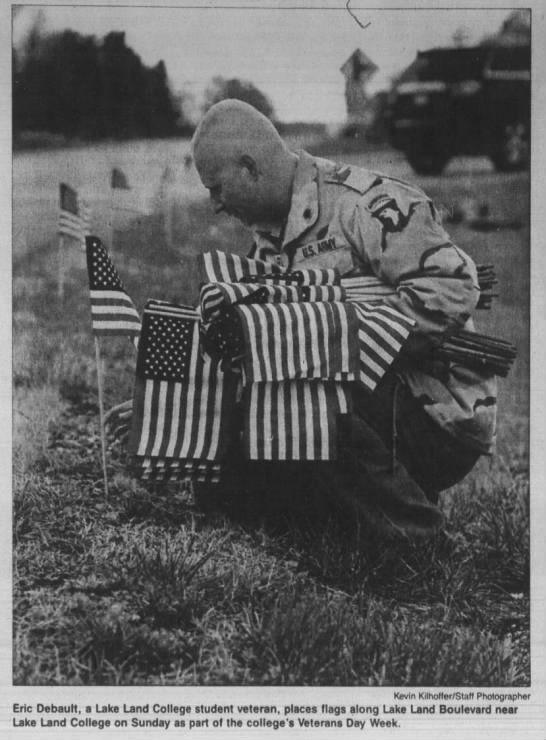 EIU to honor veterans at ceremony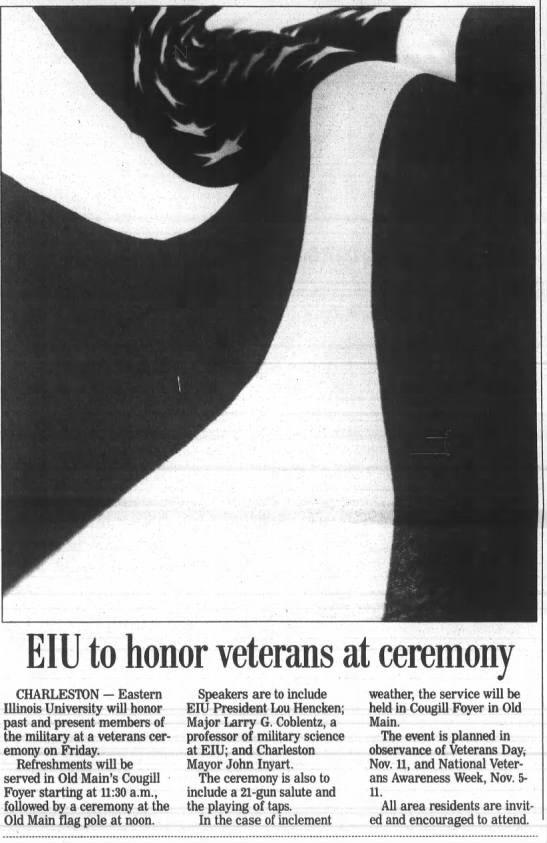 Veterans Day concert planned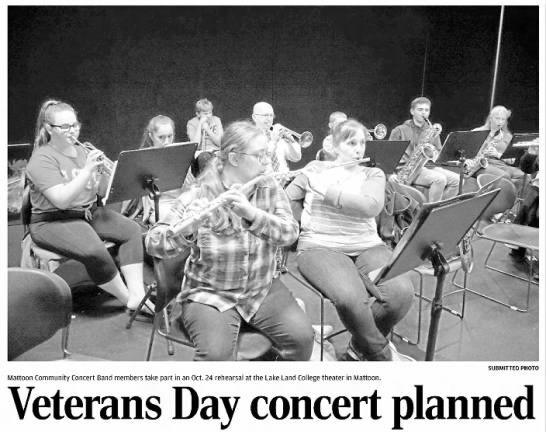 Carl Sandburg Elementary second-graders perform The Star Spangled Banner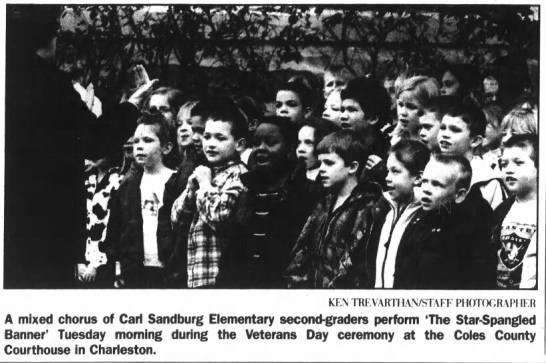 American Legion Post 539 fire a salute
Veteran Maj. Todd Baughman speaks at Mattoon High School
American Legion Post 88 member and Navy veteran David Slifer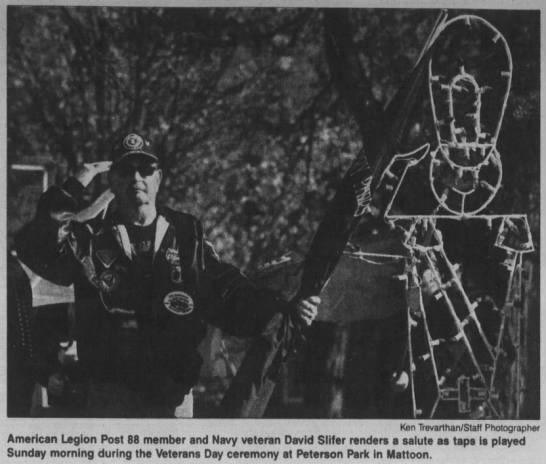 Mattoon Civil War Memorial Eclipse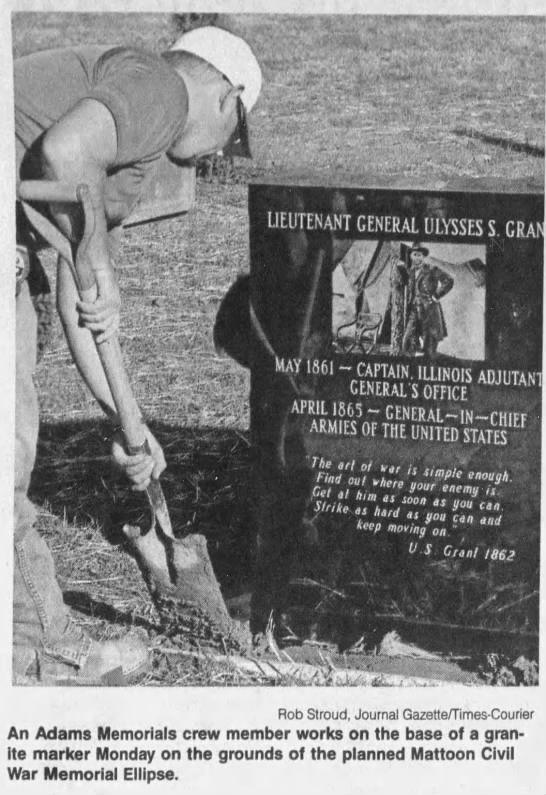 Chaplain Captain Chris Linzey with his father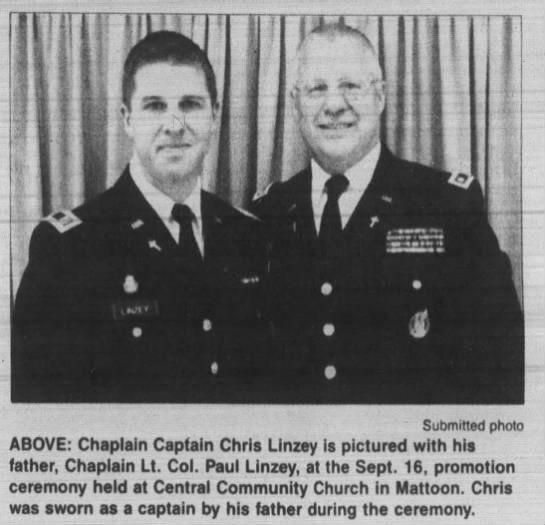 Saluting service members on Veterans Day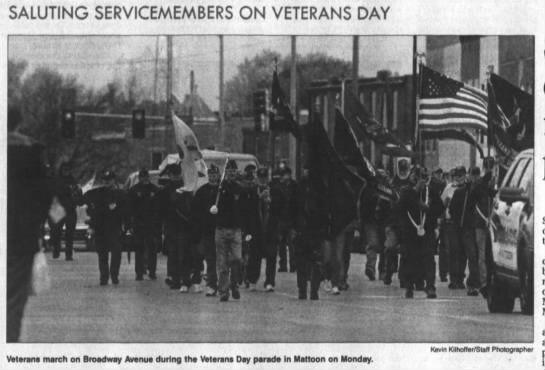 Charleston Veterans Day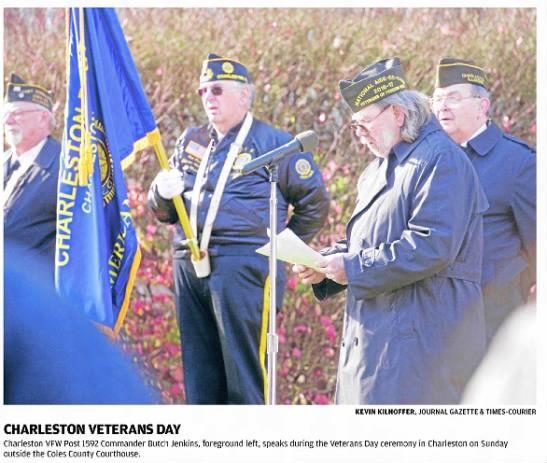 We are the lucky ones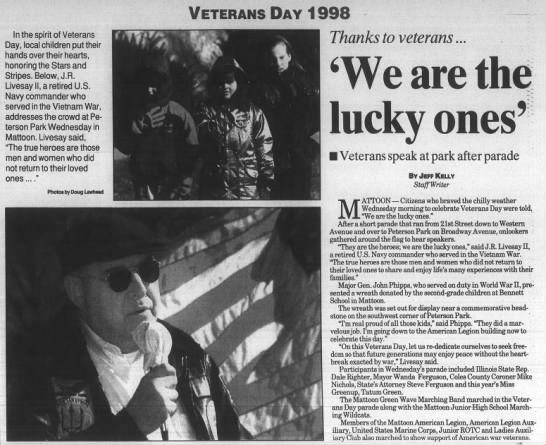 Mattoon High School JROTC Drill Team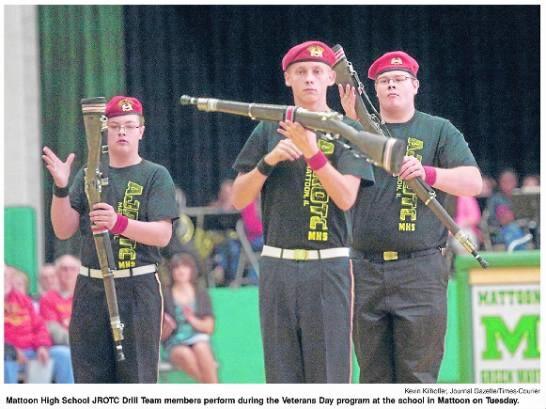 Students and staff welcomed family and friends to honor and thank veterans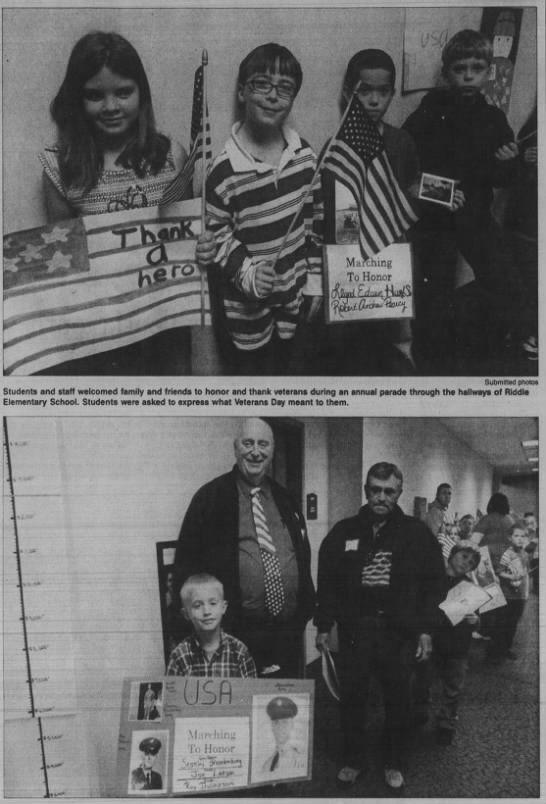 Pearl Harbor survivor Huston James and former Marine Staff Sgt. Mark Graunke Jr.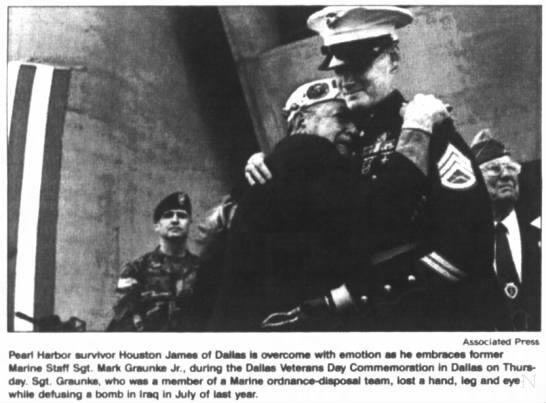 Ceremony salutes veterans, highlights monument updates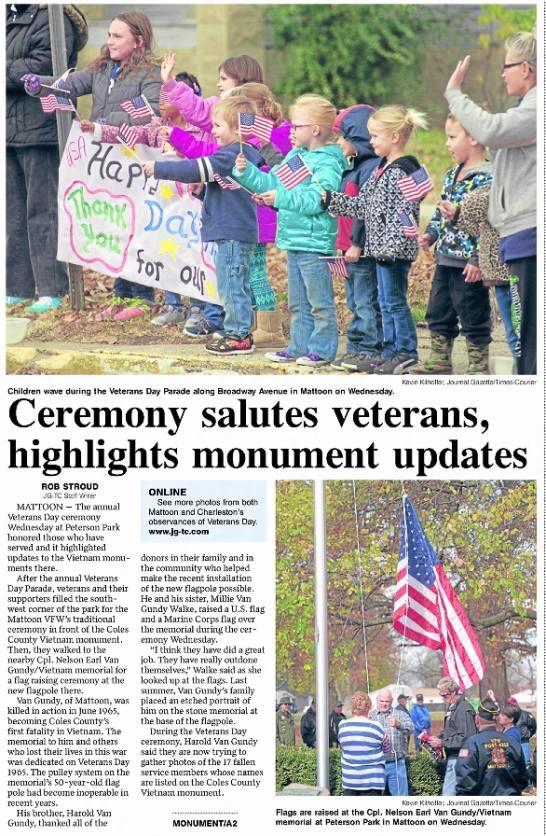 World War II veteran Chick Debault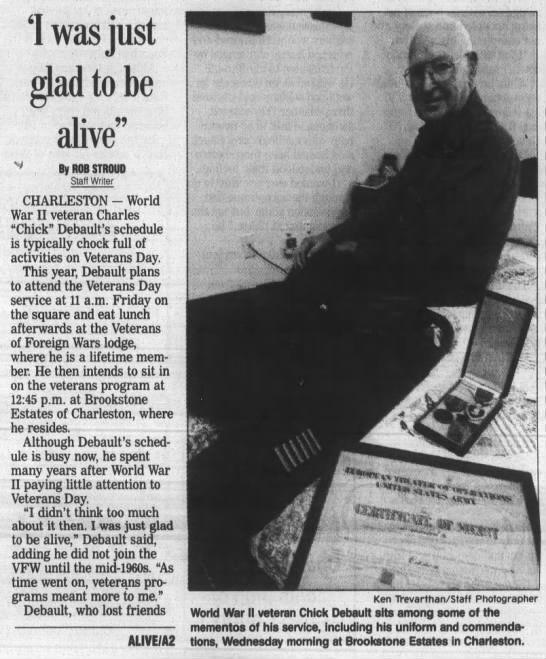 Day for Thanks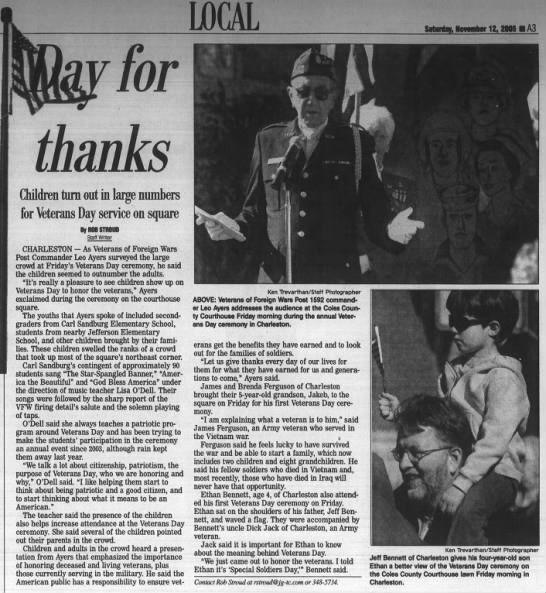 Charleston youth take in Veterans Day ceremony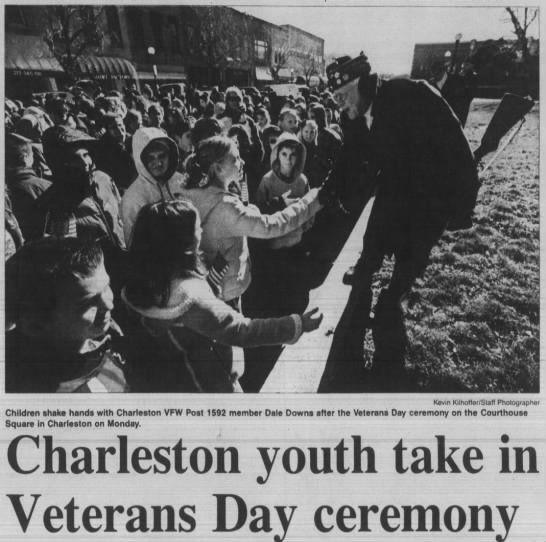 Vietnam veteran Bob Black, Sr.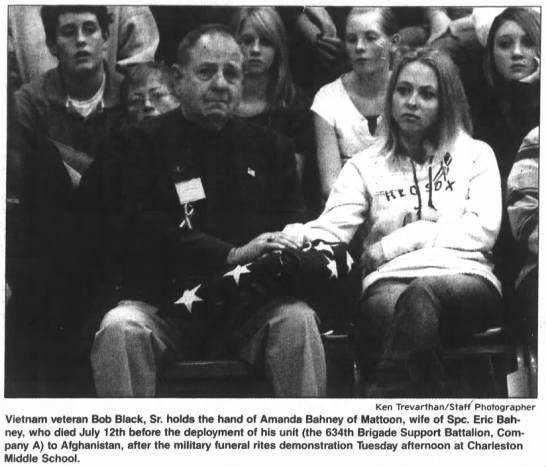 Veteran tribute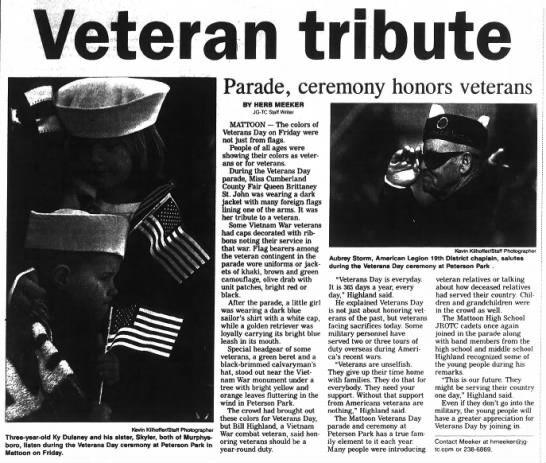 Veterans Day ceremony at Coles County Courthouse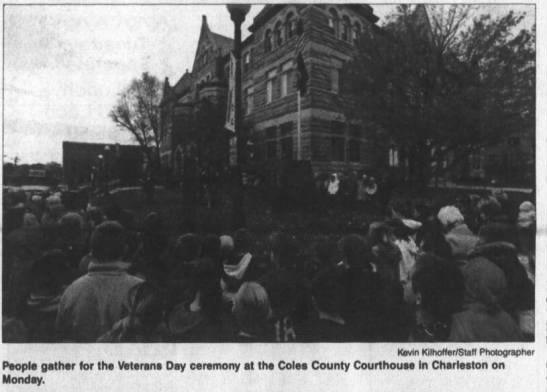 Veterans Day parade, ceremony held in Mattoon