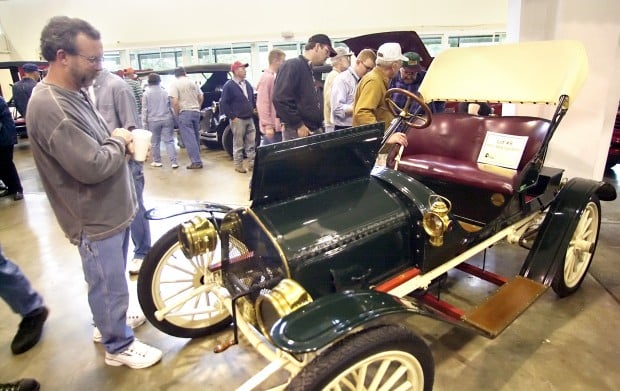 MATTOON — The local man who was convicted of creating the Omega Trust and Trading scam that bilked investors locally, nationally and overseas has died at age 78.
According to an obituary received by the JG-TC, Clyde Duane Hood of Mattoon died at 9:40 p.m. Tuesday at the Effingham Rehabilitation and Health Care Center.
Grand jury indictments filed on March 25, 2003, in U.S. District Court in Urbana reported that the Omega scam operated from 1994 to 2000 and produced $20 million in losses for investors, many of whom were devout Christians aiming to steer their promised returns into charitable donations.
Mattoon police Chief Jeff Branson, who was an assistant at the time to those who were the lead investigators in the case, said Omega was investigated by personnel from the Mattoon Police Department, Illinois State Police, Illinois Secretary of State's Police, FBI, Internal Revenue Service, U.S. Postal Inspection Service, and other agencies.
"There were just a multitude of agencies that worked that case. It was a large investigation," Branson said, adding that the records for the case were voluminous enough to need their own separate room.
Federal prosecutors accused Hood, a retired electrician, and approximately 20 others of conducting a mail or wire fraud involving prime bank notes in foreign banks and offshore trading, promising high-yield profits for investors through a corporation known as Omega Trust and Trading Ltd.
Hood was sentenced to 14 years in federal prison, and other leaders of Omega, including several from Mattoon, ended up receiving prison sentences of varying lengths.
Perpetrators of the Omega scam used money from investors to add to their own bank accounts, as well as to invest in property and vehicles. The U.S. Marshal Service ended up conducting sales of several Omega-involved properties that were seized. For instance, the Bluebird Diner, established with Omega funds, was sold in an online auction and the restaurant building was later moved from its foundation on West Marshall Avenue.
Approximately 1,000 people attended a May 2003 auction at the Illinois State Fairgrounds in Springfield for the sale of several vehicles that were seized from defendants in the Omega scam. The auction brought more than $200,000 in sales, including $21,000 for a 1950 Mercury.
Nelson Aumann, part owner and past president of Aumann Auctions, Inc. in Nokomis, said the vehicles, including classics from the 1950s and '60s, generated significant interest from prospective buyers. Aumann said he was present when armed police officers entered the vehicles' storage sheds on a farm north of Mattoon to make sure it was safe for the auctioneering staff to start working with these automobiles.
"Sometimes that was a little scary," Aumann said.