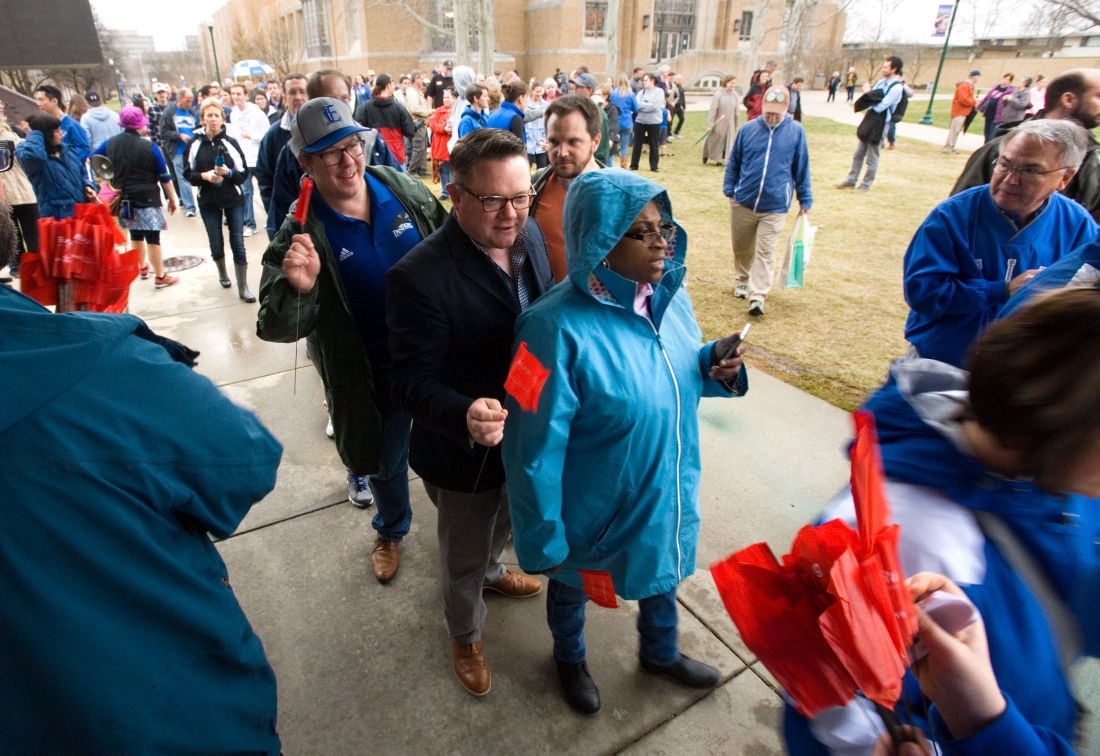 CHARLESTON -- Eastern Illinois University faculty, staff, students and community members took to the streets Wednesday and marched along Sixth Street from campus to the Coles County Courthouse in support of those civil service workers who will be officially laid off Friday and Saturday pending no state funding.
Starting off at the Library Quad on Eastern's campus, where the first Eastern funding rally took place Feb. 5, those who are expected to lose their jobs and those looking to show support in any way they could rallied behind the calls for funding and support to the university community.
Some faculty, staff and community members stood in front of 261 planted red utility flags that represented those who have or will be laid off as a result of state funding inadequacies.
With a flurry of red flags as a backdrop, these people expressed the deep impact that no state appropriated funds has made on the area, and that the 177 latest layoffs taking place are not just a number.
"Today, we mark in a very visible way the effects of our politicians' game playing," associate professor Jeannie Ludlow said. "Each flag is job, yes. Each flag is a person, a coworker, a friend. Each flag is a family."
Ludlow said these people are actually suffering and lawmakers in Springfield need to know and understand their plight and the gravity of the situation.
Along with being placed in front of the Doudna Fine Arts Center steps, flags were also placed along a side of the courthouse following the march to the Charleston square.
Dennis Malak, Doudna Fine Arts Center auditorium technical director, said the rally and march successfully visualized and personalized an issue he considered had largely been more impersonal, lately. He said the word "layoffs" has been thrown around a lot, almost to the point where it lost its impact and meaning.
"These are families," he said.
Ed Wehrle, history professor, said the rally allows those yearning to help the ability to show support in some way.
"What else can you do? It's something to do," he said. "It is a public symbol of support."
Malak said at least for him, there is a sense of survivor's guilt as he made it past this round of layoffs while also seeing friends receive layoff notices themselves, so being able to show support to those affected is important to him and his coworkers.
At the rally, Travis Swope, an Eastern pipefitter, vocalized through a statement read by Kate Klipp, "Fund EIU" rally organizer, the struggles he and other employees expecting to be laid off will have to go through because of a lack of action being taken in Springfield.
"The state of Illinois has failed me and the other 261 employees that have given their careers to Eastern and its students," the statement read. "We have done everything right, and now we are being sacrificed as cannon fodder in a political standoff that is not about us, but affects us."
He continued that those in Springfield are hurting real people and not doing their jobs properly.
"We want to do our jobs, so you need to do yours," the statement read. "Figure it out."
Malak said aside from the calls for funding, the rally proved itself as a good outlet for people to not only show support but feel supported, especially in a time where they might be in financial struggles.