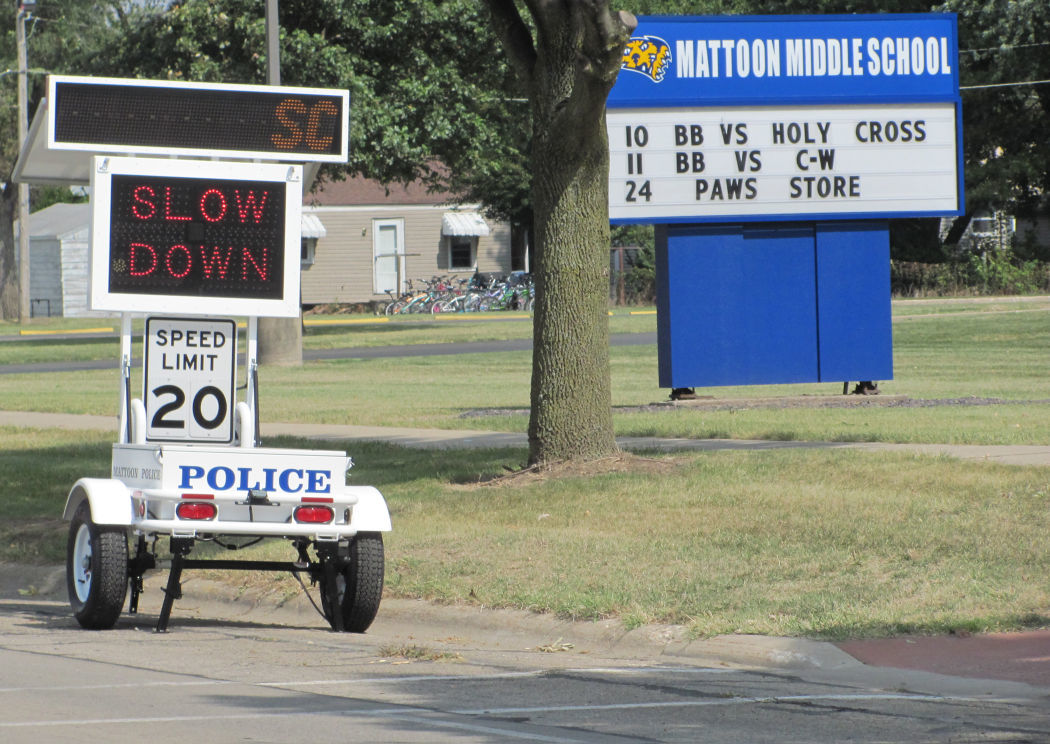 MATTOON -- Traffic on Ninth Street in front of Mattoon Middle School slowed down noticeably at midday Thursday as drivers passed by an illuminated sign that flashed the speed at which their vehicles were going and, if needed, a message to "slow down."
Chief Jeff Branson said the Mattoon Police Department purchased a radar speed trailer of its own recently with funding from a $10,800 grant from the Illinois Department of Transportation. He said they had previously borrowed a radar speed trailer from the Charleston Police Department a few times.
"(The radar speed trailer) was very effective in the school zones and areas with complaints of high speeds," Branson said. "Our goal with buying this unit is to make the roads safer and get the drivers' attention."
Branson said police officers have been testing their new radar speed trailer recently and plan to start using the trailer on a regular basis early next week. He said the signage on the trailer can be used to post warnings about the speed of passing vehicles and to direct traffic around major accident scenes.
The solar-powered radar speed trailer, with a battery backup, is comparable to signage that the Illinois Department of Transportation places in construction zones on interstates and highways.
Sgt. Jeff Wines said officers can program the signage to display speeds up to a specific level, such as 40 mph, before flashing warning lights or messages, such as "slow down." He said to discourage drivers from deliberately driving fast to check their speed, the signage will not display high readings.
Wines said the signage can be used to illuminate directional arrows and photo flashes and to display a variety of other messages, such as "accident ahead," "no cellphone use," and "school zone."
The radar speed trailer can also be used to record traffic speed and related data over a set time period, Wines said. For example, he said the department recently recorded the speeds for more than 1,200 vehicles on Lake Land Boulevard.
"We can chart the data and we can group it. That way we can see if we need to have more enforcement on a roadway," Wines said.