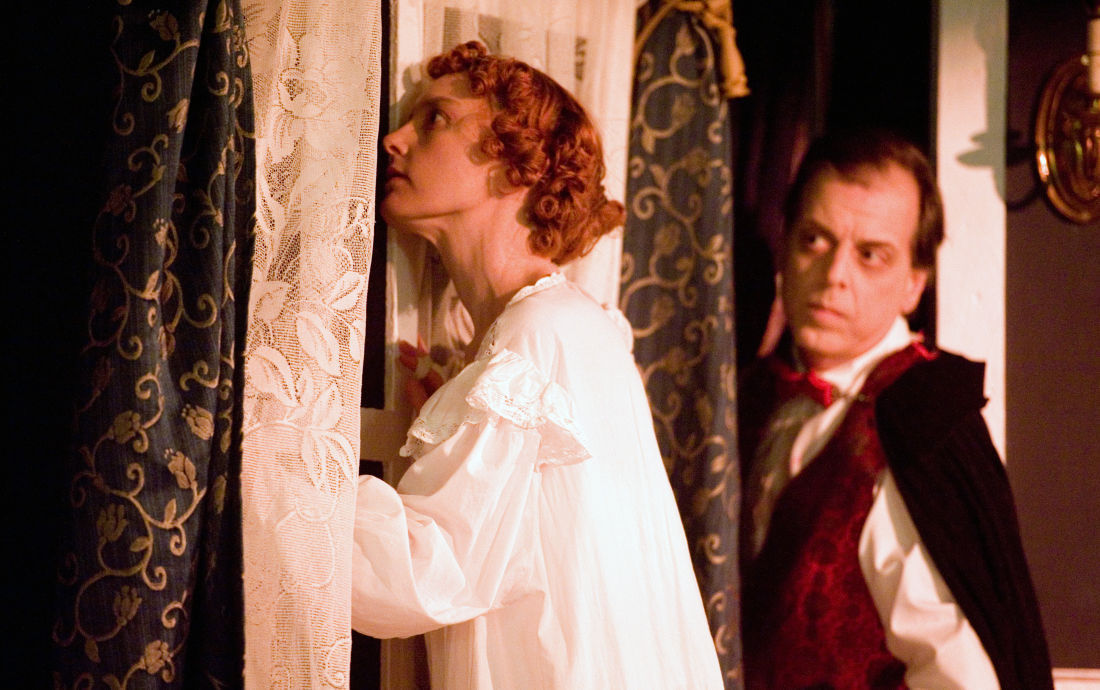 MATTOON -- Dracula is well known for sucking the blood of his victims, but this may not be the most insidious power of author Bram Stoker's vampire.
Actor Michael Salem, who portrays Dracula in the Charleston Alley Theatre's upcoming production, said the vampire also can mesmerize people, giving him the frightening ability to control their thoughts and actions. Salem said the production spotlights Dracula's role as a sinister, arrogant puppet master.
"Dracula seems to be very consumed with possessing everything and feels like he deserves everything," Salem said. He added that the production plays with the notion that the vampire "sees humans as pets."
Performances of "Dracula," by Steven Dietz, are scheduled for tonight through Monday at the Mattoon depot and Oct. 23-26 at the Charleston Alley Theatre, 718 Monroe Ave., Charleston. For both venues, show times for Sunday matinees are 2 p.m. All other performances are at 7:30 p.m.
Salem, a theater veteran, is returning to the title role in "Dracula" after having played this Transylvanian vampire in the Charleston Alley Theatre's 2006 production. He said getting to portray this iconic character of horror fiction twice has been a great experience for him.
"I grew up loving supernatural stories and writing them," Salem said.
Despite having an affinity for horror and science fiction villains, Salem said he has typically been cast in more conventional roles. Salem said he has often played the "best friend," "the voice of reason," or "the narrator" over the years.
Salem said he has enjoyed the change of pace of playing a character that is not just a villain, but an actual monster. He said Dracula can be a darkly fun two-dimensional character who takes actions that mere mortals would not or could not, which is great for a production during the Halloween season.
The actor said he has been impressed by the performance space in the depot and looks forward to continuing to expand the Charleston Alley Theatre's audience in the Mattoon area. The CAT held its first depot production, "The Lion in Winter," this spring.
Tickets are now on sale for $10. Reservations for both venues may be made by calling the theater box office at 217-345-2287. Parental discretion is advised for "Dracula." For more information, visit www.charlestonalleytheatre.com.