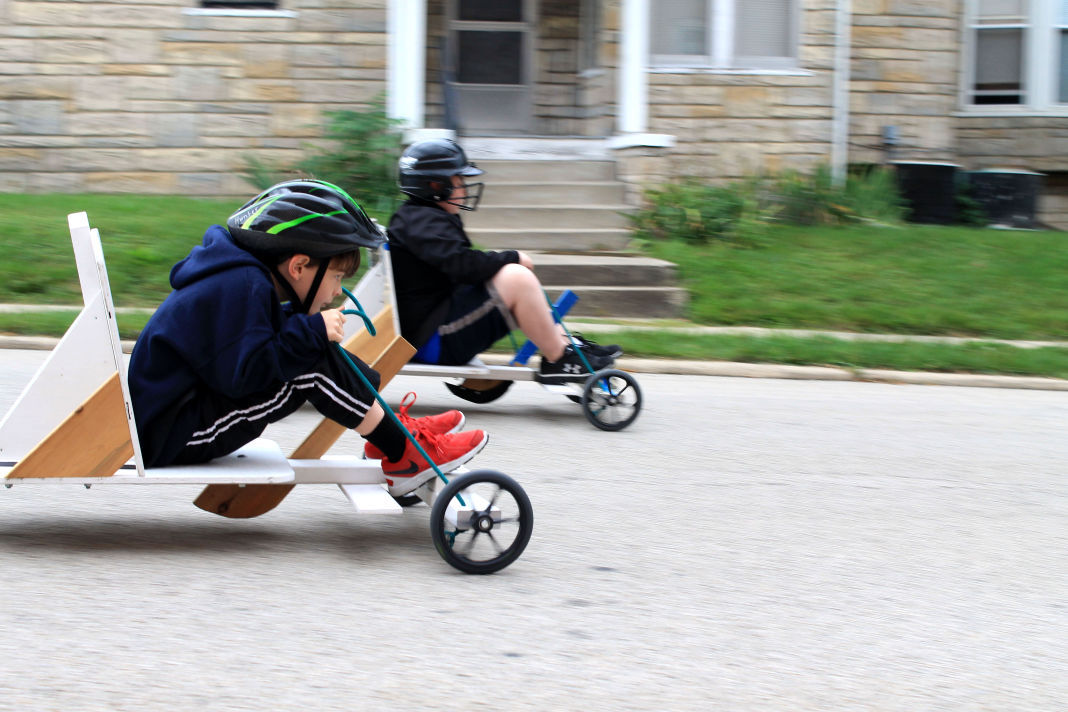 CHARLESTON -- Early in the morning Saturday, with dew still settled on the grass, drivers put their helmets prepping for a race of heart and will.
Their cars had been primed for this moment. Wheels on all sides tuned for ultimate speed. Car bodies were smoothed out. The drivers were ready to win.
Hands gripped tight to steer, the drivers took their place in Boy Scout history as they raced down the course in the annual Cub Scout Pack No. 41 Cubmobile Race.
Two at a time, boys from the ages of 7 to 10 years old got in the driver's seat of their respective soap box derby cars and barreled down Eighth Street from Jackson Avenue to Van Buren Avenue.
Starting off on a ramp at the top of the hill, the scouts used their weight to speed past their opponent.
Through dozens of races between the 10 scouts, one after another was eliminated in a double elimination tournament where a scout could only lose one heat before being taken out.
Drivers who lost control of their steering -- which was a combination of using ropes and feet to turn -- found themselves swerving into one another or into the sidelines. Despite a few crashes, which included one that tore the axle off the front end of one the cars, no one was hurt.
The driver did not pull on his brake fast enough and ended up crashing into the hay bales at the bottom of the hill, tearing off the front axle.
Nevertheless, a pit crew made up of the fathers at the event were ready and quick to repair and fine tune each car as damage befell them.
John Peterson, 9, said it was important to not over steer because it would surely lead to the driver going off the track.
Andrew Pearson, 9, said turning in the cars is delicate.
"When you turn, you can't really turn that sharp, because if you do, you are probably going to hit somebody," Pearson said.
Pearson learned this the hard way. During a few test runs, he ended up scooting from one side to another.
Despite the challenge, Pearson said he was still ready and willing to go again and again.
Danger and excitement were felt throughout, even for the officials judging the winner of each race, like Doug Peterson, who was even thrown to ground as he managed to stop one of the drivers from hitting a wall.
"I was trying to prevent him from slamming into the curb. He didn't. He slammed into me," Peterson said, "...the dangerous work of being a parent."
In the end, only one would go home with a proof of victory. Dylan Lowell, 7, one of the youngest to drive, took first place. As he exploded past the finish line, the young cub scout immediately raised his fists in the air with victory and excitement over the win.
Lowell said going down on that last run was exciting.
"It was great," he said. "I felt like I was in a rocket ship."
Jaxon Morris took second and Danner Vanhise placed in third.
Jeremy Davis, Cub Scout master, said while every competition needs a winner, his primary focus was to make sure the scouts had fun.
Davis said it is important for children to participate in events like these early in their lives to learn good sportsmanship.
To enter the race, each scout needed to provide one non-perishable item that will then be donated to the St. Hedwig Haus of Hospitality.