EFFINGHAM — Illinois State Sen. Darren Bailey, R-Xenia, the downstate lawmaker who gained celebrity and notoriety by challenging Gov. J.B. Pritzker's COVID-19 emergency powers, announced Monday that he will run for governor in 2022.
He struck a populist chord, saying that "Republicans and Democrats have worried more about the donor class than they've worried about the working class" and that the state needs "the kind of common sense that my dad taught me on the farm."
"We tried the country club approach," Bailey said. "We tried the Chicago Loop approach. And I don't think that's worked for anyone in this room. Illinois has got unlimited potential, but we need a governor who is willing to listen and lead."
"Illinois is hurting, but it doesn't have to be," Bailey said. 
Bailey, who operates a family farm in Clay County, was elected to the Illinois House in 2019, first defeating Republican incumbent David Reis in a primary before coasting to victory in the general election. In 2021, he was elected to the Illinois Senate to replace the retiring Dale Righter.
His Senate district encompasses all or parts of Clark, Clay, Coles, Crawford, Cumberland, Edgar, Edwards, Effingham, Jasper, Lawrence, Richland, Wabash, Wayne and White counties.
Though he's only been in state government a short time, Bailey has quickly established himself as one of the state's most outspoken conservatives and a vocal opponent of Pritzker.
For many, he became the face of the resistance to Pritzker's emergency orders, challenging the governor's ability to continually extend the orders beyond the initial 30-day time period. He successfully won an injunction in April that temporarily exempted him from the governor's stay-at-home order.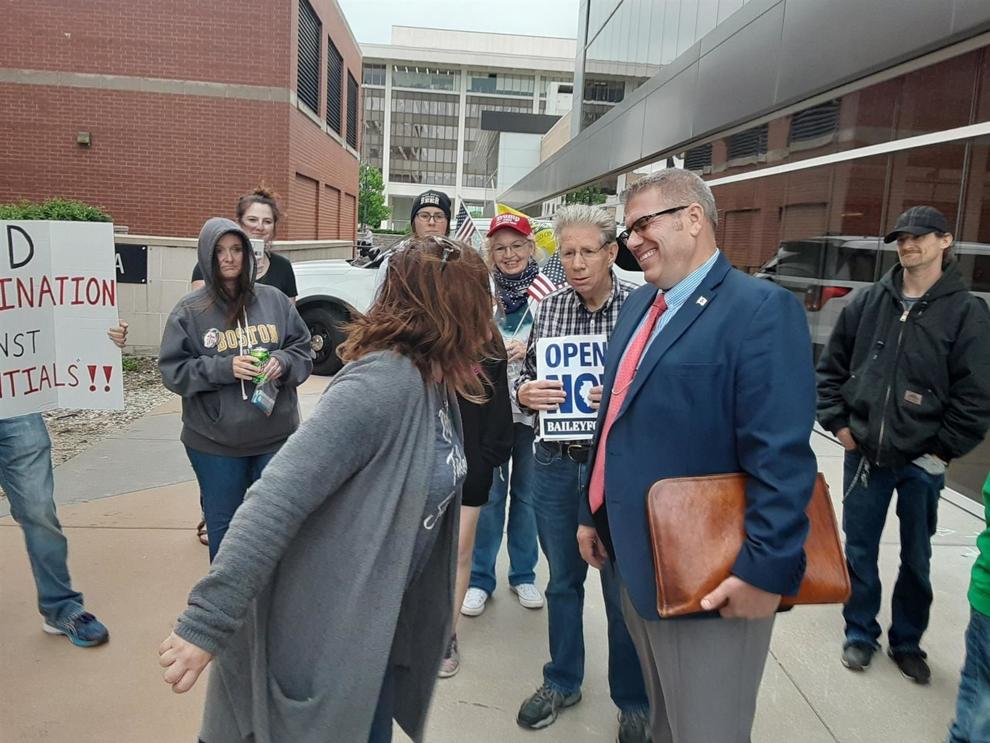 He, along with attorney Thomas DeVore, became popular draws at various "Reopen Illinois" rallies held during the spring and summer of 2020. Makeshift signs that read "Bailey for Governor" were not uncommon.
Though his legal challenges have been dismissed once moved outside his home county, they've successfully kept Bailey in the headlines. 
Bailey is the second Republican to enter the race to challenge Pritzker. Last week, former state Sen. Paul Schimpf, R-Waterloo, announced his candidacy. Gary Rabine, a suburban Chicago businessman with ties to former President Donald Trump, has also expressed interest in the race.
Republican National Committee Finance Chair and Chicago Cubs co-owner Todd Ricketts has also been linked to the race. U.S. Rep. Adam Kinzinger, R-Chanahan, has said he's "not going to rule anything out," but that he does not "have any plans for anything higher in Illinois" in 2022.
Attending Bailey's announcement included U.S. Rep. Mary Miller, R-Oakland, state Reps. Chris Miller, R-Oakland; Adam Neimerg, R-Dieterich; and Blaine Wilhour, R-Beecher City, all longtime allies and members of the unofficial group known as the "Eastern Bloc."
Bailey's campaign hits the road starting Tuesday, when the candidate is scheduled to make stops in Marion and Highland. On Wednesday, he will be in Utica and Shorewood. 
Bailey faces an uphill climb running as an unabashed conservative in a solidly Democratic state and against a governor with unlimited financial resources.
However, Pritzker has had middling approval ratings as the pandemic wears on, exacerbating existing problems such as the state's structural budget deficit. 
Pritzker is also coming off the high profile defeat of the graduated income tax amendment, a signature issue he spent significant political capital trying to pass. Not to mention 2022 is a midterm election, which typically goes against the party that controls the White House. 
"We've been used, we've been mocked, we've been marginalized," Bailey said. "People in Illinois have been ignored based on their race. They've been ignored based on their class, their zip code, or by special interest, all while a political class has done absolutely nothing but enrich themselves while destroying our state and robbing our children and our grandchildren of our future."
"...  the days of putting the interests of the corrupt political class above the people is over," Bailey said. 
---
PHOTOS: Illinois Republican state Sen. Darren Bailey