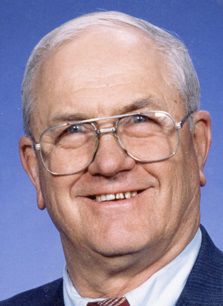 MATTOON -- Delbert Dean Dunn, age 99 of Mattoon, Illinois, passed peacefully on Saturday, July 20, 2019 while at Brookstone Estates in Charleston, with loving family at his side.
Visitation will be from 5:00 – 7:00 p.m. on Thursday, July 25, 2019 at Adams Funeral Chapel in Charleston. The Funeral Service will begin at 10:30 a.m. on Friday, July 26, 2019 at the funeral chapel with Reverend Richard Eident officiating. Burial will follow in the Campground Cemetery located in Paradise Township. Donations in his honor may be made to the Alzheimer's Association or to the National Pancreatic Cancer Association and may be left at the visitation/service or mailed to Adams Funeral Chapel, 2330 Shawnee Dr., Charleston, IL 61920.
Delbert was born on October 14, 1919 in Kansas, Illinois, the son of the late Arthur Dean and Beulah Mae (Sutton) Dunn. He has shared the past 76 years with the love of his life, Stelma (Volkman) Dunn, whom he married on November 7, 1942 in Assumption, Illinois.
You have free articles remaining.
In addition to his devoted wife, Delbert is survived by three of their four children, Linda Eagleson and husband Gene of Mattoon, Illinois, Betty Hofstetter and husband Floyd of Lemont, Illinois and James Dunn and wife Patsy of Charleston; a daughter-in-law, Elizabeth (Betty) Dunn of Springfield, Illinois; eight grandchildren, Theresa Eagleson and fiancé Brian Shaw, Michael Eagleson, Andrea Taylor (Dann), Bradley Hofstetter, Teresa Packer (Frank Winnett), Christi Winnett (Kent), Jared Dunn, and Jamey Thomason (Drew); numerous great and great-great-grandchildren; and nieces and nephews who could all lay claim to being his favorite!
In addition to his parents, Delbert was preceded in death by a son, Robert Dunn; one grandchild and one great-great-grandchild; five brothers and two sisters.
Delbert was a graduate of Mattoon High School. He was a self-employed farmer owning land in the Neoga and Trowbridge area, and was also employed as a brakeman for the Penn Centralon Rail Railroad.