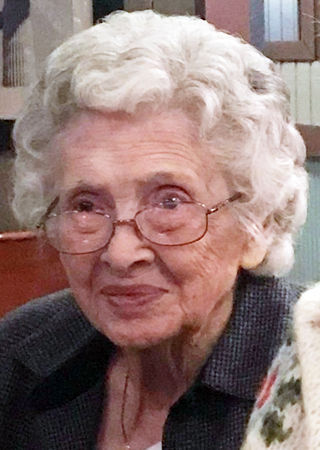 MATTOON — Mary Frances Toland Hamilton passed away peacefully April 6, 2021 at the age of 97 years. She was born November 26, 1923 to James O'Banion Toland and Mary Myrtle Pennell Toland. Mary grew up on her father's Coles County seed farm and helped him in his seed store.
In 1942 she married Kenneth Hamilton and they had a daughter Mary lyn Sue. Mary lived her life dedicated to her family and helping her husband on the farm. All who knew her were amazed at how much she could accomplish in a day. Each day was spent sewing, cooking, and creating crafts. Her husband Kenneth would brag that Mary should have had her own TV show years before Martha Stewart. Mary could do anything and do it better.
At an early age her father taught her to sew. As a result her family enjoyed beautiful clothes complete with tags that read "Made With Love". Family and friends would anxiously await the holidays each year for her famous signature minced meat, fruit cakes, and delicious sugar cookies beautifully decorated by her daughter, each a piece of art. Then there were her family meals; regardless of whether it was for everyday or holidays, every meal at her house was made from scratch complete with homemade cookies, cakes, pies, candies, and ice cream. Mary was a member of the Trinity Episcopal Church in Mattoon as well as the Daughters of the American Revolution. Many summers she would spend long days in county courthouses, libraries, and cemeteries with her daughter and grandchildren, researching family history. She was a genealogist and historian.
She is preceded in death by her parents, J.O. Toland and Mary Myrtle; half-sister Nellie May Pfeifer and half-brother Orien Toland; husband Kenneth Hamilton and son in law Norman Bailey. She is survived by her daughter Mary lyn Sue (Susie) Bailey; granddaughters: Chalice (Ed) More, Suzanne (Ayad) Michael, Belle (Jim) Long. She is also survived by five great-grandchildren Julian More, Nicholas Wease, Lyla Long, Ellie Long and Lilly Long. A private funeral service honoring her life will be held Saturday, April 10, 2021 at Trinity Episcopal Church with burial following at Humboldt cemetery. Mary's love was deeply felt by all, making her the heart of the family. She is truly loved and will be profoundly missed.
Donations may be made to Trinity Episcopal Church, Mattoon Community Food Center or the Salvation Army. Schilling Funeral Home is assisting the family. Online condolences may be expressed at www.schillingfuneralhome.net or Schilling Funeral Home's Facebook page.