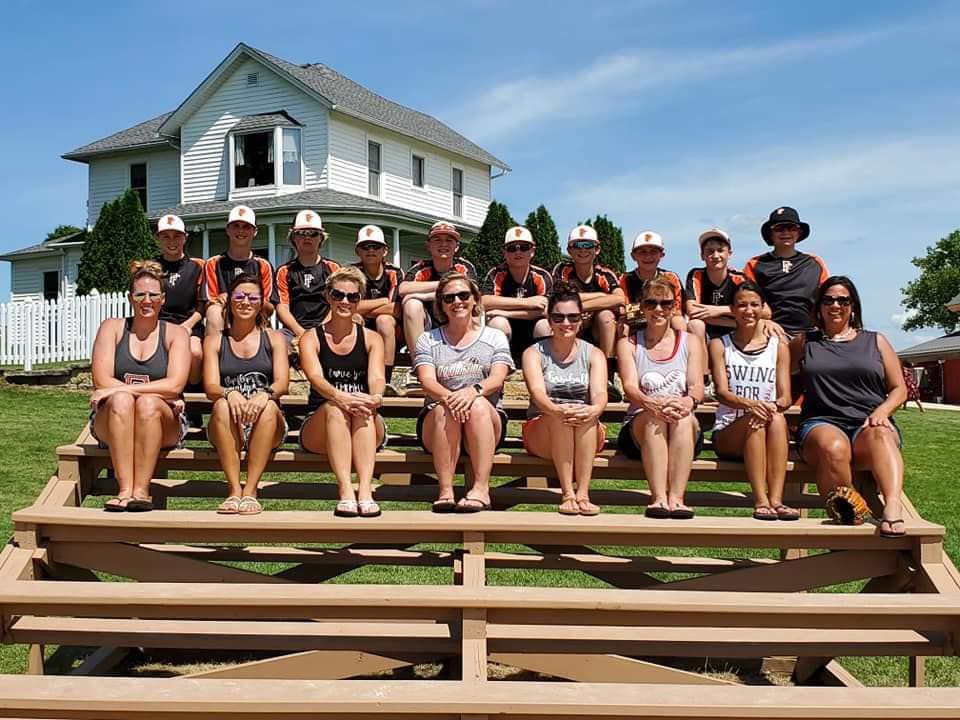 DYERSVILLE, Iowa — "If you build it he will come," said "Shoeless" Joe Jackson in the 1989 film "Field of Dreams."
For 10 players of the 12-and-under travel baseball team, Prairie Fire, based in Gays, parents, grandparents and siblings, for a total of 35 total people, visited of the film last Saturday. It is a site that over a million people have visited.
The team, which includes players from Arcola, Windsor, Stewardson-Strasburg, Mount Zion, Lovington, Mattoon, Findlay, and Shelbyville, were in their second tournament of the season and made their first trip to Iowa. The Prairie Fire, competed in a tournament in Bettendorf.
Ashley Rincker of Windsor saw the schedule before their season began looking and realized the site was only an hour and a half from Bettendorf.
"It (going to Field of Dreams) is something our family has talked about for a long time," said Rincker. "We are big fans of the movie. I thought why wouldn't we drive an hour and a half and mark this off the bucket list. I contacted the team to see if there was any interest and everybody wanted to go. It was pretty exciting and I am glad we got to go."
Is this heaven? No...it's Iowa
It was about a four-hour drive from Windsor to Bettendorf.
"We just had the opportunity to go to Field of Dreams the way the schedule fell and everyone had a good time," said head coach Jeremy Logan of Shelbyville.  "I thought it was a cool idea and honestly I let Ashley plan it and she got everyone on board. My philosophy is I will take care of the boys on the field and the moms and dads take care of them off the field."
Logan also said seeing the site was on his bucket list. The team stayed there between an hour-and-a-half to two hours.
"It is a great group of young men," said Logan. "All of the families are close and this visit gives them something outside of competition. The kids enjoyed it. It was a great experience for everyone.  Playing catch with my own son when we first got there was a highlight for me and seeing all of the boys' excitement and the spark and their smiles was a highlight."
When the players first arrived they went to the outfield and played catch, some with their dads and some with their teammates or both. Then they all took turns pitching from the mound.
"You could not wear spikes," said Rylan Rincker, 13. "It was a really cool mound and so any people had been there. It was kind of slick and rocky and sandy."
 All of the kids had seen the movie.
"It was exactly like the movie" said Kelton Logan, 13,who had seen the movie several times. "It was pretty neat and cool. It was better than I thought it would be. The highlight was playing catch with my dad."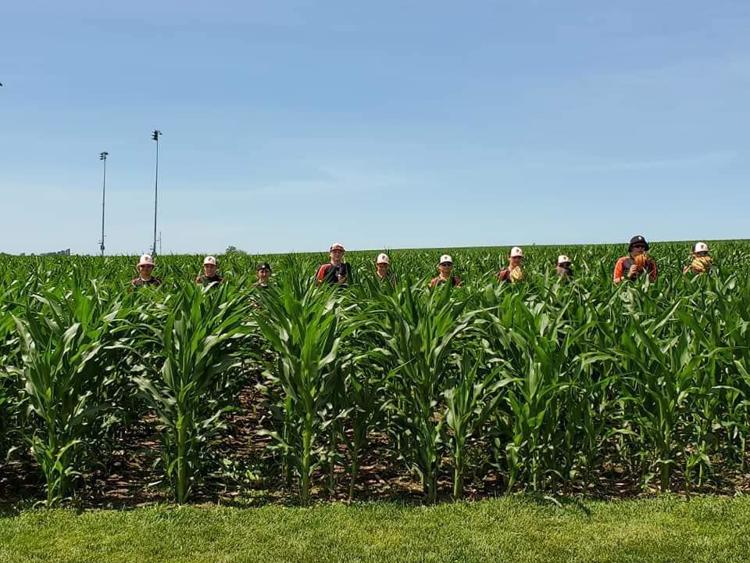 After pitching on the mound the team walked in and out of the iconic corn field.
Brevyn Whisman, 12,of Arcola, had seen the movie several times, but watched it again in the car on the way from Betttendorf to the site.
"It was a dream to be there and it is everybody's dream; everyone wants to come here," said Whisman whose favorite positions to play are first and third. "Pitching off the mound was very cool. I loved that."
Kelton Logan, Rylan Rincker, Austin Arthur,12, and Whisman all said it was hard to leave the Field of Dreams.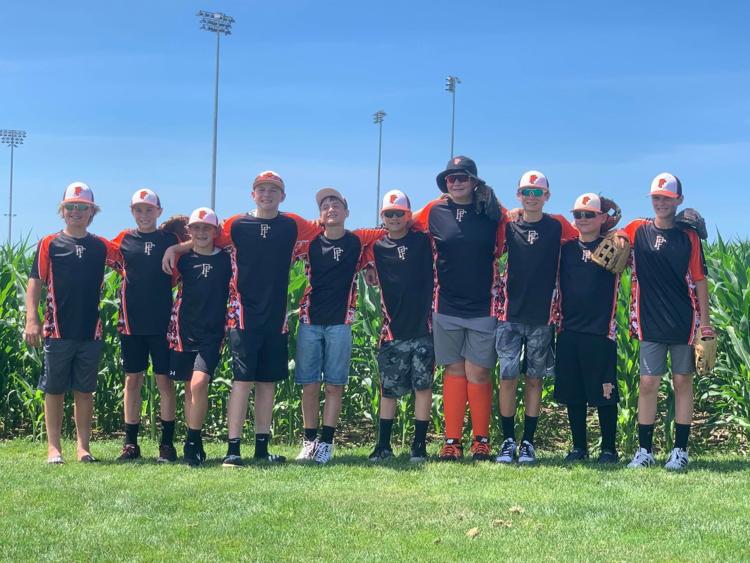 "I most definitely wanted to stay longer, said Whisman, a New York Yankees fan.  
"I would definitely go back and take my kids," said Rylan Rincker.
Most of the players are St. Louis Cardinal fans.
"My favorite parts of the movie are when they come out of the corn and when they (Kinsella family) watches the (ghost players) play," said Kelton Logan.
Rincker, who lives on a farm said, "Walking through the corn was really cool. There were no end rows which means the tractor had to pull out on to the field."
While Rinker enjoyed the experience he said, "The moms were taking too many photos."
Everyone also came home with souvenirs. Logan had hats and t-shirts while Arthur came home with two pairs of socks, one with a catcher on it and one with a scorebook. He also got a t-shirt and hat (that said three up, three down). Whisman got a baseballism t-shirt and socks with a pitcher on them, while Rincker came home with a hat.
Doug Arthur, Austin's father, is originally from Mattoon, and coaches a 9U team so was unable to be there. He know lives in Mount Zion. 
"I was really excited (as they took the road to the Field of Dreams) because that was the actual site where the movie was filmed," said Austin Arthur, who had seen the movie many times.
It is Austin Arthur's favorite movie.
"It is amazing to think about the fact we were there," said Arthur. "Not a lot of people get to go there and it got me really charged up to play baseball."
Arthur, whose favorite position is shortstop, hopes to go back with his dad.
The program is in its second year of existence and went 44-7 in its inaugural year. The Prairie Fire, who practices in Findlay and Shelbyville, is 9-4 currently.  The team consists of mainly 12-year-olds, but also has an 11-year-old and some 13-year-olds. Every player plays just about all positions.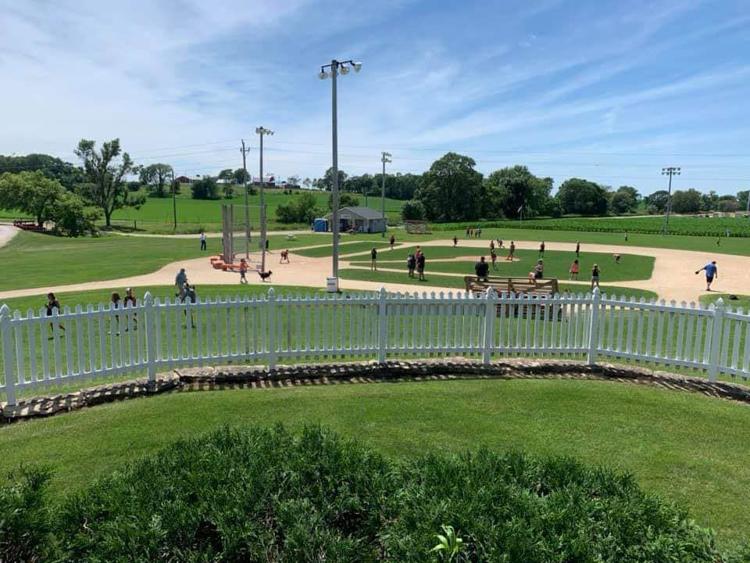 At Bettendorf the Prairie Fire won their first two games playing at 8 a.m. and 9:40 a.m. and wining them both. Then it was off to Field of Dreams. It turned out the team didn't play again until Sunday at 1 p.m. and they finished fourth in the 20-team tournament, losing to the eventual champions in a close game.  The team stayed in a Rock Island hotel and each family paid for their own room.
Logan said the team is a close knit group and are always doing things with one and another.
"Baseball teaches you many lessons," said Logan. "Our goal is to be good people and be there for one another."
Logan said the team, who has played out of state before, will pay about 25 games this season and tires to limit overnight trips.
"We get to play with our friends and have fun doing it," said Kelton Logan.
---
Contact Mike Monahan at (217)-238-6854. Follow him on Twitter: @monahanmikejgtc
Be the first to know
Get local news delivered to your inbox!