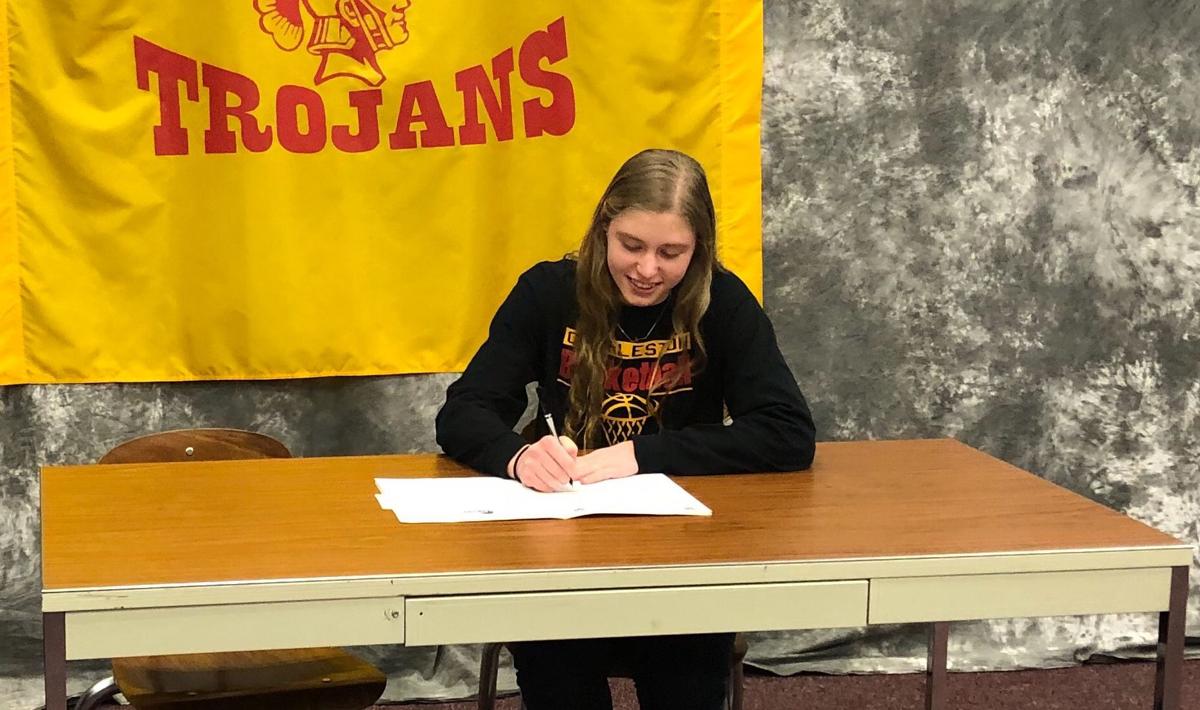 CHARLESTON – Elizabeth Buescher is continuing the Charleston High School to Lake Land College basketball trend, and, well, there wasn't much doubt in her mind that's what she was going to do. Instead of wanting to explore a new area like plenty of Mattoon and Charleston athletes do when they choose a college, Buescher pounced on the chance to stay close to home and play for a perennially strong program.
"I've thought of Lake Land as where I wanted to play," Buescher said. "It's close to home and they're good."
The opportunity arose after Buescher and two of her teammates went to an open gym at Lake Land Fieldhouse last July to practice with the team in front of the coaches. Lakers head coach David Johnson, impressed by her play that day, reached out shortly after and expressed initial interest. He later extended an offer.
Charleston coach Jeff Miller was on a boat on a lake in Carbondale when Buescher texted him with the news of the offer. Miller's thought, which he told her a few weeks later, was that he figured she could get a few other looks if she kept her recruitment open for a few more months and into the season.
Buescher, though, didn't want to wait around for too long after Johnson gave her the opportunity to play at her desired school. She committed late last summer and signed a letter of intent on Feb. 27 in Charleston's media center. She plans to start on the pre-physical therapy track. The proximity to home means she can still watch her younger sister, Hannah, play her final two years at Charleston.
"I can stay at home near my family, do what I love to do and play basketball," Buescher said.
Buescher will slide onto Lake Land's roster and ensure Johnson has another player from Charleston when Aislinn Parish, Buescher's high school teammate for two years, graduates this spring.
"I can't speak fully for Dave, but I think he recruits my girls because they're tough mentally," Miller said. "We do a lot of what they do."
That is, both Charleston and Lake Land are up-tempo teams that run the floor and play aggressive defense. Miller frequently tells his team that its defense and ability to force turnovers leads to transition offense. That's also a notable ingredient in Lake Land's play.
"They just fit together well," Buescher said. "They play defense, run the floor, they're well-disciplined like us."
Buescher was a crucial part of Charleston's defense that held nine opponents to 30 or fewer points this year. Miller estimates she led the team in deflected passes. She was the Trojans' second-leading rebounder behind forward Bernie Jackson.
"She was invaluable with her length," Miller said. "She has some quickness. We like to do a lot of trapping, so with her length, we got a lot of deflections and turnovers."
Offensively, Miller noticed Buescher gain more confidence and willingness to shoot toward the end of her junior season. It peaked Nov. 17 at Paris at the start of her senior season, when she made six 3-pointers. That progress, Miller said, gave him the increased sense Buescher could play beyond high school.
"Once she started shooting the ball better last year," Miller said, "you could see it coming."
Be the first to know
Get local news delivered to your inbox!