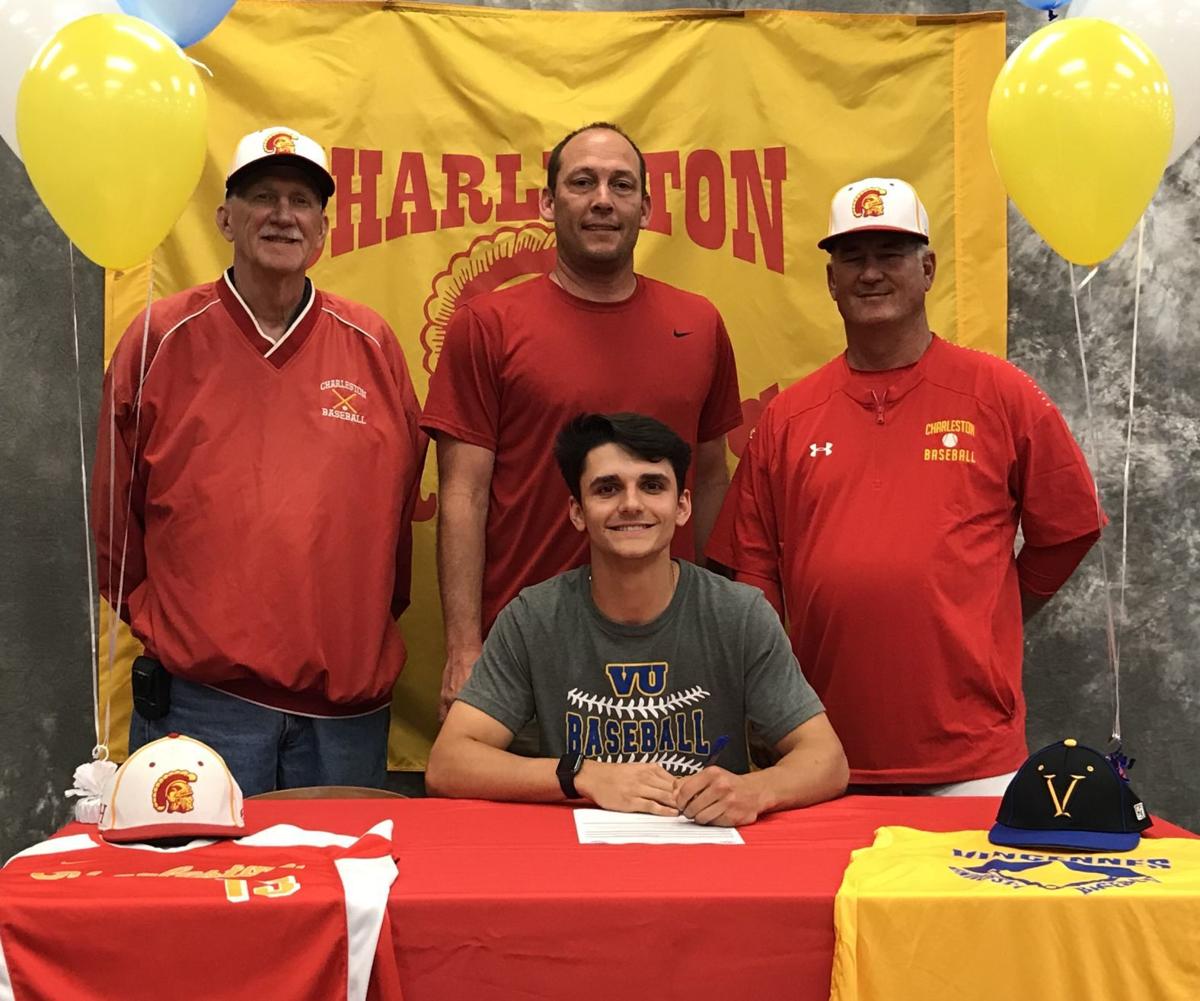 CHARLESTON – Zach Finley needed just one response.
He sent his information, stats and highlights to about 10 junior college coaches within a few hours' drive from Charleston and hoped for the best.
Vincennes University gave it to him, as did a couple others, but that was the one that caught his attention the most. Finley took a visit earlier in the spring, met with the coaching staff and committed a few weeks later, on May 2. Monday, he signed a letter of intent to play baseball for the Trailblazers at a ceremony at Charleston High School.
"It was a sigh of relief," Finley said. "It was really stressful figuring out where you want to go, reaching out to coaches. Some coaches didn't respond, some did."
Vincennes' staff, led by head coach Chris Barney, responded to Finley and right away told him they wanted him to come on a visit. When he did, they were prepared and had already done their research. The staff said they liked the speed and power he offered from the left side. They offered him a spot on the 2020 team.
"Sounded perfect to me," Finley said.
Finley is a two-year starter for Charleston in the outfield and has spent his senior year manning left field, while also occupying one of the top two spots in the batting order. He hit .344 as a junior, a robust average that helped deliver heightened confidence that he might be able to find a spot on a college team. A strong season in Legion ball over the summer added to it.
"I kept working at it and kept working at it, coach Landrus kept telling me not to give up because there has to be a school out there that wants you," Finley said.
Finely also looked at Lake Land and took a visit to Kaskaskia College. Neither matched the interest from Vincennes, he said, and he liked the idea of finding somewhere a little further away from Charleston while still staying within a reasonable drive.
Charleston now has two seniors signed to play college baseball. Keagan Brady, who plays right next to Finley in center field, signed with Lake Land in March.
Contact Patrick Engel at (217) 238-6856. Follow him on Twitter @PatrickEngel_