CHARLESTON – Justin Tomaska left sectionals last week satisfied but also wishing his team had caught just a couple more breaks.
Charleston came close to qualifying for the Class 2A state track meet in the 100-meter dash and 4x100 relay. Sharifa Hurtault finished .18 seconds back of a top-three finish in the 100, while the relay team was .45 away from a spot at state.
"We were close with a lot of things," said Tomaska, Charleston's coach. "We missed just barely in those."
Charleston is, though, still sending two of its top athletes to this weekend's state meet at Eastern Illinois.
Sophomore Megan Garrett will race in the 800-meter run, and senior Sarah Flight will partake in the high jump. Both have been here before and own six combined trips to state. They've been fruitful ones too. Garrett placed in the top eight in the 800 a year ago and Flight netted a top-five finish in the high jump in 2017. They'll enter each event this year as high seeds with strong chances of advancing to finals and medaling.
"The two we have, they're the top of the top," Tomaska said.
The Notre-Dame bound Flight cleared 5 feet, 3 inches at sectionals in Tolono earlier this month and is one of six state qualifiers tied for the No. 3 seed. Garrett is the top seed in the 800 after running a 2:20.21 at sectionals. In returning to the blue track at EIU, both stiff-armed difficult previous seasons to reach their peak entering the most important meets of the year.
Garrett nursed a few injuries last fall during cross country, namely a torn hamstring that prevented her from playing volleyball as well and limited her in some races.
"It feels nice to be strong again," Garrett said.
Flight, after that top-five finish (5'5") as a sophomore, placed 11th as a junior at state by clearing 5'1". It was a drop from the personal-best and school-record 5'7.25" she set earlier that season. She also cleared 5'4" at the 2018 Indoor Top Prep Times.
"This season for them has been a bounce back season for both of them," Tomaska said. "Last year Sarah wasn't happy with her high jumping at state, so this year she wants to bounce back and be able to do what she did her sophomore year."
There are a few reasons why Flight is confident she can regain top-five status - or higher.
Register for more free articles.
Stay logged in to skip the surveys.
"I'm a lot stronger," Flight said. "My form isn't how it was my sophomore year and I've had to cope with that and change things around, but I'm hoping that since I'm toward the end of the season and jumping better, I can come out stronger."
The other key has been managing rest and being strategic about picking jumping days in between meets. Flight also competed in the long jump and triple jump through sectionals, but was careful in limiting practice days where she did all three so as not to wear herself out. A typical week lately has consisted of driving once a week to jump with her private coach in Terre Haute, then practicing in Charleston the rest of the week to work on shorter approach jumps.
"I've told her all season don't worry about hitting the high heights in the middle of the season," Tomaska said. "We want to peak at state. We can train, train and train, but these last few weeks we have to dial it down a bit so we can have some fresh legs for state."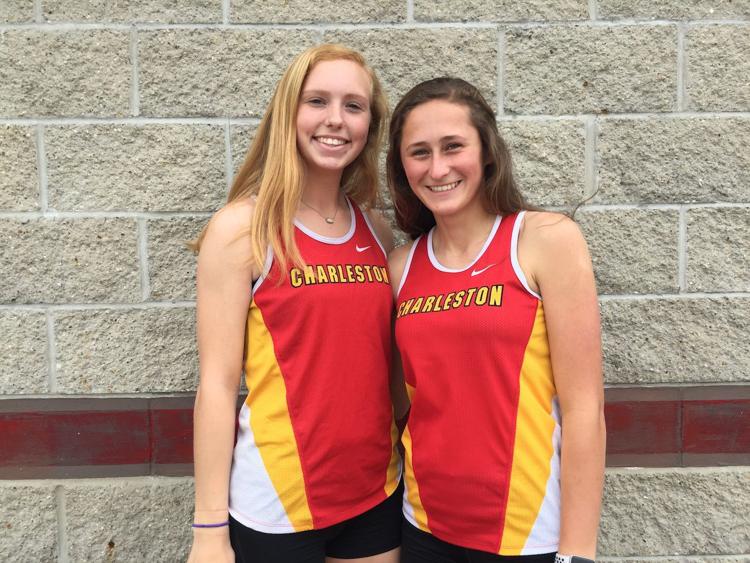 Similarly, Garrett's spring has consisted of constant trade-offs and decisions made with the grander picture in mind. She juggled soccer and track, a tricky terrain adventured by few and successfully navigated by even fewer. She endured weeks where she had games or a meet nearly every day.
"It's hard to balance, but my coaches were really flexible," Garrett said.
It added up to limited practice time for both. To compensate, Garrett used a free period during the school day to run by herself, then would go practice with soccer or play a game.
"Whenever it started getting game-meet, game-meet, I treat the games as workouts because you run a lot in soccer," Garrett said.
Sometimes, soccer games and track meets collided. She'd pick the important conference soccer game over a meet, or a big meet over a soccer game or practice. Her priority is track, though, and she thinks it's possible she will focus exclusively on it next spring.
The impressive balancing act has yet to prove to be anything other than enjoyable and productive, though.
"She looked fresh last Thursday and looked the freshest out of any runner we had," Tomaska said, "And she had soccer pretty much every day these last two months."