In April 2010, Alfonzo McKinnie, the improbable NBA Finals participant, prepared to leave an unofficial visit to his sole Division I caller without an offer or any assurance that he'd earn one.
His high school career was over, and the chances of landing at a four-year college depended on the seriousness of Eastern Illinois' interest in him. There were no other suitors, and the uncertainty became too much to handle. McKinnie turned to then-EIU assistant coach Chrys Cornelius and uttered a line that lumped preposterous expectations onto a no-star recruit.
As Cornelius recalls it nine years later: "Coach, if you take a chance on me and make me part of this team, I promise you I will be a pro one day. I promise you."
He did not guarantee, in that moment, that he'd become an NBA player. The goal was to be paid to play basketball somewhere, anywhere. He sought an opportunity to show he was worthy, and his audacious assertion helped secure it.
"He never said he wanted to play in the NBA and I don't know that his vision was to play in the NBA," said McKinnie's grandfather, James Dillard. "Just to play professionally."
EIU's staff was the first outside of his inner circle to believe in him. They offered a week later and McKinnie committed on the spot. Turns out, they're first on the list of folks who did the same in the following years. Like all those that followed, they realized soon after their decision was a smart one. No one on staff or the roster, though, saw this.
"I think people knew he had a chance to be a good player, but this is above and beyond," said former EIU assistant Chad Altadonna.
The story is well-chronicled, but here's the abridged version: McKinnie's professional journey began in the doldrums of Luxembourg's second division professional league, then featured stops in Mexico and the NBA G-League before a cameo with the Toronto Raptors last season and, now, a spot in basketball's most enviable situation. He's a rotation player for the Golden State Warriors who averaged 4.7 points and 3.4 rebounds in 72 regular-season games.
Before that now-publicized and admirable grind, before earning the trust of his coaches and teammates, before becoming a legitimate 3-point threat, before playing in overtime of a conference title-clinching win, McKinnie spent two years toiling in the Ohio Valley Conference for EIU, trying to make good on his promise.
He averaged 10.2 points per game as a sophomore in 2011-12 and never ranked higher than third on EIU in points per game. Nothing about his frame, his stats, his role, his skill level or the team's 21-37 combined record portended an NBA career. He was never EIU's best player. It was fair to wonder if he was ever the best player on a team.
"You could see there was some talent and promise there, but I never would have believed that he could play in the NBA," said EIU play-by-play broadcaster Mike Bradd. "He deserves a lot of credit for developing his game and getting to where he is."
Those who overlapped with him at EIU insist there were early signs of a shiny future. They remember him as coachable, laid-back and youthful. He was easygoing – sometimes to a fault – but a loyal teammate.
As a freshman, McKinnie was road roommates with senior guard Tyler Laser, who had two herniated discs in his back that caused him to miss the season. He insisted on traveling with the team, but he needed help. So McKinnie put on Laser's socks for him.
"When amazing things happen to sweet people, you feel good about it," Laser wrote in a statement from Germany, where he plays basketball.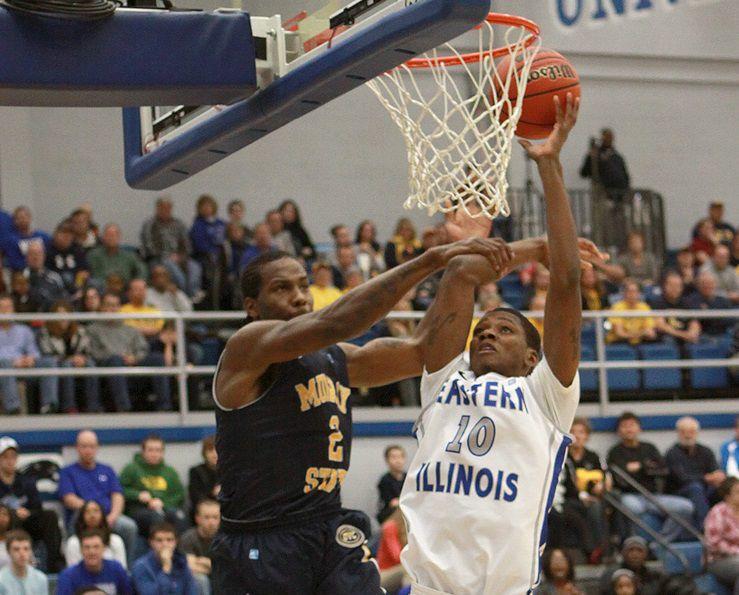 In some ways, McKinnie is the same player for the Warriors that he was at EIU and at Chicago's Marshall High School, where he received not even a sniff of Division I interest until EIU reached out during his senior year. In others, he's entirely unrecognizable from his time spent pogo-sticking around Lantz Arena.
"He's definitely still as long, athletic, bouncy and energetic as he was then," said former EIU guard James Hollowell, McKinnie's teammate for two years.
There are a few transformations, but the obvious difference is his size. He's now a 6-foot-8, 215-pound wing, plenty big enough to guard multiple positions. McKinnie arrived on that April visit, though, 6-foot-7, 175 pounds and able to hide behind a lamppost.
Marshall coach Henry Cotton, who first mentioned McKinnie to Cornelius, understood the dearth of offers, even if he disagreed with the logic. McKinnie was athletic, but not particularly skilled and, of course, rail-thin. He didn't resemble an immediate contributor. EIU, Cornelius said, viewed him as a "down-the-road guy."
"My initial thought was that he was a pretty skinny kid. He's pretty small," Hollowell said. "If I was recruiting him, I would have thought the same thing. I don't know how much weight he could put on his frame."
EIU had one scholarship open, and with most of its 2009-10 roster returning, simply wanted to find the best possible player. McKinnie's size was a concern, but Cornelius trusted his evaluation.
"Al could rebound. The. Ball," Cornelius said. "And he could defend. He had a high, high motor. It was unreal. It was on an entire different level than anybody else that we came across for that spot."
Register for more free articles.
Stay logged in to skip the surveys.
McKinnie's game at EIU centered on his athleticism and leaping ability, two attributes evident to anyone that has watched him now. The transition dunks, offensive rebounds and putbacks that he has provided for the Warriors were the primary sources of his points at EIU. He averaged nearly three offensive rebounds per game as a sophomore and 7.0 overall.
The older players' perception of him as a lean lad soon changed to one of awe. Hollowell remembers a midnight madness event before McKinnie's freshman year when McKinnie finally executed a dunk where he threaded the ball between his legs in mid-air.
"We were thinking, 'what is this kid doing here?'" said Nick McFarlin, an EIU redshirt junior forward when McKinnie was a freshman. "He has some real-deal potential. But his skills weren't all the way there yet."
Then-EIU head coach Mike Miller used McKinnie primarily at the four, and his job was to hang around the basket in Miller's triangle offense that put the scoring burden on EIU's guards. His points came on drop-off passes, alley-oops, putbacks and free throws. Everything was 10 feet and in. He did not own the strength to post up, the handle to go off the dribble or the jump shot to face up beyond an occasional fleeting moment.
"Most of his points just came from being naturally gifted," Hollowell said. "Just a guy who could get out there, bring energy, run the floor, get easy buckets, get some dunks."
In two years at EIU, McKinnie attempted zero 3-pointers. He remained the wiry, springy teenager who loved the game, but had yet to embrace that grind. McFarlin remembers walking through the rec center hours after practice ended, still sore, and seeing McKinnie playing pickup games with friends. But the skill level and strength development was relatively flat.
"I played center for us, and I used to joke that I shot much better than him," McFarlin said. "He definitely passed me up.
Miller's contract was not renewed after the 2011-12 season, in which EIU went 12-17 and missed the OVC tournament. McKinnie requested a transfer. He landed at Green Bay, where he joined high school teammates Keifer Sykes and Vincent Garrett as well as Cornelius, who left EIU to join Brian Wardle's Green Bay staff before McKinnie's freshman year. Dillard thinks that if not for the coaching change, McKinnie would have finished his career at EIU.
Teammates and coaches from McKinnie's EIU days stayed in touch and followed ventures. Altadonna went to Las Vegas in 2017 to watch him play for the Raptors summer league team and thought he had a chance to make it. Instead, he played most of the year in the G-League and was released at the end of the season.
"I thought it might be tough," Altadonna said. "He needed to find the right fit."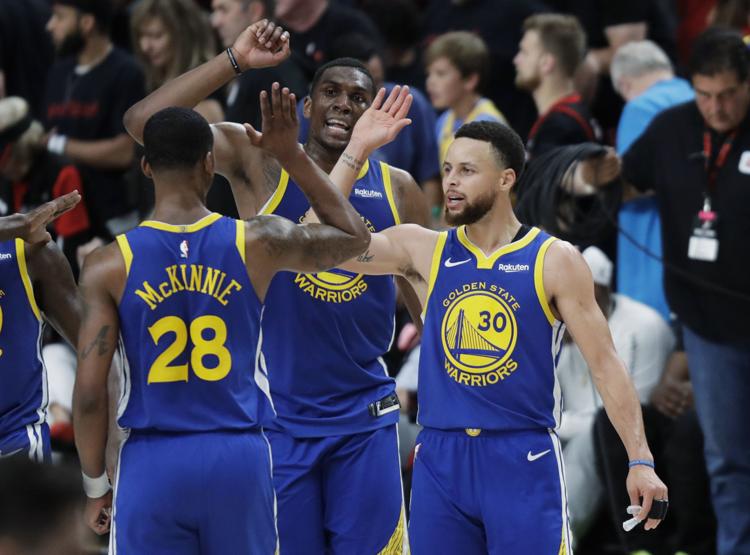 The Warriors, in need of inexpensive role players with their tight cap space, invited him to training camp and offered an Exhibit 10 deal. He secured a two-way contract in camp and earned the final spot on the opening-day roster.
"I remember thinking like, 'the Warriors?!'" McFarlin said, still incredulous. "They're on a totally different level."
To McFarlin, this was the same kid who was full of promise but short on skill. To everyone else, this was the guy waived by another team and back in the floater pool. And the Warriors were paying him to play basketball.
Upon seeing it in person, it was nearly too much for McFarlin to handle. He and L.C. Doss, another of McKinnie's friends and teammates at EIU, traveled to Denver in January when the Warriors came through. They poured in an NBA-record 51 points in the first quarter in a blowout win. McKinnie played 22 minutes, scoring two points and grabbing four rebounds.
The astonishment of it all truly hit, though, at dinner at the Ritz-Carlton on the same trip. McKinnie, Doss and McFarlin were sitting at a table alone when Kevin Durant sneaked up behind them, acknowledged McKinnie and extended a hand to the others.
"Kevin Durant," McFarlin said, pausing, "had the nerve to come up to introduce himself to us. It's crazy to think this kid was once hardly serious enough to have a sit-down conversation with, and now Kevin Durant takes him seriously."
The Warriors' decision-makers clearly do too. McKinnie's contract became guaranteed in January and paid him $1.3 million this season. In Game 1 of the Finals Thursday, he played in both halves. He scored six points, making two 3-pointers in eight minutes. The skill improvement was clear.
"There are a lot of 6-foot-7 guys who can jump freakishly and run like a gazelle," McFarlin said. "But it's the matter of putting in that work. I'm crazy proud of him, and it's not like we're best friends or anything. But I talk about him everywhere I go because I'm proud to know him."
The tantalizing traits displayed at EIU, though, are still there. After averaging nine minutes in the Warriors' first 14 playoff games, he drew a spot start in Game 4 of the Western Conference Finals. He played 26 minutes and scored 12 points.
Naturally, he grabbed two overtime offensive rebounds.
Even as he navigated his twisted path and all the trials on it, he kept his foundation, the same one that gave him the mettle that day in Charleston to make a promise he knew wasn't outlandish.
"The things we were expecting him to do, he does for them," Altadonna said. "He has really figured it out, developed his strengths and worked on some other things. I can see so much progress, but I love the fact that he hangs his hat on the things he's always done well."