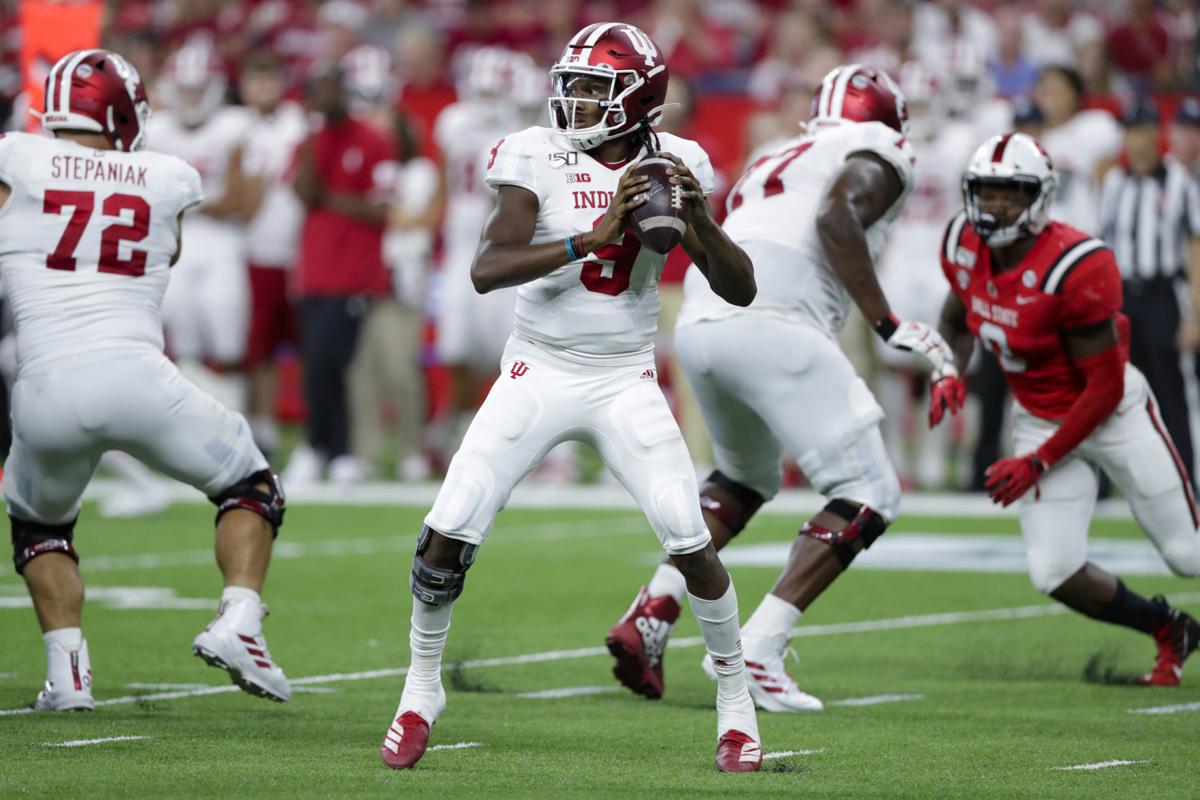 Eastern Illinois travels to play Big Ten member Indiana Saturday afternoon. Here are five things fans should know about the Hoosiers, who won their opener and went 5-7 in 2018.
Closer call than expected
Indiana began the season against Ball State in Lucas Oil Stadium in Indianapolis. It was the perfect setup for an opener: big-league venue, centrally located, and an opponent that everyone expects them to beat.
All of that proved true, except that win was a closer contest than anyone associated with the Hoosiers would have liked. Ball State, after all, finished 4-8 in the Mid-American Conference last year and fifth in its division.
Indiana won 34-24, but led only 23-17 after three quarters. The Hoosiers allowed 398 total yards, though they bottled up Ball State's running game to the tune of 2.5 yards per carry on 40 attempts. That included three sacks. There's nothing ugly that pops out on the defensive stat sheet, but it was a surprising result for a game that, like this week, is scheduled with the expectation of providing a relatively stress-free win.
Another dependable 1,000-yard back
Stevie Scott wasted no time in putting his name on the Hoosiers' list of successful running backs this decade, chief among them current NFLers Tevin Coleman and Jordan Howard.
Scott ran for 1,137 yards and 10 touchdowns on 228 carries in 2018. All three of those figures set Indiana records for a true freshman. He became the fourth Indiana running back to post a 1,000-yard season since 2014, joining Coleman, Howard and Devine Redding. Like those before him, he's a load to tackle, at 6-foot-2 and 230 pounds.
Scott and those previous backs were helped by an offensive line that has consistently opened holes in the running game and owns a successful history of recruiting and developing linemen. Indiana's three seniors on the line have a combined 75 career starts.
Against Ball State, though, Scott ran for just 48 yards on 19 carries.
"I called them out on it to be able to run the football better," Indiana head coach Tom Allen said. "It's a proud group, there's three seniors on there that are some of our biggest, strongest guys on the team, some of our best leaders. Loading the box or not, you have to run the football. I expect them to respond in a positive way."
Quarterback beat out stiff competition
Michael Penix Jr. became available to Indiana late in the 2017 recruiting cycle when he and Tennessee parted ways amid a coaching change.
He's now Indiana's starter as a redshirt freshman after beating out former top-200 recruit and Utah transfer Jack Tuttle and incumbent starter Peyton Ramsey. He tossed two interceptions in his first start last week, but impressed with his dual-threat ability. He threw for 326 yards and a touchdown on 8.2 yards per pass attempt. He also ran for 67 yards on seven carries.
Penix played in three games last year before tearing his ACL and using the season as a redshirt year.
Top receiver has seen everything
If it feels like Nick Westbrook has played for Indiana for the last 100 years, it's because he has … well, sort of. This year is his fifth in the program, though it sure seems like he has spent a century in Bloomington. He was Indiana's top receiving option as a sophomore in 2016, with 995 yards and 18.4 yards per catch, but suffered a torn ACL on Indiana's first play of the 2017 season.
When his eligibility is up after this season, he will leave as one of the most productive Hoosiers receivers in recent memory. If he stays healthy, he should easily eclipse 2,000 career yards. He began his final campaign of college football with 103 yards and a touchdown catch.
Adam Cushing has some familiarity
After spending 15 seasons in the Big Ten as an assistant, Cushing has a strong feel for the conference as a whole. Indiana was in the opposite division as Northwestern and played the Wildcats less frequently than other conference members, but Cushing has enough baseline knowledge of Allen's philosophies.
Cushing and Northwestern last played Indiana in 2016, when Allen served as the Hoosiers' defensive coordinator. Allen was promoted to head coach at the end of that season. He gave up defensive coordinator duties after the 2018 season and handed them to Kane Wommack, his hand-picked successor who has kept the 4-2-5 scheme Allen installed back in 2016 largely the same.
Contact Patrick Engel at (217) 238-6856. Follow him on Twitter @PatrickEngel_