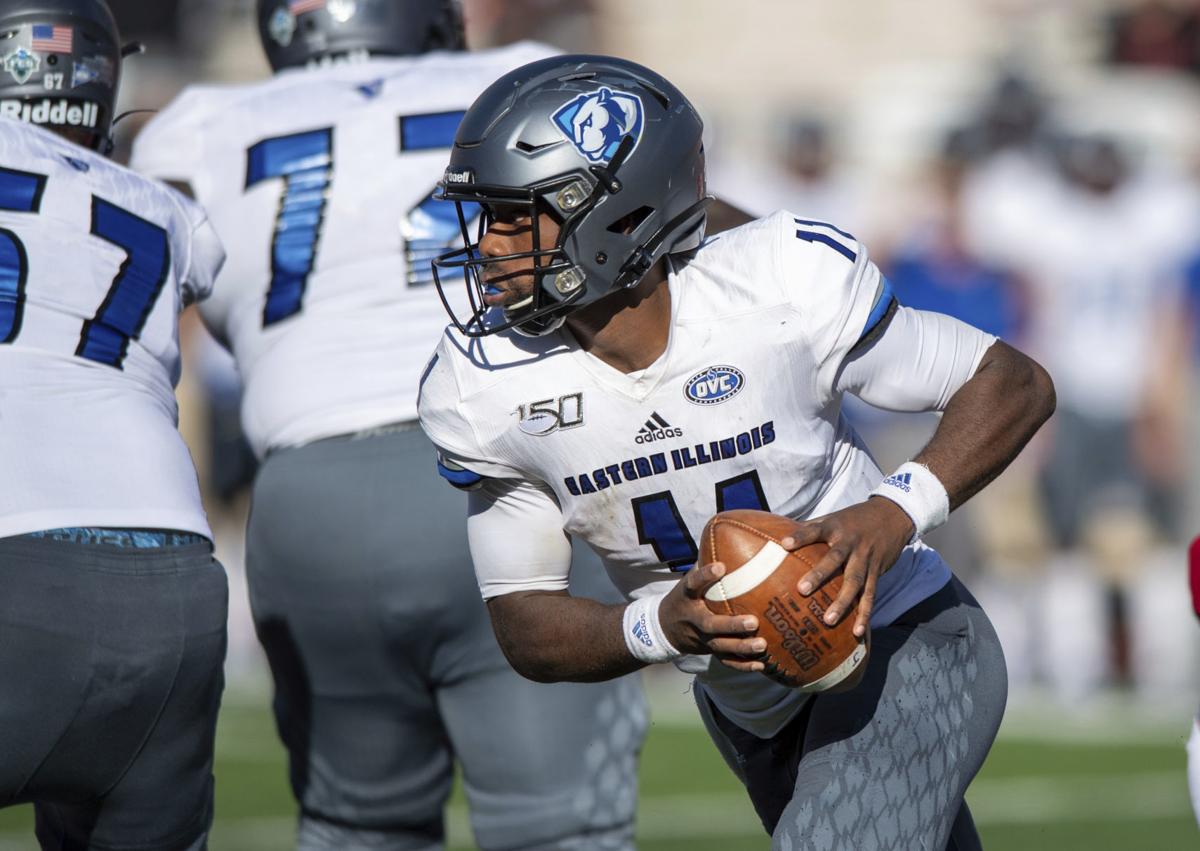 Adam Cushing didn't launch into panic mode in his postgame press conference after Eastern Illinois' loss to Indiana.
His remarks after EIU's 52-0 loss conveyed a sense of patience, praise for an opponent that operates in a different universe, the realization that there is a lot of season left and confidence in his players' and staff's ability to correct the maladies that did arise on Saturday.
"We have all our goals in front of us still," Cushing said.
There were lots of things to clean up, though. Maybe even some areas of concern. The next 10 games will reveal how much of Saturday's events were a one-off performance against a team EIU wasn't expected to challenge, or issues that plague the Panthers from now through November.
Saturday was just one game, but EIU needs to prove that it was just one game. The Panthers' hardest game has passed. But the rest of the schedule isn't full of cupcakes that afford an opportunity to get by with less than stellar play.
"You want to get challenged," Cushing said. "This is a really good football team, and we're going to play another one this week, another the week after that, and the week after that."
Here are four larger takeaways from the season so far.
A dearth of explosive plays is an issue
Through two games, EIU has five plays of at least 20 yards. All of them came against Chattanooga. Four of them are passes, and all of those are between 20 and 25 yards. With the exception of the final three drives against Chattanooga, the Panthers have operated as more of a chain-moving, short-gain offense.
The numbers paint an unflattering picture. EIU averages 8.22 yards per completion and 4.22 yards per pass attempt. Those rank second-worst and third-worst, respectively, among FCS teams that have attempted at least 40 throws. The Panthers are No. 106 in passing efficiency (88.66) and have scored one touchdown in four red zone trips.
It's a small sample size, yes, and one of those games was against a Power Five team. It's still not a great start. EIU is one of 26 FCS teams that have played a Power Five opponent, and not all of them struggled to move the ball like EIU did Saturday.
EIU's longest play from scrimmage against Indiana was 14 yards. The Panthers had nowhere to move, nothing that opened up. Johnathan Brantley and Harry Woodbery faced steady pressure. EIU's receivers struggled to separate down the field. The framework of an explosive play wasn't even there. Plenty of that is a credit to Indiana and its skill level.
But this two-game start is also a sign that the Panthers miss explosive play threats Alexander Hollins and Isaiah Johnson. In EIU's game at Arkansas last year, Hollins caught three touchdowns and had 127 receiving yards. The 2019 Indiana team appears to be much better than 2018 Arkansas, but either way, there's an inherent gap in ability between an Ohio Valley team and a Power Five one.
These two games evoke the idea that EIU simply may not have a playmaker on Hollins' or Johnson's level. That doesn't mean the Panthers' skill position talent is bad, and there's plenty of time for someone to emerge. This is an offense that lost its top three wide receivers and top two running backs.
Perhaps that guy is Matt Reyna, who the coaching staff has raved about since arriving. He remains without a firm timetable for return from an undisclosed injury. The running game has a little more clarity regarding its big-play threat. Freshman Jaelin Hayes-Benefield has obvious speed and owns EIU's longest play from scrimmage this year, a 31-yard run against Chattanooga.
Xander Richards appeared comfortable in EIU's first game, with five catches for 67 yards. His timing with Brantley on a 20-yard back-shoulder completion on 3rd-and-10 made everyone forget he had two career catches coming into this season. He did not catch a pass against Indiana, though. Superback James Sheehan is a dependable target, but profiles more as a possession target than a field-stretcher. Those two are EIU's only pass-catchers who averaged more than 10 yards per reception.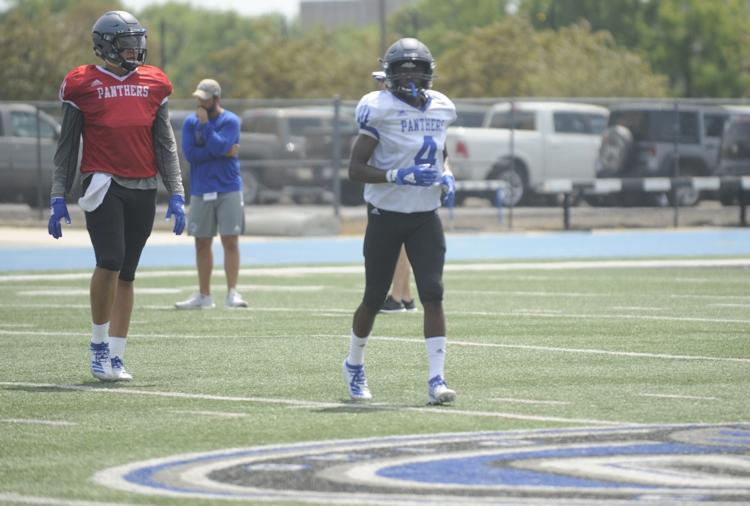 This was an issue that popped up throughout both games. A muffed punt gave Chattanooga the ball inside EIU's 15-yard line in a scoreless game. Additionally, EIU dropped two kickoffs (both were recovered, but it ruined the return), committed a delay of game on a field goal and muffed another punt it recovered.
Saturday, EIU was flagged for offside on the opening kickoff, had a punt partially blocked and was flagged for illegal substitution on an extra point attempt. The good news was that the Panthers appeared to clean up the kick receiving issues that plagued them in the opener. No special teams mistake impacted the game Saturday, but it has already put EIU's defense in a bad spot once this year. Overall, these are the kind of mistakes that are self-inflicted and entirely correctable.
Offensive line is holding together
For a unit that lost all five starters from 2018 and has three freshmen starters this year, EIU's five up front has fared relatively well. They were overmatched against Indiana's size and speed, which prevented them from opening holes for the running backs and protecting long enough for pass plays to develop. It's understandable given the opponent.
EIU allowed just two sacks and has surrendered three through two games. No one has committed a holding penalty. The execution, lack of missed assignments and low number of sacks relative to all the youth and inexperience is a good sign overall.
"For the most part, we did the best we could communicating, making sure that assignment-wise, we're perfect," left tackle Cole Hoover said.
Freshman Chad Strickland has committed two false starts, but again, those feel like early-career jitters that are correctable. Freshmen guards Anthony Sottosanto and Elkhanan Tanelus have not committed a penalty. They're not dominant linemen at this point in their careers, but they've handled the mental aspect well enough to be trusted to stay on the field.
"They're excited about the opportunity they get," Hoover said. "They're upset we lost, but they have the right mindset and are ready to go for next week. It's a good group of guys."
EIU has yet to record a sack this year and through two games, has not put a lot of heat on the opposing quarterback. Getting through Indiana's experienced and strong offensive line was going to be a tough task, and sure enough, all three Indiana quarterbacks had time to make reads and throw wherever they chose. Not a soul-crusher considering the context. But Chattanooga's Nick Tiano had a fence around him too. He averaged 9.5 yards per attempt despite his two interceptions.
If EIU's future defensive efforts resemble the outing against Chattanooga, that will be a marked improvement from 2018. The Panthers tackled well and picked off Tiano twice. The lack of pressure, though, will cap just how much better the defense can get. EIU has only one quarterback hit so far this year, so it's not like it has been thisclose to a load of sacks. Dytarious Johnson drew a hold Saturday, but it was on a running play.
-Remove sacks, and Johnathan Brantley has 19 carries for 53 yards (2.79 ypc)
-Catches of at least 20 yards this year: Marques Ray, James Sheehan, Xander Richards, Kirk Pinkston
-Runs of at least 10 yards this year: Chris Walker, Jaelin Hayes-Benefield
-Freshmen who have played in two games: RB Jaelin Hayes-Benefield, WR Kirk Pinkston, TE Nick Stricker, OL Chad Strickland, OL Elkhanan Tanelus, OL Anthony Sottosanto, DL Tim Varga, DL Cameron Leach, DL Charlie Brooks, LB Anthony Shockey, LB Ameer Aquel, LB Grant Edwards, CB J.J. Ross
-Freshmen who have played in one game: TE Will Shumpert, TE Anthony Manaves, OL Anthony Imperio, OL Ivan Gleyzer, DL Dominic Moore, DL McKinley Neville, P Christiaan Masucci, DB Brandon Guido, DB Connor Aldrich
Freshmen can play in up to four games and still qualify for a redshirt season.
---
PHOTOS: Eastern Illinois football
Terrell Greer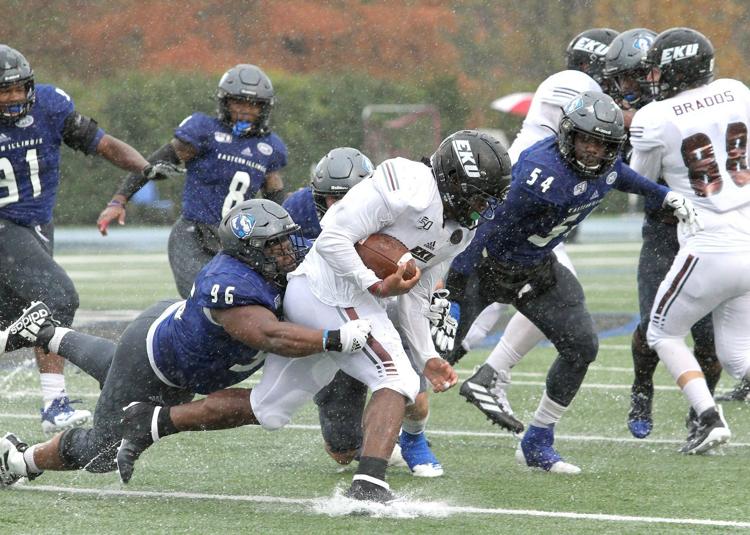 Eastern Illinois vs. Eastern Kentucky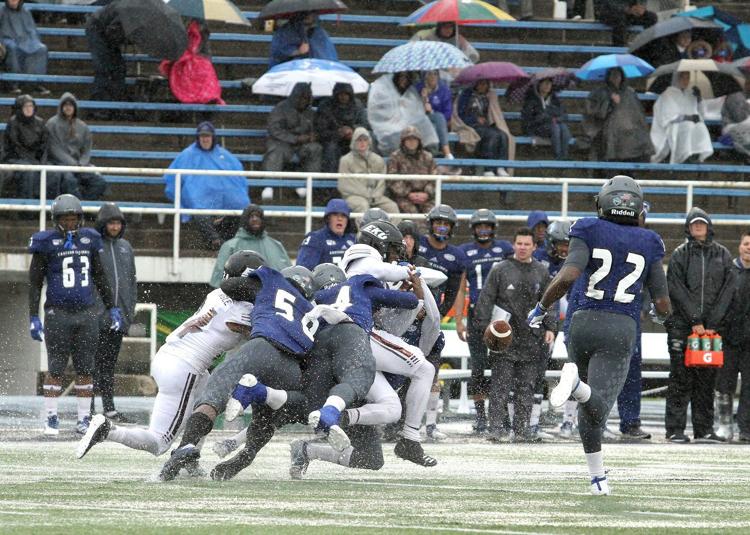 Isaiah Hill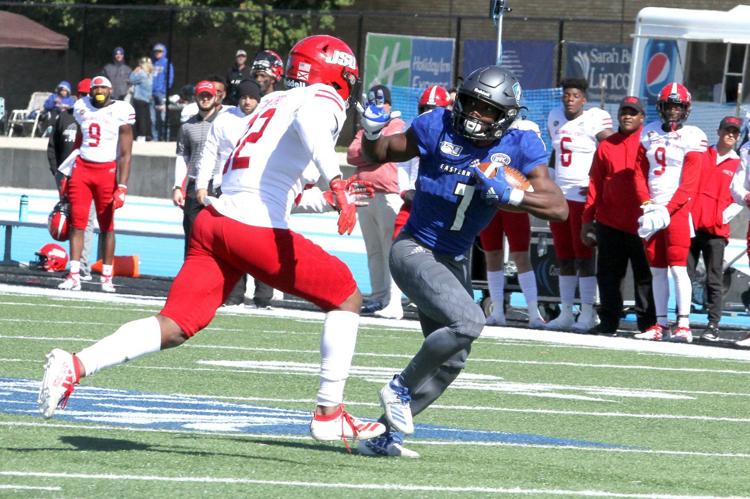 James Sheehan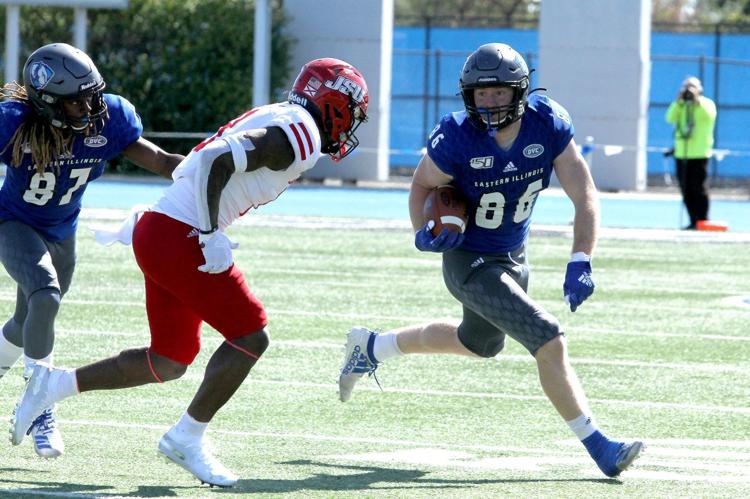 Dytarious Johnson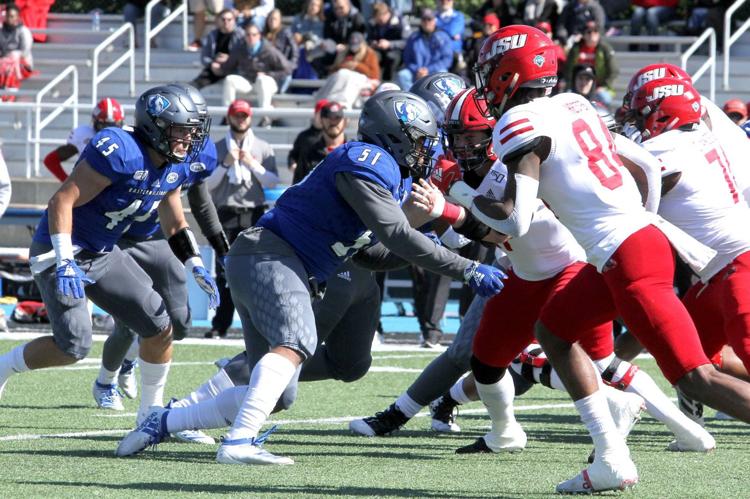 Eastern Illinois football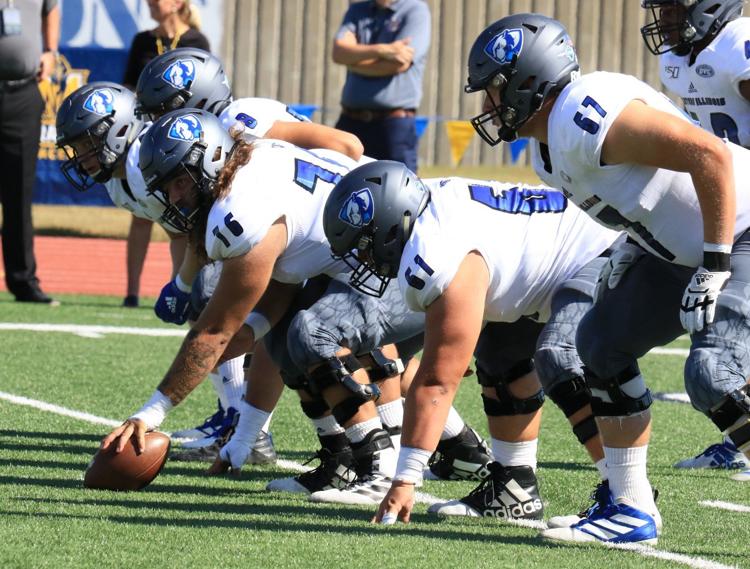 Isaiah Hill EIU football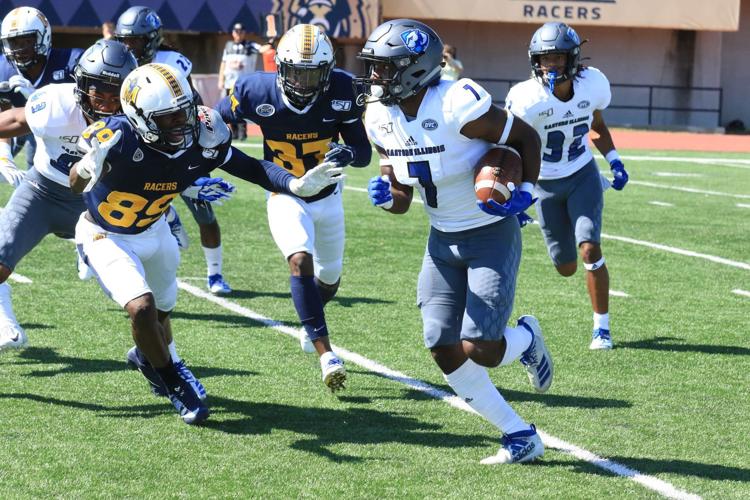 Chris Walker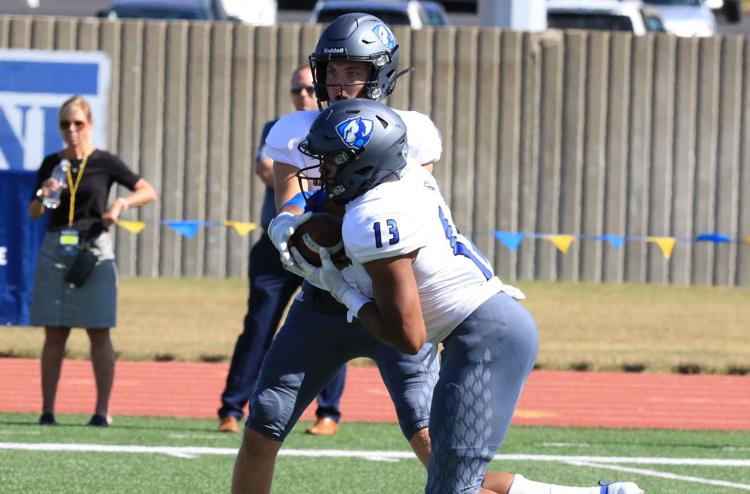 EIU football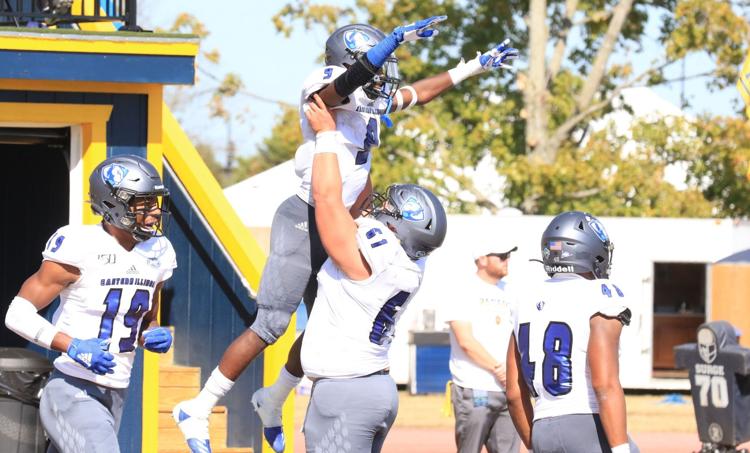 Jaelin Benefield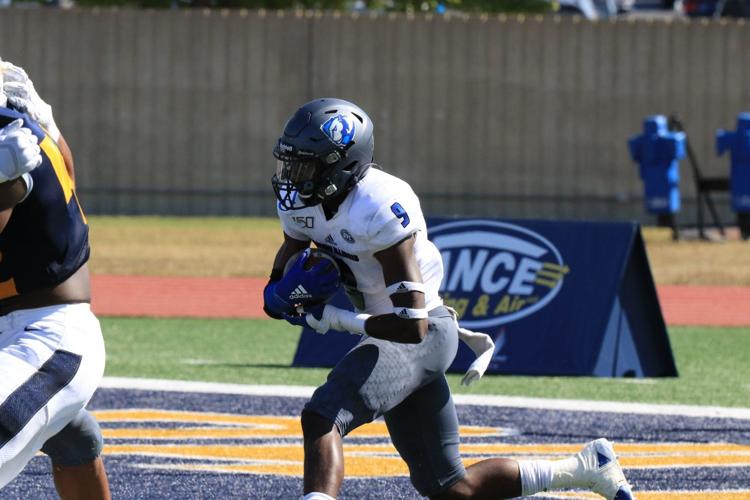 Harry Woodbery vs. Murray State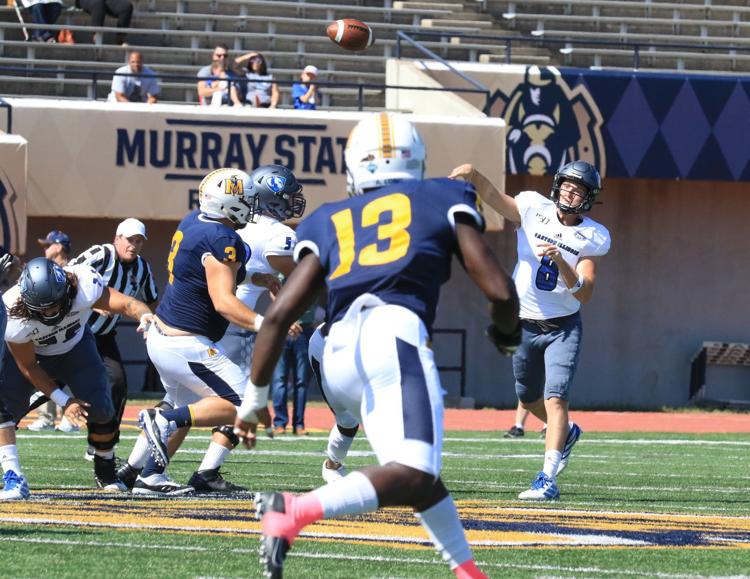 Harry Woodbery vs. Tennessee Tech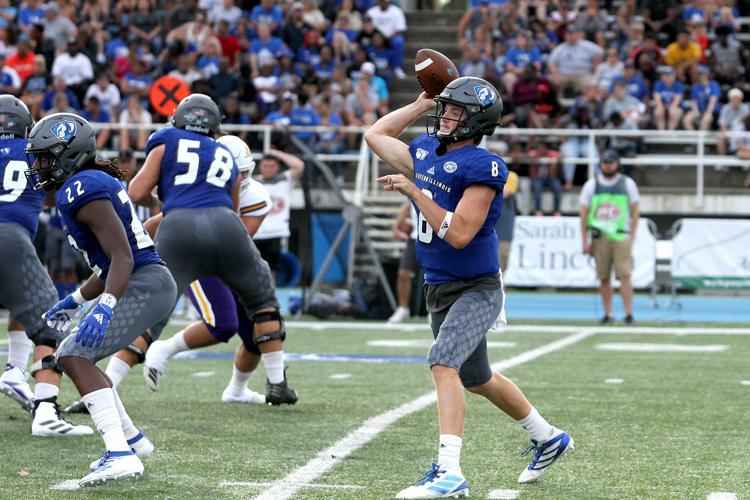 Jaelin Benefield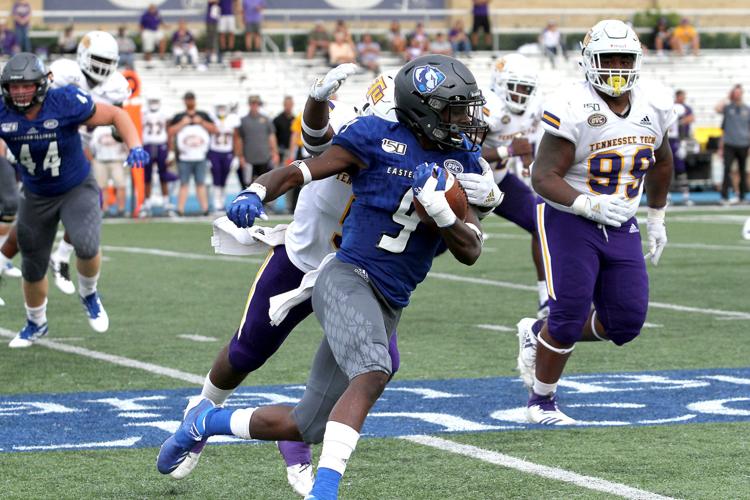 Harry Woodbery vs. Indiana State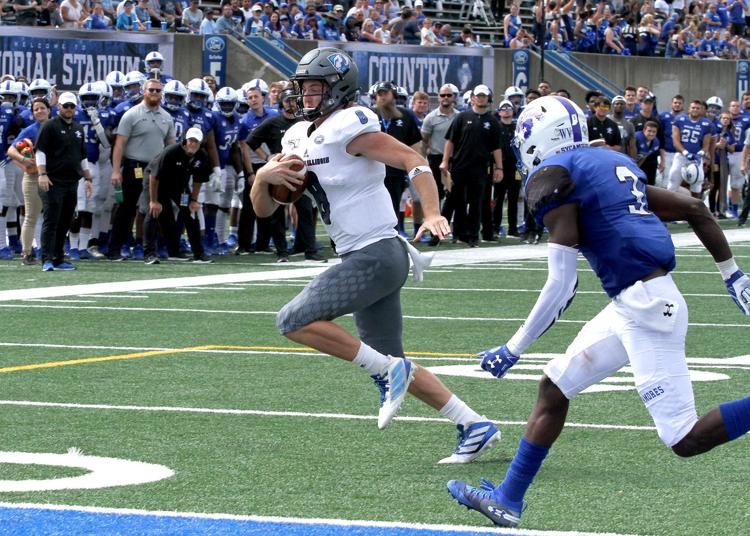 Eastern Illinois vs. Murray State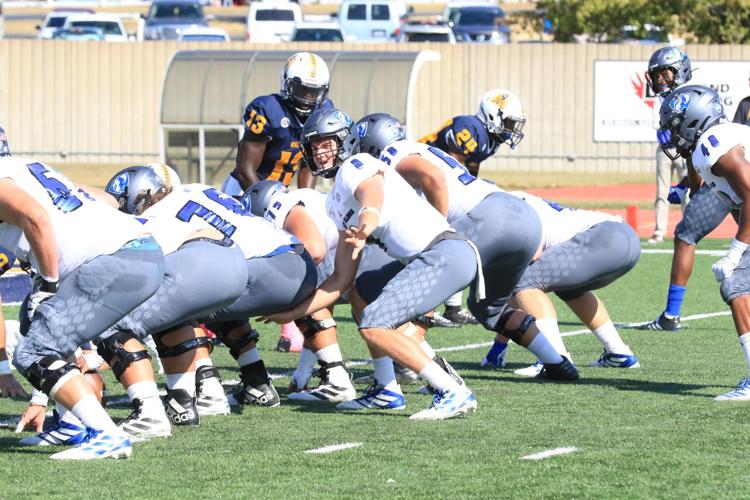 Joe Caputo, Anthony Shockey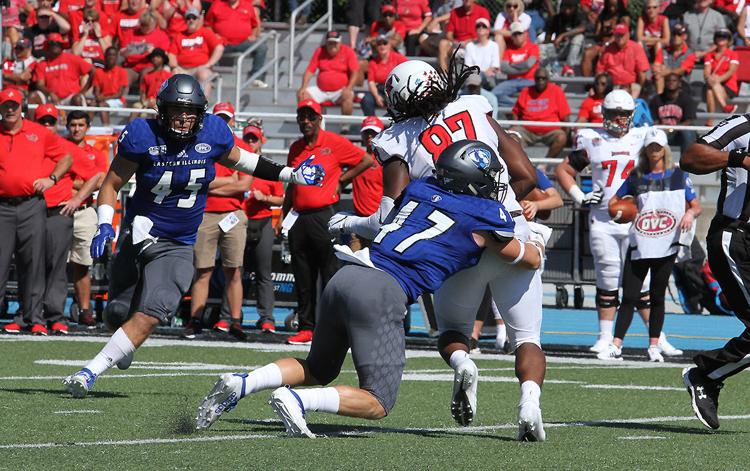 Eastern Illinois Indiana Football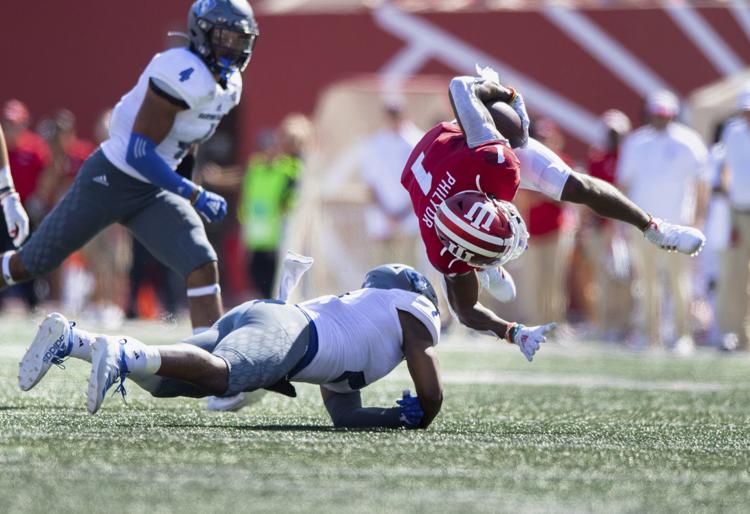 Eastern Illinois Indiana Football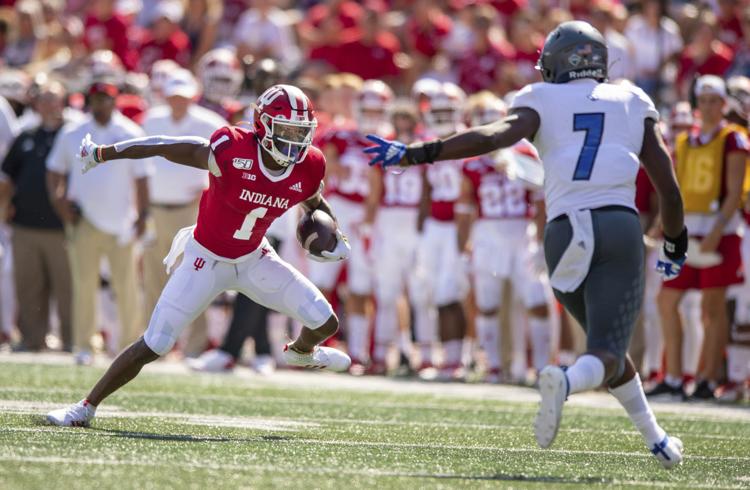 Eastern Illinois vs. Chattanooga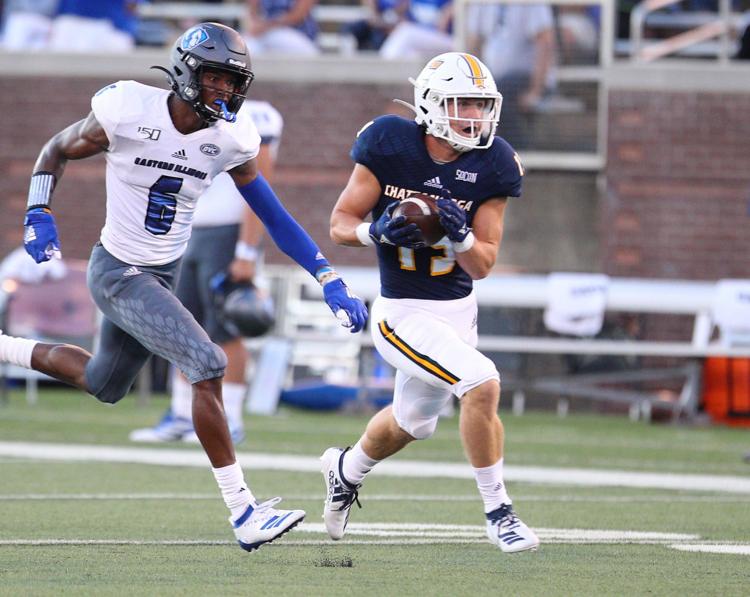 EIU vs. Chattanooga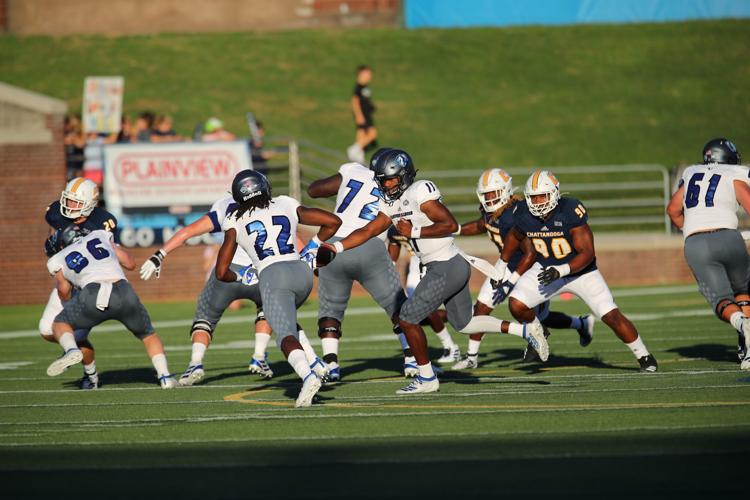 J.J. Ross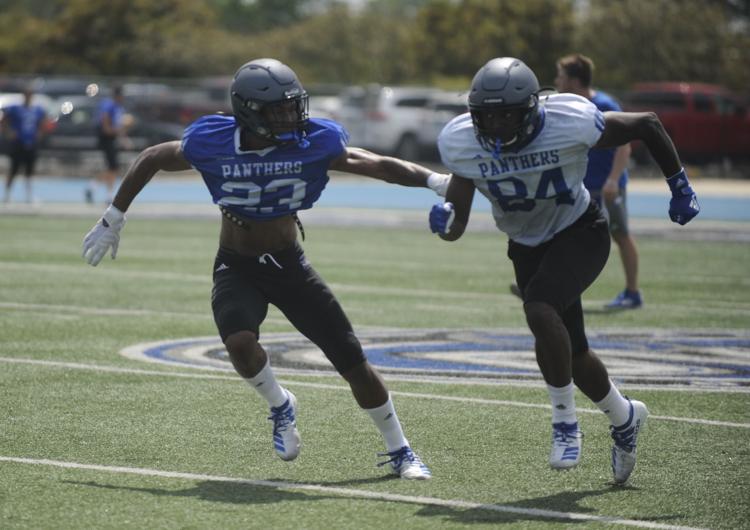 Chris Bowers
John Kuceyeski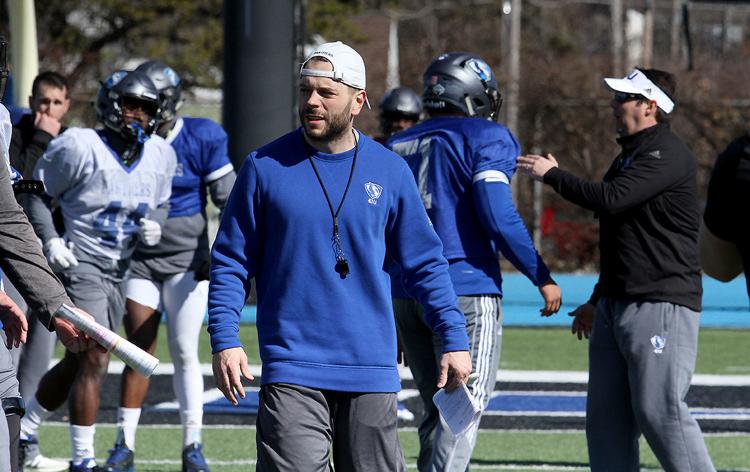 John Kuceyeski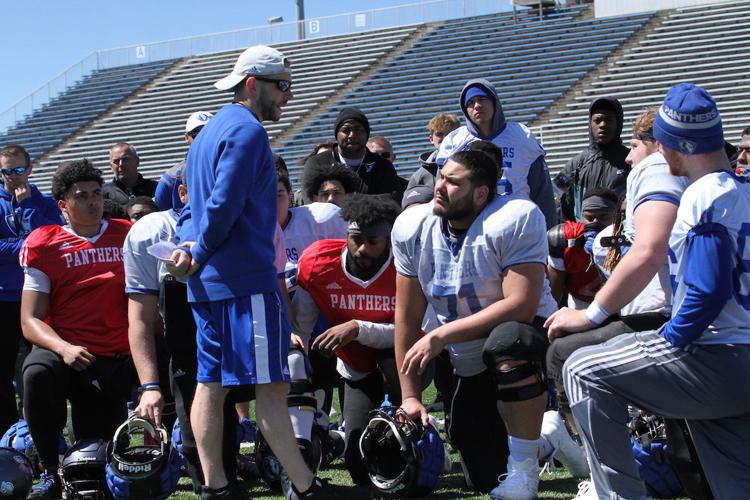 Dan Hernandez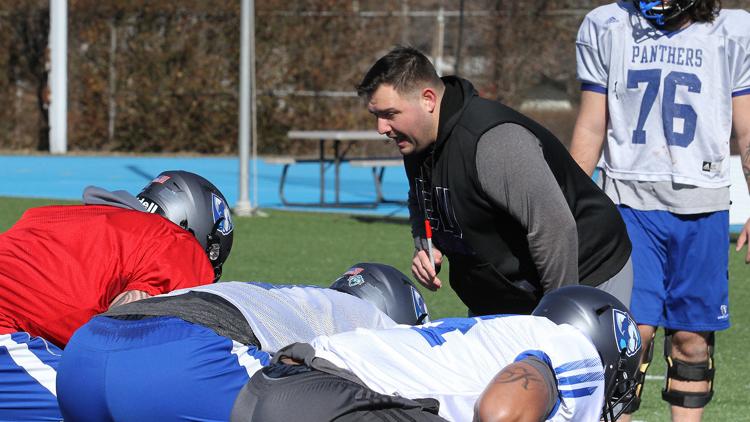 Adam Cushing introduction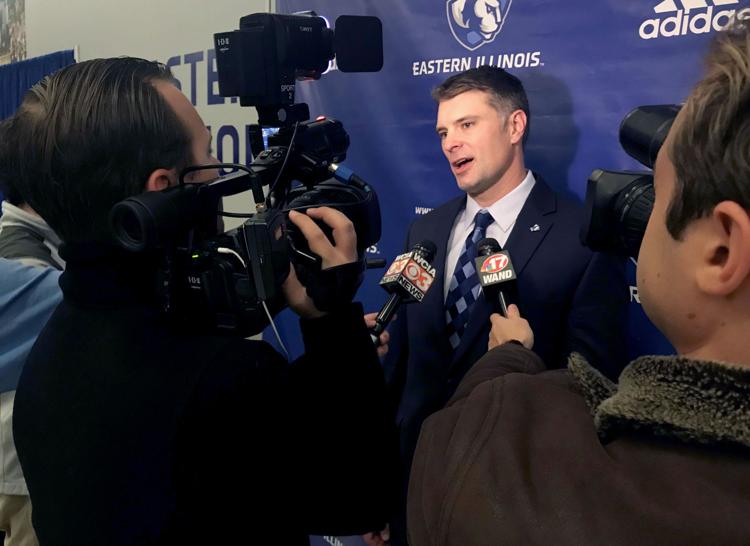 Adam Cushing introduction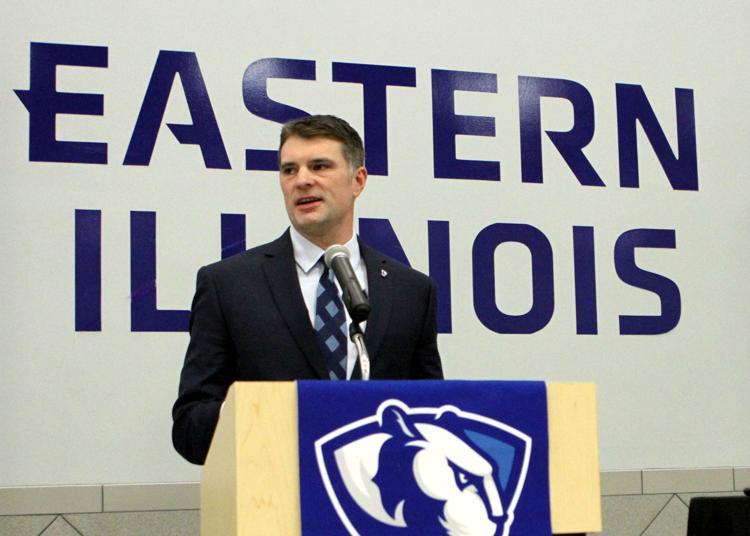 Adam Cushing introduction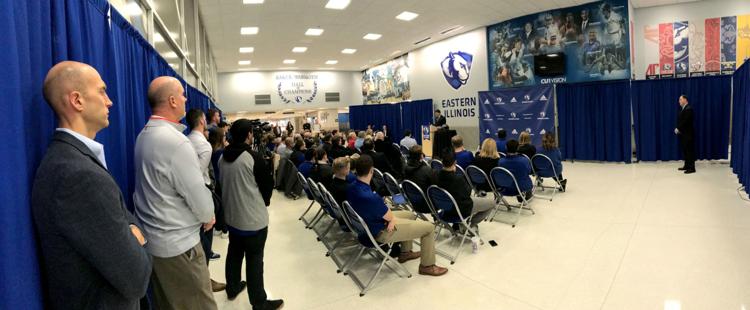 Contact Patrick Engel at (217) 238-6856. Follow him on Twitter @PatrickEngel_
Be the first to know
Get local news delivered to your inbox!