CHARLESTON — Adam Cushing, when prompted with a question about his ideal quarterback scenario, recalled an old saying he heard somewhere along the way in his 16 years as a coach.
Every coach has ideals for all facets of his program, from personnel to the location of his office. He doesn't always implement them, though. Adaptability trumps all else.
"The way I heard it said best is, 'As soon as you start thinking about ideals as a coach, you put yourself in a box you don't want to be in,'" Cushing said. "You have to be flexible to say, 'Who do you have?'"
In this particular case, Cushing is open to the possibility that more than one of his Eastern Illinois squad's best 11 offensive players is a quarterback. Ideally, coaches want to designate one quarterback and stick with him unless a change is needed.
Cushing may well stick to that. It's the likeliest outcome. But since his Jan. 2 start date, he has become more open to the idea that EIU is best served by getting multiple quarterbacks into the game.
"We're going to make sure the best players aren't standing next to us on the sideline consistently," Cushing said. "If that means it's a two-QB system, then that's what it's going to be. I've been part of that in my career and seen it succeed, but also seen it not succeed. But we're not there yet. I think we're trending towards one guy, but we're not ruling anything out."
That does not necessarily portend a quarterback controversy or indecisiveness. EIU has neither of those right now. Its quarterbacks — Johnathan Brantley, Harry Woodbery, Scotty Gilkey Jr. and Jaylon Banks — are still competing with each other, each aiming to be the starter. They are not, though, operating under any assumptions of what the end result of the battle will be, or anything based on last year's strategy under a different coaching staff.
"We're not really focused on that as a room. I'm not, personally," Woodbery said. "We haven't really talked about that with the coaches much."
Added Brantley: "I haven't asked any questions in regards to it."
Cushing wants to have a loose decision on a quarterback or two final contenders with about 10 days or so ahead of the Aug. 29 opener at Chattanooga. That's when practice will shift from a more general focus to incorporating opponent preparation. Giving four guys equal snaps becomes harder in those situations, so the winner will work with the other starters or the two finalists will spilt reps.
Or, they'll begin to work on a plan to involve both. Maybe it's not the ideal option, but it isn't viewed as entirely ludicrous. If a dual-QB system is EIU's choice, head coach and quarterbacks are uniquely positioned in how to handle it, considering both parties have been involved in one before.
EIU ran it just last year under former head coach Kim Dameron and offensive coordinator Scott Parr. Brantley started nine games, and Woodbery two, but each threw more than 200 passes. When both were healthy, they played in the same game.
You have free articles remaining.
Keep reading for FREE!
Enjoy more articles by signing up or logging in. No credit card required.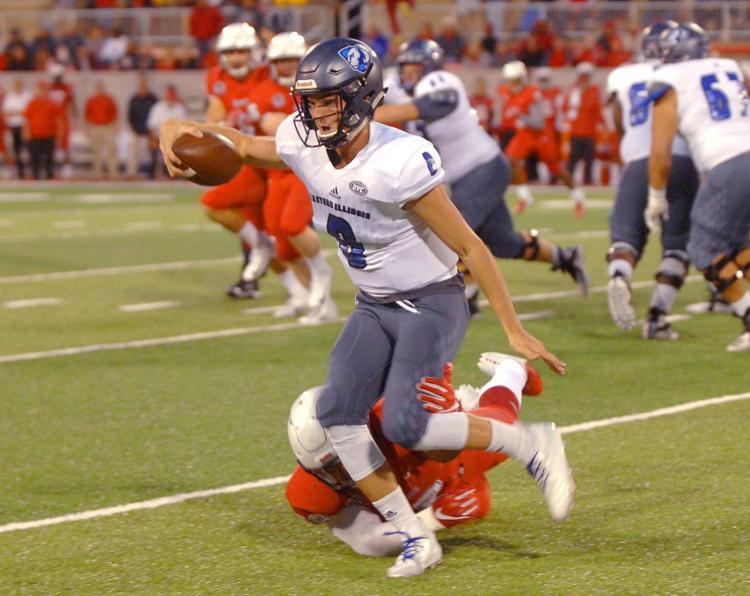 Dameron and Parr implemented the plan about two weeks before last season's opener at Arkansas, Woodbery said. He and Brantley were "co-starters", but each prepared as if he was the starter each week. That's the key in making it work. It meant taking the same amount of time in the film room or talking with the coaches about the week's plan as they would if it was their offense alone.
"That's how you mentally have to be to be ready to play," Woodbery said. "You can't go in thinking that you might go in this drive or go in the second half, not taking this seriously."
Cushing, meanwhile, worked on a Northwestern staff that ran a two-quarterback system from 2011-13. At its 2012 peak, it helped produce a 10-win season. The motivating factor in it was the diverse skill sets of athletic, run-first quarterback in Kain Colter and stronger passers Dan Persa and then Trevor Siemian.
"The different skill sets complementing each other well and the ability to put two on the field at the same time," Cushing said. "But way more important is those two guys being great teammates, being excited for the other making a play and just wanting to see the team in the end zone no matter what. When I've seen it work, it's been that."
Cushing sees some differentiating ability in EIU's quarterback room. Brantley was originally recruited to Tulane to play in an option offense. Last year, he was EIU's third-leading rusher. He accomplished plenty as a passer (14 touchdowns, OVC-record 230 passes without an interception), but he brings an element often found in one member of a multiple-quarterback offense. Woodbery did most of his work as a passer last year. Two years ago, Gilkey did a bit of both. He's a big body with a strong arm, but used his 235-pound frame to his advantage as a runner, but no one would call him run-first.
"It's pretty cool, to be honest, that we can be that multiple," Cushing said. "John Kuceyeski and the offensive staff have done a good job of looking ahead and deciding that our install isn't based on getting a certain play in. It's based on us having enough in there for whoever wins the quarterback competition to be successful Week 1. We have a ton of offense in — literally too much offense in — but we want to be ready for whoever wins the quarterback battle so we're putting him in the best position to succeed."
There, speaking in reference to a singular quarterback, is the ideal revealing itself. Quarterbacks themselves would even side with it.
"You always have that inside you where you want the keys to the car," Woodbery said.
In this first fall camp under Cushing, though, the goal is to gain a stronger understanding and feel for the personnel EIU has and who can best help win games. There's no room to let the ideals linger just yet.
"No quarterback would say the ideal situation is to split time," Brantley said. "It's hard to stay in rhythm alternating drives and series. But if that's what the coaches tell us and decide, I'm going to trust it 100 percent."​