Two months into his freshman year at Penn State in 2005, a homesick John Kuceyeski called his parents back in the northern Chicago suburb Libertyville. He was experiencing freshman adjustment issues, going from high school football star to just another 18-year-old planning to major in business at a college of more than 40,000 students.
His illustrious football career that featured a state title and precisely one loss was over, and he needed an outlet.
"I didn't know a life outside of it," Kuceyeski says now.
There was no going elsewhere, but his father, Randy, the 34-year head coach at Libertyville High School and a hall-of-famer in Illinois, extended a helping hand. He called longtime friend and then-Penn State linebackers coach Ron Vanderlinden to see if the football team had any jobs for John. Vanderlinden suggested John show up to Beaver Stadium around 2 p.m. one Sunday after a road game to meet the equipment truck.
"If you help the guys unload that truck, they're going to appreciate it. And so he did. That's how it started," Vanderlinden, now the linebackers coach at Air Force, said by phone. "It didn't take too long before they said, 'This guy's pretty cool. Let's keep him around.'"
The menial task turned into the launching point for an unanticipated coaching career that led Kuceyeski, now 32, to Eastern Illinois, where he's in his first year as the offensive coordinator. He rose through the ranks despite not playing a snap of college football, and after that initial innocuous phone call, needed no aid from his dad's connections.
"When you put together intelligence, energy and passion, he comes off very well," EIU head coach Adam Cushing said. "He's a product of his work."
The path into coaching for someone with Kuceyeski's non-player background usually involves kicking down the door with persistence that borders on overkill. There are examples of successful coaches who did not play football in college at any level — Bill Belichick chief among them — but they're in the minority of most in the profession.
Kuceyeski, though, found those doors opened for him with his penchant for leaving positive impressions, a skill rooted in his passion for football that approaches neurosis, his life of learning as the son of a coach, his obsessive studying of his mentors, his ability to forge fast connections with players and his advanced mental capacity to process the game's minutiae.
That does not mean he avoided the unsexy work, the long hours and minuscule (if any) pay that comes in the nascent stages of coaching careers. Kuceyeski began his climb as a student manager and took a volunteer assistant position at Northwestern out of college. Now he's in an enviable spot for anyone, regardless of background as a player. Cushing, one of his former bosses at Northwestern, granted him complete control of the play-calling duties and the freedom to tweak the offense — which is exactly what he has done in his five-plus months on the job when not recruiting or coaching.
"What he knows now, he's up in the stratosphere," Randy Kuceyeski said by phone. "I'm down in primary school. I can't even perceive the things he's gained over the last 10-15 years in terms of knowledge of football."
The passion for it, though, began with film sessions with Randy that started when John began grade school. By age 6, he was drawing up plays on napkins. His first video game was Madden 95 on Sega, and the trick plays on it infatuated him. After calling one, he'd pause the game, draw the play on paper and bring it to Randy. One of them found its way into Libertyville's game plan one week. Randy doesn't remember exactly what it was, but he ran the Wing T and it featured some kind of halfback pass.
"Something he came up with that was out of the ordinary," Randy said.
Kuceyeski became such a fixture in every Sunday film session at home with Randy, enthralled in every discussion about the game to the point where Randy didn't view his son as a kid with a limited capacity to understand a complex sport. John learned by observation and repetition, stuffing as much as he could into his brain. The terminology and philosophy became less foreign.
"Other coach's kids will understand it, but football was an all-the-time thing," Kuceyeski said.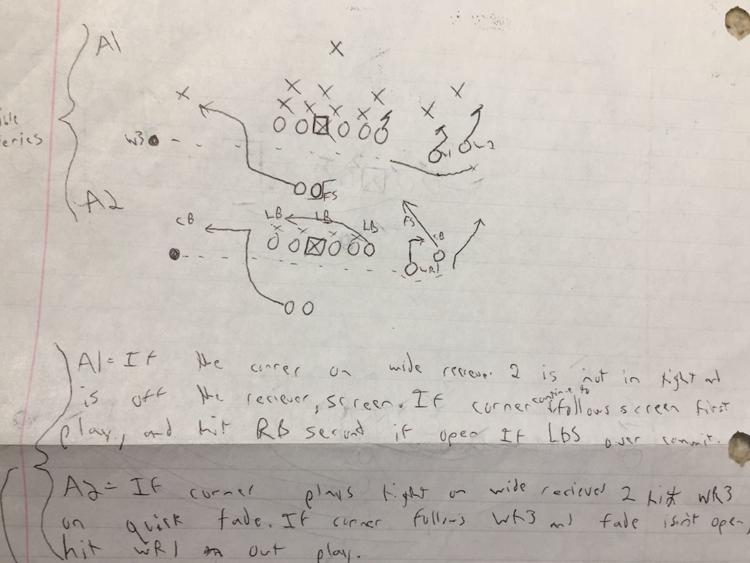 Randy installed a TV and game system in Libertyville's locker room as a way of creating team camaraderie. John, then in elementary school, took on everyone in Madden, including his dad. He called his own plays and sent nearly all his challengers to the same fate.
"He crushed me every single time," Randy said. "It's frustrating to play against a 10-year-old and just get killed."
The same advanced understanding of X's and O's followed Kuceyeski on the field once he began playing in youth leagues. Randy recalled coaches telling him that John knew his own assignment, as well as those of all his teammates. If any of them needed help while on the field, they turned to him.
That was the first time Kuceyeski gained someone's trust with his encyclopedic knowledge and meticulous preparation.
Leaving impressions
At Penn State, Kuceyeski's effort exerted in unloading the equipment truck, shining helmets and blacking shoes gradually turned into work for Vanderlinden, who juggled responsibilities as a defensive assistant and the special teams coordinator. He gave Kuceyeski film of the next opponent's special teams and asked him to break it down into a typed report for him to read on Sunday of game week after defensive meetings.
"When I would turn the film on, I knew all the details," Vanderlinden said. "I knew how they aligned, who aligned where, their get-off time, where the balls were going."
Kuceyeski moved into a student assistant role under defensive line coach Larry Johnson (now the DL coach at Ohio State) after helping Vanderlinden. He didn't know anything about defensive line technique, but picked up part of it with, once again, his consistent presence and asking smart questions. He asked for more film breakdown, more responsibility, a lot of it focused on the opponent's offensive line and its blocking tendencies. As a senior, he helped run the scout team offense, a task that involved film study of the entire opposing attack.
"Just got a little bit more hands-on, kept giving me more and more responsibility," Kuceyeski said.
You have free articles remaining.
Keep reading for FREE!
Enjoy more articles by signing up or logging in. No credit card required.
Kuceyeski graduated in 2009 and stuck around to start graduate classes. He majored in finance and applied to law school with hopes of becoming a sports agent, but once again, couldn't separate himself from football.
"It wasn't just the sport, it was more so what the sport provided in terms of relationships," Kuceyeski said. "I could make an impact in football more than I could in law."
After the 2009 season, Kuceyeski drove to the January coaches' convention to network and attempt to crack the industry as a kid with no college playing experience, an intrepid adventurer into a cutthroat industry he'd never envisioned getting into but couldn't possibly turn away.
At the convention, Kuceyeski ran into Northwestern coach Pat Fitzgerald, who recognized the last name. Fitzgerald, like many others, recruited Libertyville and knew Randy. Kuceyeski's sister, Erin, was a Northwestern student manager while Fitzgerald played for the Wildcats. There was no begging for a job. Fitzgerald saw the recommendations from Johnson and Joe Paterno and offered him a job. It was, though, a volunteer assistant position.
"It was humbling, right out of college thinking you have the whole world in front of you and then you take a volunteer job," Kuceyeski said. "That's what this profession is at times. But it obviously provided for me for what was to come."
Kuceyeski moved back home with his parents and commuted 45 minutes to Northwestern each day. During the season, he arrived around 5 a.m. to help players in workouts and didn't leave until about 11 p.m. after watching film. Some weeks, he saw his parents only on home game days. Just like before, he garnered more responsibility as he demonstrated his hustle and asked to sit in on meetings.
"That role, you're catching everything constantly, and the expectation is to do it at a high level," Cushing said. "Great ones adjust."
Kuceyeski earned a bump to offensive line graduate assistant under Cushing after the 2011 season, yet another job that required no cajoling to obtain. He had essentially undergone a yearlong interview and aced it.
"Our philosophy at Northwestern, and it'll be the same here, is that you look at the internal candidates first," Cushing said. "If you like what they did, it's a no-brainer. If they've done a good job, give them more responsibility and they'll do a good job too."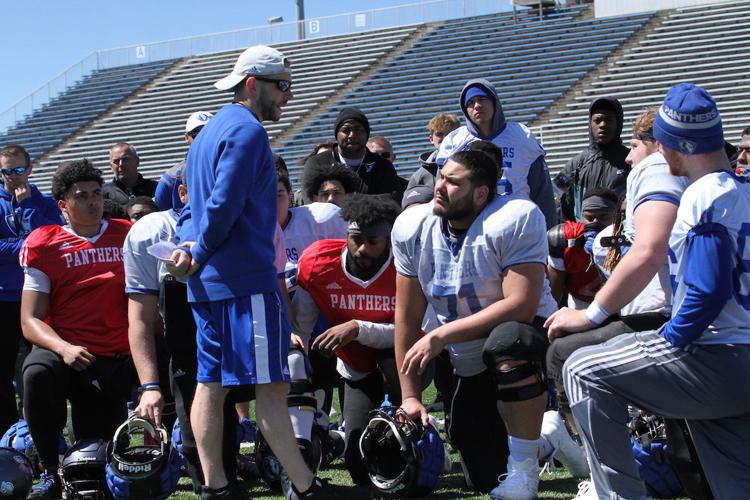 Graduate assistants are allowed to coach the players on the field. This, in some ways, was where Kuceyeski's trajectory as a coach changed. He turned his focus to a specific part of the offense. His goal was to become an on-field coach and demonstrate that he could teach, that he could impart his knowledge of all the years watching film on players. No player seemed to mind that someone just a couple years older whose playing career peak came as a 5-foot-9 high school safety was teaching them technique and guiding them in the film room.
"The players will buy into someone who's completely bought into them as a person," Cushing said.
"He knew where he wanted to go"
Each June, about 1,200 high school players flock to Northwestern for the Chicagoland Showcase, to work out in front of coaches from more than 80 colleges. The Wildcats' staff hosts the camp and runs most of the drills, and in the 2012 edition of it, Cushing and Kuceyeski were among those responsible for coaching the offensive linemen.
One of the other coaches helping was Matt Campbell, then the youngest head coach in the FBS in his first year at the helm of Toledo. Campbell left captivated not with a particular prospect, but with Kuceyeski's energy and organization. Every minute of the time spent with players was planned out, each teaching point clearly communicated in Kuceyeski's hands-on, upbeat approach with the campers.
"As much as you're observing players, you're observing how some of these young coaches interact with young people and how they carry themselves," Campbell said. "It gives you a good idea of what you might be getting if you bring somebody onto your staff."
The two stayed in touch, and a year later, Campbell offered him a spot as Toledo's director of football operations and a defensive assistant. It was an off-field job that didn't allow him to teach or take a specific area of focus, but it involved hours of film breakdown. On top of it, he asked for more responsibility in the planning and scouting of opponents.
Even as his role changed to director of high school relations and recruiting coordinator, and when he became Campbell's director of scouting when Campbell accepted the Iowa State job in 2016, he ensured he stayed fresh and on the track to become an on-field assistant when an opportunity arose.
"I always appreciated his willingness to jump into other areas, whether it was offensive game planning, offensive meetings, some of the studies that were going on," Campbell said. "He knew ultimately where he wanted to go."
After three months in Ames, Cornell head coach David Archer offered Kuceyeski a spot as his running backs coach. He spent the last two seasons coaching the Big Red's offensive line and remained close friends with Cushing. When EIU contacted Cushing about its head-coaching vacancy in November, Cushing mapped out a potential staff. His former GA was the first choice to be his offensive coordinator.
In a vacuum, the move isn't without risk for Cushing, a first-time head coach. Head coaches face instant pressure to win games, and hiring the right staff is an integral component of that. Kuceyeski, even with his vault of scheme knowledge and distinctive drive, had only been a position coach for three years and never a coordinator. Cushing didn't care.
"We need to win football games, but this is bigger than that," Cushing said. "It's about mentoring young men, helping them develop on and off the field. I wanted to have guys I trusted who believe all the same things as me."
In the months since his hiring, Kuceyeski has built EIU's playbook and offensive identity by, naturally, spending days watching film on every imaginable team, taking what he likes and putting it in.
EIU's staff has kept its core offensive principles closely guarded, but a dive into EIU's film database, Kuceyeski says, will unearth tape on the Bears, Packers, Chiefs, Northwestern, Towson, Dayton, Harvard and many more. Football is a copycat profession, and EIU is not a program with a rigid system that everything revolves around. Kuceyeski isn't sitting in his office deep into the night, manically trying to invent some new scheme or new way of running an offense.
"You study those who do it best," Kuceyeski said. "There's a reason they've had success and you try and find out what their secret is, what their process is and take that. That's what has molded me as a coach."