The SEC's once-a-year foray into flaying the FCS has enough notoriety to earn itself a nickname: SoCon Saturday.
Every year, most often on the penultimate weekend of the regular season, an FCS squad — often from the local Southern Conference — pockets a seven-figure paycheck from that SEC school in exchange for providing a stress-free week before a rivalry game.
Maybe the OVC, a conference often on the same end of this model, should have a nickname for its yearly week where it faces FBS and Power Five opponents. That came on Saturday, when six of its nine teams traveled to play such adversaries and lost. A couple had suspense. Most had none.
How does Power Five Punishment Party sound?
That's probably too harsh, but it is an annual reality that presents coaches with unique decisions amid a painful loss.
Everyone wearing the home team colors is counting down the drives until the head coach puts in the hyped freshman quarterback or the walk-ons. They're the human Gatorade baths, a sign that this game is all but decided. At that point, the game is not worth keeping starters at risk of injury and is worthy of giving a younger player some snaps.
The coaches on the other sideline face these same decisions too.
"The last thing you want to do is when you're getting beat like a drum and have one of your key players get hurt on one of the last few plays of the game," said Eastern Kentucky coach Mark Elder, whose team lost 42-0 to Louisville on Saturday.
These games have no bearing on conference standings, usually do not result in a drop in the polls and are not taken into consideration by the FCS playoff committee. In a way, they're meaningless outside of the money they generate for the FCS school.
Coaches won't publicly admit to the result's lack of importance, and it's an affront to players' and coaches' competitive nature to punt on the game before it even starts. We've yet to meet the forward-thinking FCS coach whose team is in the playoff race and sits his entire starting lineup for a November trip to Alabama so no one gets hurt, then brags about it.
"We go into every game to win a game," Elder said.
When they do get out of hand, though — and that's usually what happens when an FCS team meets a Power Five one — attention shifts toward getting out of town healthy. EKU trailed only 14-0 at half, but Louisville scored on the second play of the second half, forced an EKU punt and scored again. By the early fourth quarter, the score was 35-0.
This is where the decisions set in, when a coach has to decide when to pull his starters to ensure their health and put in backups. Coaches often wait to admit defeat until well after it is realistically guaranteed. But that's the uncomfortable, undesirable spot six OVC coaches found themselves in last weekend at some point.
"You don't want to ever say your out of it, but you start just looking at the clock and thinking about what could happen if they just took knees for three straight plays every series," Elder said. "At some point, the clock is your biggest enemy, not the opponent, because even if you turn it on like wildfire and they stink, you're not going to have enough time to win the game. When it gets to that point, that's where I start making the decision."
One factor that has added a wrinkle to the decision on both sides of an FBS-FCS laugher is the four-game redshirt rule the NCAA implemented last year. A player can appear in up to four games and remain eligible for a redshirt. It's truly a no-loss law, especially for games like these.
"There are certain games you have to look at on your schedule and take that into consideration, especially if you have some good young, talented players and especially early in the year when we haven't played a conference game yet," Tennessee Tech coach Dewayne Alexander said.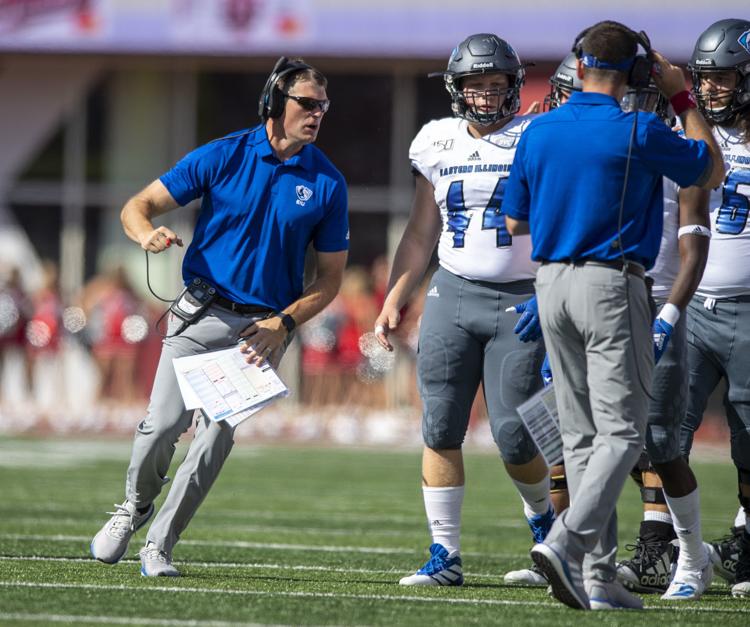 TTU's 48-17 loss at Miami (Ohio) went awry when the Golden Eagles committed three straight turnovers in the second quarter. The first was a pick-six, the second a fumble inside their 40-yard line and the third an interception returned to the 2-yard line. They led to 17 points and eventually a 41-3 halftime deficit.
You have free articles remaining.
Keep reading for FREE!
Enjoy more articles by signing up or logging in. No credit card required.
Alexander took a pragmatic approach with that ugly score staring him down. Miami coach Chuck Martin inserted his backups, and Alexander followed.
"They played a lot of their backups and young players the entire second half, and that really gave us an opportunity to play our young guys," Alexander said. "It benefited both teams. The game was put out of reach in the second quarter with all the turnovers, so both teams got a lot of quality game experience."
In a way, it's spin. No one wants to arrive at these punishings or take repeated haymakers. Even if they're eventually expected, it's hard to shake the public perception of a blowout loss. But sometimes, spin is the necessary program management.
This season, Alexander has played 23 total true freshmen and redshirt freshmen, as well as 15 true sophomores. It's useful to see what they look like in games and ready them for a bigger role in case of an injury later in the season. When Eastern Illinois head coach Adam Cushing pulled his starters early in the fourth quarter of Saturday's loss to Indiana, he tried to play everyone who made the trip.
"You have to look at everything as an opportunity," Cushing said. "Obviously no one wants to go out there and have the outcome the way we had it, but we had to get some guys some reps. It's more about what's best for our team moving forward. There comes a time when you have to say, 'Alright, we have to respond to something we didn't want to have happen and turn it into the biggest positive possible.'"
Now onto this week's power rankings. Just as any sane voter should not crush a team for losing an FBS game it was expected to lose (which, according to betting lines, is basically all of them), I'm not going to send a team tumbling for taking an L in those spots.
Power Rankings (Sept. 11):
1. Jacksonville State (1-1. Week 2: won 41-20 vs. Chattanooga. Week 3: vs. No. 4 Eastern Washington)
2. SEMO (1-1. Week 2: lost 38-17 at No. 10 Montana State. Week 3: at Missouri)
3. EKU (1-1. Week 2: lost 42-0 at Louisville. Week 3: at Indiana State)
4. Austin Peay (1-1. Week 2: lost 24-18 vs. No. 14 Central Arkansas. Week 3: at Mercer)
5. Murray St. (1-1. Week 2: lost 63-17 at Georgia. Week 3: at Toledo)
6. UT-Martin (1-1. Week 2: lost 45-0 at Florida. Week 3: at Southern Illinois)
7. Tenn. St. (1-1. Week 2: lost 45-26 at Middle Tennessee. Week 3: vs. Jackson State)
8. EIU (0-2. Week 2: lost 52-0 at Indiana. Week 3: vs. Illinois State.
9. Tennessee Tech (1-1. Week 2: lost 48-17 at Miami. Week 3: vs. UVA-Wise)
---
PHOTOS: Eastern Illinois football
PHOTOS: Eastern Illinois football