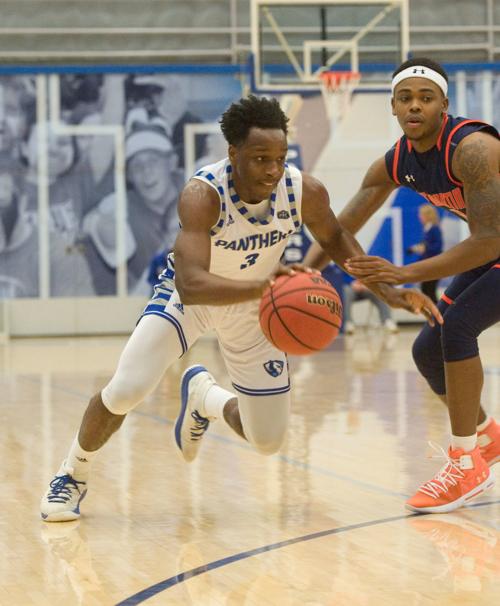 The first time then-Eastern Illinois assistant coach J.R. Reynolds watched Mack Smith work out at Indianapolis' Warren Central High School, another unceremonious September open gym evaluation, he left with an uneasy feeling. An eager underclassman and soon-to-be varsity player by the name of Jesse Bingham — now a guard at the University of Indianapolis — heard coaches were stopping by and smelled an opportunity. He stuck to Smith and flustered him for most of the open gym.
"You want to be 100 percent right about a kid as an assistant coach before you bring him to your head coach, and Mack had a tough day," Reynolds said.
It was nothing like the AAU performance he saw a couple months prior, where Smith was a go-to-scorer and opened his eyes as the only college coach in the building watching this off-the-beaten-path squad that did not play on a major shoe company circuit. Was this really the same kid?
Turns out, Reynolds needed a deeper dive and more time spent scouring his game through a different lens, which was more than most coaches were willing to do. After all, every other Division I program who watched Mack Smith play did not offer a scholarship.
The first viewing or two of Smith may illustrate what he cannot do. He's a 6-foot-2 guard who's not exactly a point guard. He's not particularly fast and does not own the array of off-the-dribbles moves to beat any defender on his own. He's no pogo-stick leaper. His numbers, while perfectly respectable, do not jump off the stat sheet and did not earn him all-conference honors either of his first two years at EIU. For a moment during his junior year of high school, he was sent down to the JV squad.
Zoom in the microscope a tad, though, and it's easy to see what Smith can do, and does with the consistency that, currently, no one in college basketball can present tangible evidence to match. Smith has made at least one 3-pointer in 49 straight games, the longest active streak in the NCAA.
"That speaks for itself," EIU guard Josiah Wallace said.
Shooting is Smith's forte, the skill he first dove into the summer before his freshman year of high school, when he and a younger cousin spent nearly the entire day at a local rec center open from 9 a.m. until 9 p.m. It's the skill he further honed the summer before his senior year, staying late or arriving early to Warren's gym with assistant coach and mentor DeAndre Brock.
"This was like every day," Brock said. "My wife would ask why I'm staying late, but I'd tell her that Mack wanted to work and I had to be there for him."
Yet this streak has endured because of the steadiness with which he operates. It is as much a part of this run as his journey to becoming a shooter. Smith plays with the spatial awareness of an interior designer and the anticipation of a bear eyeing a salmon dinner. He's a reliable shot-maker by his own dedication to the craft, but frequently finds himself in position to score with the help of EIU's motion offense and his understanding of how to play without the ball.
The ability to get open even as one of the first names on the scouting report comes not from subterfuge or speed, but thriving in the unscripted nature of a motion offense. Instead of trying to jump through a roof or smack a defender through a wall with a vicious move, he would rather use the door he sees opening before everyone else. He stays on the floor for 30 minutes because he rarely blows assignments or appears lost. He has averaged six attempted 3s per game, but is by no means a chucker.
"There are so many guys today who if they don't have the ball in their hands, they're not exactly sure what to do," said EIU head coach Jay Spoonhour. "He's never had that issue."
Added Morehead State coach Preston Spradlin, whose team was the last to hold Smith without a 3-pointer — all the way back on Jan. 2, 2018: "With the way they play with their motion and movement, it's hard to scout their team in general. When they have someone like Mack who's a strong guard and can shoot it from the perimeter, he's a very dangerous player in the way they play."
You have free articles remaining.
Smith slumps, as most shooters do, but not without finding a way to do something. There's little volatility in his game. He's not a candidate to explode for 30 points at any time, but even on his worst days, he's good for a 3, a few rebounds and seven or eight points. Repeatable, natural form is a prerequisite for reliable shooters, but so is mental fortitude. It's an elusive mindset, and Smith masters it as well as he does keeping his elbow tucked and following through. If he's presented with his team's best possible shot on a possession, he's firing away if he's 5-for-5 or 0-for-5.
"Anytime I get an open shot, I'm shooting it like it's a game-winner," Smith said. "If I miss four in a row, I know this fifth shot is going up and I'm going to make it."
This, he says, was developed the hard way — a lot of clangs off all sides of the rim, the backboard or finding nothing but air as a freshman on the JV team.
"I missed a lot of game-winners," Smith said. "I just said, 'I can't let my team down anymore. No matter where I go or where I play, I have to be able to knock that shot down.' When I'm in a slump, I know I'm in a slump. But I'm going to shoot like I'm not in one."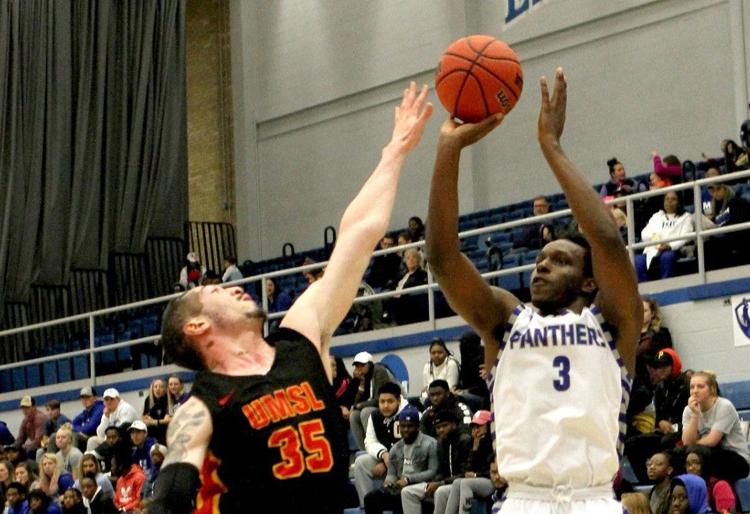 These tools he wields are, indeed, sometimes a layer deep, especially for a college coach watching and hoping to see a burst of explosiveness. But Smith offers plenty, even if it takes a little longer to notice. Reynolds returned to see Smith again during the season, and once again, saw the feel, the lack of bad shots, the off-ball moment and screen usage that helped him get open despite his known predilection for shooting.
Spoonhour watched him in the state playoffs in February of his senior year. As other coaches came and went without offering, EIU stayed on him. Spoonhour learned on Smith's spring official visit that the only other suitors were in-state NAIA schools Bethel and Marian.
"Some people, if they find out no one's recruiting a guy, they get nervous," Spoonhour said. "I know what I like, and he played under control, he could shoot it and he could play hard. I was surprised no one else was in there."
Smith arrived at EIU in June 2017 for summer workouts, which contain less of the structure of an in-season practice. EIU spent a lot of the time playing one-on-one, a setting not exactly set up for Smith. He struggled to stay in front of his teammates, Spoonhour recalled.
"I can remember him getting really frustrated, but he kept trying," Spoonhour said. "That's a talent in itself, for someone to stick with it and say, 'I'm going to figure out how to do this.'"
He pulled out of it using the same determination and trust in himself as he does when trying to end a shooting slump. As his minutes increased during conference play as a freshman, a lingering shoulder issue finally behind him, he appeared on more scouting reports. More opponents tried to lock that door. This was the next adjustment for Smith to make, and one Spoonhour didn't want to force. The answer was not a swerve to tell him to hunt shots with the ball in his hands.
"You don't change anything to get it, and you don't want him running around out there trying to get one, because that's no good either," Spoonhour said. "The thing that got him to this point is just letting it come to him, and that's the way you have to continue."
Now, the challenge is carrying the even further enlarged target on his back. Everywhere Smith goes, he carries notoriety as the owner of the increasingly public streak every opponent would love to snap. Texas Tech and its tenacious, suffocating defense is EIU's first test of the year, and perhaps the single biggest threat to this incredible run. Take away Smith, and EIU loses a crucial part of its offense. Of course, this is every defense's goal.
Thing is, Smith's career is built on hopping over these challenges. In high school and college, he's transitioned from compliment to primary piece with the ease of a lane change. Yes, he's not this or that, but it has yet to prove a fatal flaw in his effectiveness. Those who projected as much were judging through a grainy lens.
"Guys like Mack, they have to work a little harder to get stuff done," Spoonhour said, "and some folks have to work a little harder to see it."
Contact Patrick Engel at 217-238-6856. Follow him on Twitter @PatrickEngel_