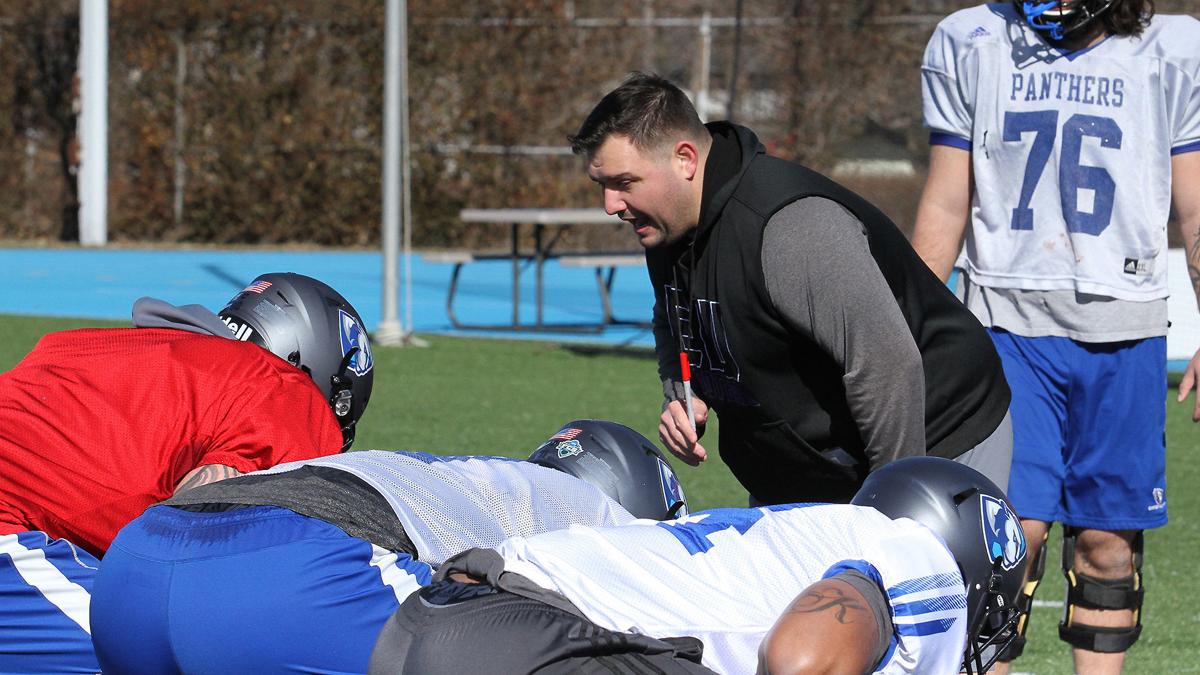 As Eastern Illinois football toils through fall camp under first-year coach Adam Cushing, the JG-TC is examining each position group. Next in the series: the offensive line.
Returning players: James Ubaike (R-Jr.), Aaron Miller (R-Jr.), Ben Solomon (R-Soph.), Drew Walega (R-Jr.), Luther Harris (R-Jr.), Jose Sanchez (R-Soph.), Cole Hoover (R-Jr.)
Departed players: Eliki Tanuvasa (Fr.), Travis Buckwalter (R-Soph.), Grant Branch (Sr.), Johari Branch (R-Fr.), Aaron Callaway (Sr.), Josh Doyle (Sr.) Gordon Looper (R-Jr.), Myles Johnson (R-Fr.)
Incoming players: Anthony Imperio (Fr.), Jerit Medler (Fr., walk-on), Chad Strickland (Fr.), Elkhanan Tanelus (Fr.), Dylan Czerlanis (Fr.), Dylan Scaggs (Fr.), Ivan Gleyzer (Fr.), Anthony Sottosanto (Fr.)
Biggest offseason developments
Tanuvasa, a freshman All-American, transferred to Hawaii. Bookend tackles Callaway and Doyle are out of eligibility. Swing tackle and spot starter Grant Branch was also senior. Johari Branch, a six-game starter, transferred to a junior college and has picked up FBS offers. Ten-game starter Buckwalter left the team earlier this month. EIU's 2019 recruiting class featured nine offensive linemen, the most of any position.
Graduation and transfers have left EIU with two players who started a combined three games last year and one former starter who missed all of 2018 due to injury. EIU will need former backups become starters and freshmen to prove worthy of major roles in short order. None of the Panthers' 16 linemen are seniors.
The unit barely resembles what it did in the spring, when EIU had about eight healthy players practicing on the offensive line.
The large group of freshman linemen stemmed from a need to bump the unit's overall numbers up with so many graduation and transfer losses, most of which came around the time of the coaching change and between the fall and spring semesters. So far, the freshmen have served as more than pure depth. They don't all project as long-term help. They've entered into legitimate competitions for starting roles.
"They've come along really well," Cushing said. "Right now, we're looking at a great mix of newcomers and returners with the starters."
Cushing mentioned Sottosanto and Tanelus as fall camp risers. He singled out Imperio and Strickland as "the newcomers we've seen the most out of." If all four of them – nearly half the class – are in the rotation in some way, it'll be a success and an early positive sign that EIU evaluated its heavily targeted position well in the month-plus it had to assemble its 2019 class. EIU has Tanelus slated as its starter at left guard and Sottosanto at right guard, with Strickland and Imperio as the backup left and right tackles, respectively.
"It's been a good mixture of young guys and older guys," offensive line coach Dan Hernandez said. "A lot of give and take. It's been positive for us. We've injected those young guys in the room right away and they've been hungry to compete for jobs and to push older guys."
Tanelus and Sottosanto showed up to campus in June already possessing the size to step on the field right away. That's especially true of Tanelus, whose 6-foot-2, 330-pound frame matches up with that of high-level FBS linemen. That's just one element of offensive line play, though. The size won't matter if they can't grasp the position well enough to earn the coaches' trust. The real test for all nine freshmen was a mental one. Could they understand protection assignments and calls? Could they handle a different level of speed? As evidenced by their position the depth chart, Tanelus and Sottosanto passed it with ease.
"Those two have unbelievable mental strength. Two of the mentally toughest guys we have on our football team," offensive coordinator John Kuceyeski said. "They just jumped in. We didn't ask them to. They just did because they're good players on their own.
"They're going to see stuff they've never seen before. We understand that. The first drive is going to take their breath away physically and mentally."
Among the returners, Hoover and Miller are good bets to open the season as either starters or the first lineman off the bench. Miller missed all of 2018, but started nine games in 2017. Hoover made one start at center last year. They have been working as tackles (Hoover left, Miller right) and are listed as the starters there on EIU's two-deep.
Elsewhere, Cushing mentioned Solomon and Sanchez as veteran linemen who stood out in training camp. Turns out, that's the exact order of the center two-deep. The goal is to have 10 linemen on the bus to Chattanooga on Thursday, with about eight who are truly ready to go in any scenario.
"It's hard to get more than eight consistently ready if you're practicing at a high tempo," Cushing said. "We're gaining at that position."
The freshmen, by all accounts, have passed most of the tests handed to them since arriving in June.
"Not one of them has shied away from being under the lights on August 29," Cushing said.
What will they look like, though, when actually thrust into a game situation and in EIU's tricky non-conference schedule? The opening month isn't exactly friendly, with games against a quality team from the strong Southern Conference, a Big Ten opponent and two top-16 FCS teams? It won't allow for any room to ease into action.
How the freshmen class responds to and endures their headfirst dive into the deep end, though, should illustrate realistic expectations for the line as a whole in OVC play. EIU hasn't coddled them through summer workouts or fall camp by any stretch, but nothing can quite replicate the adrenaline rush and speed of an actual game, especially along the offensive line. There's a reason it's one of the more rare spots to see a freshman start.
If enough of its veterans prove capable too, EIU is ready for any quick changes or early jitters.
"It's going to be a rolling depth chart," Hernandez said.
15 – Combined starts for the returning linemen. All of them come from three players: Miller, Harris and Hoover.
No more than two positions have the same starter for all 12 games. EIU has enough linemen it likes, but it is still relying on a group that, outside of Miller, has either zero experience or nothing more than a few spot starts without extended run. Given that, it's hard to project a season free of ups and downs and shuffling.
(Note: This story has been updated to include Kuceyeski's quotes).
Contact Patrick Engel at (217) 238-6856. Follow him on Twitter @PatrickEngel_