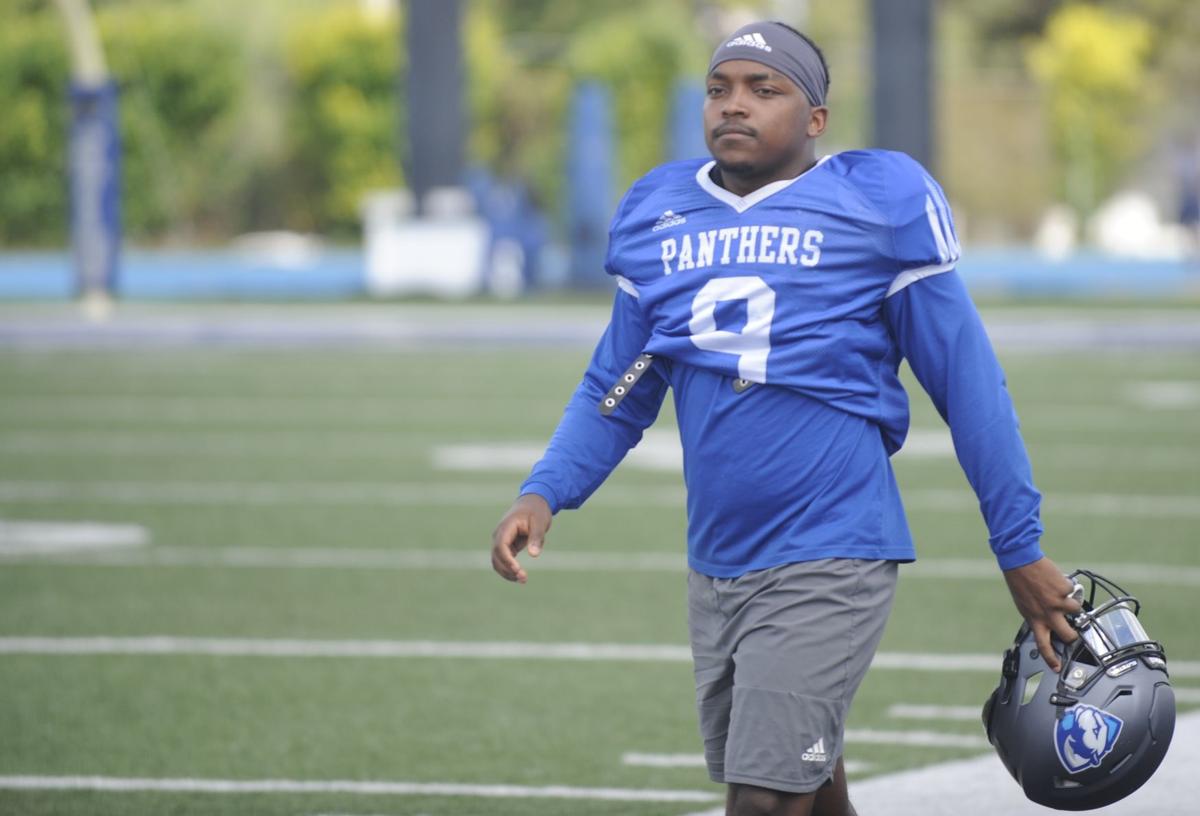 CHARLESTON — As Bryce Dewberry read a route, burst toward a receiver and busted up a pass in the first week of Eastern Illinois' fall camp, amused safeties coach Neal Renna clapped, whirled and issued a proclamation to no one and everyone in the general direction.
"No. 9," Renna said, referencing the lone digit on Dewberry's blue practice jersey. "He's GOOD."
It was not a new realization, but the latest moment confirming the one Renna, the rest of the first-year defensive staff and even EIU's players reached some time ago in spring practice. Dewberry spent the rest of that day doing exactly what helped him open eyes and elicit amused reactions from those around him: Read, react, run to the ball and make something happen.
"When we first showed up, one of our offensive players told me that Bryce is like a gnat," defensive coordinator Chris Bowers said. "Gnats bug you. He's always around the ball like a gnat. I heard that and didn't know what to think. That was January. But it's a pretty good synopsis.
"He combines great intellect and understanding of the defense with great instincts."
Dewberry, a sophomore, is poised to open the season as one of EIU's primary safties when the Panthers open at Chattanooga on Aug. 29. He has arrived here on his own ascent from a muddied pack, a trek begun in winter workouts and noticed by all by mid-April. He's 5-foot-10, 180 pounds and just like Mugatu's gripe about Derek Zoolander, owns one look – blank and unflinching, no matter the situation.
"We tease him how he doesn't make an expression," Bowers said.
Added Renna: "He's a pretty intrinsically motivated kid. If you yell at him, he's not going to go in the tank. His emotions really are the same."
Dewberry's characterization of his composure is befittingly frank and simple: "I just stay flat."
When Adam Cushing, Bowers, Renna and the rest of EIU's staff began work on Jan. 2, Dewberry was just one of 13 returning players from a scuffling secondary, another guy who made a few starts but didn't pop off the stat sheet with his 30 tackles (0.5 for loss), one forced fumble and three pass breakups.
There were moments, like his 61-yard interception return for a score against UT-Martin. Others had moments too, though. Dewberry's separation from the majority of his peers came in displaying his diligence in defensive meetings, understanding every defender's assignment in addition to his own, and high information retention rate. It was magnified on the practice field and in meeting rooms during the spring.
"At any time in practice, whether he's in or out, you could ask him what the call is and he knows every time," Renna said. "I can coach him one time on the whiteboard and he can go out there and do it. There are times it irritates me, because he sees a check before I see a check. You know he takes this home and studies it."
Renna decided to offer just a passing glance at film from EIU's 2018 defense, not wanting to create a predisposed notion of any safety he inherited. He watched high school highlight tapes of a few of them, including Dewberry, to gain a feel for obvious traits. But that was it – the defensive staff would allow starters and key contributors to emerge on their own in the coming months. Nothing else from before mattered, not even Dewberry's family pedigree. His brother, Bradley, was a three-year starter at safety for EIU from 2015-17 and an all-conference player as a senior.
Dewberry said the initial stages of learning the defense and early morning winter workouts were bumpy. It's a new staff, new terminology and 5 a.m. alarms blaring in the dark. Nonetheless, Dewberry parked himself in the front row during meetings and absorbed everything he could. He studied and took notes on all 11 players' duties in the defensive plays as a way of strengthening his instincts. When he stepped on the frigid field in mid-March for EIU's first spring practice, his mind was clear and confident.
No thinking, just doing. He leaned on his memory and immersion in the entire defense.
"It's not just knowing your assignment, but knowing the bigger picture, the whole thing," Dewberry said. "Know your assignment and another person's assignment so you can put the whole thing together."
There's more to him, though. Innate scheme knowledge only can carry a player so far if it is accompanied by a dearth in skill. In viewing Dewberry's high school tape, Renna noticed "suddenness and smoothness." He observed disciplined eyes that helped him avoid getting baited. Then there was the steady demeanor.
On the practice field, Renna sees the same traits…and that same unnerved manner.
"Earlier, our O-Line coach (Dan Hernandez) said, 'wake up, Dew!'" Renna said. "I told him that might be his awake face. He has that same one. He's quite in the hallways, but once he gets on the field, you can always hear him communicating."
And Dewberry has a declaration to communicate.
"I think we can make a big leap," he said. "If we run to the ball, we can stop anybody."
Contact Patrick Engel at (217) 238-6856. Follow him on Twitter @PatrickEngel_