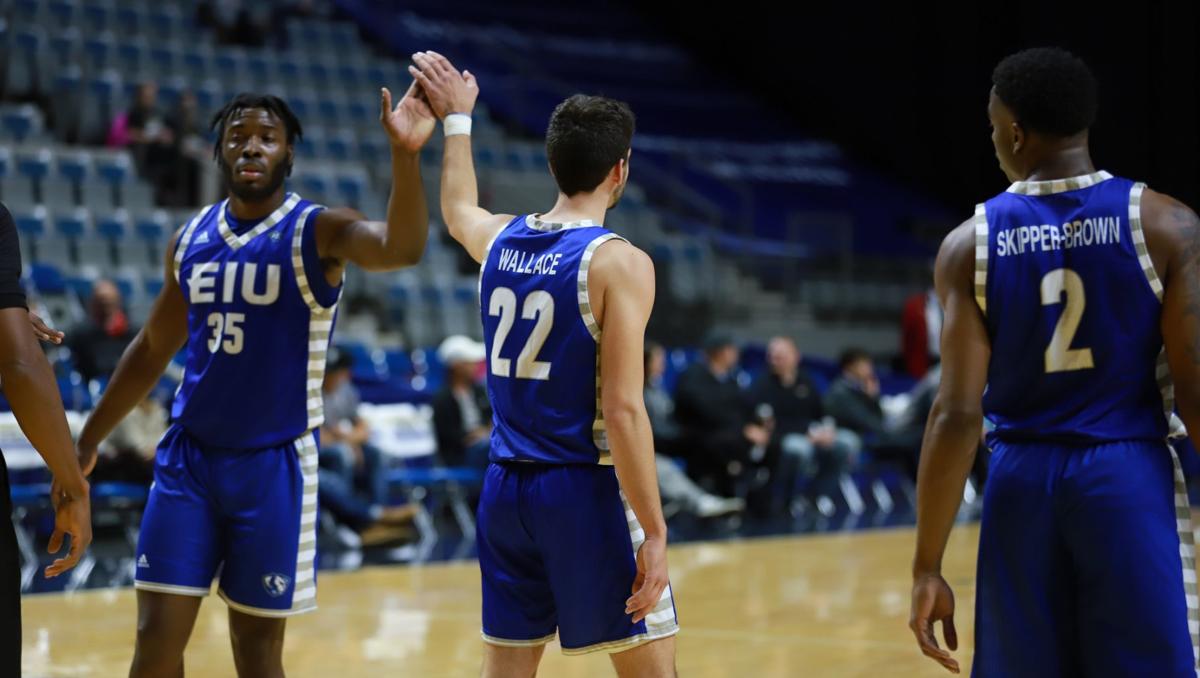 Eastern Illinois defeated Green Bay 93-80 Saturday to improve to 5-4 this year. The Panthers topped 90 points for the third time this season, matching their total from 2018-19
Here are three observations from the game.
Dixon a difference-maker again
What an impact George Dixon has made as an interior presence on both ends for a team that didn't have much of one a year ago. He grabbed 13 rebounds, his fourth double-digit rebounding game this year. Seven of those were on offense. He had a double-double at halftime.
On defense, he blocked three shots around the rim and had a steal when he picked forward Trevian Bell's pocket about 15 feet from the rim, once again showing an ability to guard on the perimeter. In the second half, he helped on driving guard PJ Pipes on the baseline, stopped the ball and deflected a pass.
Johnson remains a facilitator
Marvin Johnson is a score-first guard who plays at a breakneck pace, but has proven to be an effective playmaker even within that. Saturday, he had a team-high six assists. Four of them were to 3-point shooters, and two others were well-placed passes to cutters for layups. Johnson has 26 assists this year, second only to Deang Deang, who is a passer first.
The one downside is turnovers. Johnson sometimes has a tendency to force passes that go out of bounds or drive into a crowd where there's little to be found. Saturday. EIU will live with it, though, because he's still a net positive as a passer and may be the Panthers' best guard at breaking down a defense and create shots for teammates and himself. If he can limit the number of guarded, forced jumpers he takes and pick his spots to push, his efficiency will continue to rise.
Defense dictates pace, but allows some open looks
You have free articles remaining.
Green Bay entered the game with the nation's 12th-fastest tempo and shortest average possession time. The Phoenix push the pace and try to find open looks around the basket or open 3s early the shot clock. EIU prevented them from any sustained success in transition. Green Bay had eight fast-break points. Several attempts to score fast turned into deflections or steals. EIU allowed a 3-pointer in the opening minutes when it did not pick up a trailer, a basket that was not counted as a fast-break one. Otherwise, EIU covered shooters well in transition.
Green Bay was 4-for-11 on 3-pointers in the second half and outscored EIU 48-37 after the break, but still needed longer possessions to do score even if it did find more open shots.
-EIU shot 61.8 percent in the first half and led 56-32 at the break.
-Mack Smith extended his NCAA-leading streak of games with a 3-pointer to 58. He was 3-for-4 on 3s and scored 24 points.
-EIU had 17 assists on 34 field goals.
-The Panthers committed 21 turnovers. By unofficial count, were a result of stolen or out-of-bounds passes.
-Shareef Smith, after not seeing the floor against Purdue Fort Wayne on Wednesday, played 11 minutes and scored five points. He did pick up two fouls in the first half.
-Deang had five assists. He's now at a 2:1 assist-turnover ratio this year.
-EIU's next game is another Horizon League opponent on Dec. 14, a road game at Milwaukee.
Contact Patrick Engel at 217-238-6856. Follow him on Twitter @PatrickEngel_