At this point in the year, trying to guess what Eastern Illinois' offense, defense or depth chart will look like under a new staff with nearly all its members in their respective roles for the first time is an exercise in futility and aimless guesswork.
What is known, though, is that EIU will play one of the nation's most difficult schedules in Adam Cushing's first year as head coach. It starts with a non-conference slate that features three road games, a Big Ten opponent and two likely FCS preseason top-15 squads. Here's an attempt at ranking the schedule from worst to first, from Tennessee Tech to Indiana.
12. Tennessee Tech
2018 in review: It couldn't have been much worse. The Golden Eagles went 1-10, finished last in the OVC and were entirely out of sight and out of mind. They scored 6.9 fewer points per game than any other OVC team and allowed 5.6 more than anyone else in the league.
Coach: Dewayne Alexander (1-10 TTU, 42-43 overall) keeps coming back to a program that's never been particularly great. He played at the school in the 1980s and was a TTU assistant three separate times before taking over as head coach last year.
Key returners: QB Bailey Fisher, DL Chris Tucker, DL Andrew Swicegood, DB Deontay Wilson, DB Dami Adekunjo
Key losses: WR Josh Cunningham, DB Jake Warwick, DB A.J. Flemister
Outlook: Fisher was the OVC's freshman of the year, but outside of him, TTU had zero conference honorees. Avoiding double-digit losses is a realistic goal, and it could happen if Fisher takes another step and an underclass-laden defense improves.
11. UT-Martin
2018 in review: The Skyhawks' wins from a 2-9 campaign were blowouts of Austin Peay and Tennessee Tech, but the defense allowed at least 30 points in all but one of their six FCS losses, even though it ranked third in the OVC in yards allowed per game.
Coach: No one has been in the OVC longer than Jason Simpson (80-68), who last year endured his first losing season since 2011. Though UT-Martin hasn't reached the playoffs or won the conference since his 2006 debut season, it reeled off five straight top-three OVC finishes before taking fourth in 2017 and last year's dip to eighth.
Key returners: WR Terry Williams, WR Jaylon Moore, OL Austin Newsome, DL Julian Crutchfield, DL Austin Pickett, RS Peyton Logan
Key losses: LB James Gilleylen, LB Kevin Prather Jr., DB Andrew Horton-Martindale
Outlook: While Williams and some of those other returners should have a chance at earning all-league honors, there's not a lot here to suggest a top-half finish. UT-Martin had just two all-conference selections last year.
10. Tennessee State
2018 in review: Two canceled games gave TSU a two-week layoff in September and left the Tigers with just eight FCS games. They went 4-4 in those, and 3-4 in the OVC.
Coach: TSU alum Rod Reed (53-47) begins his 10th season as head coach and 18th at the university. Since a 2013 playoff appearance, the Tigers have hovered around six wins per year and finished in the middle of the OVC.
Key returners: WR/RS Chris Rowland, OL Raekwon Allen, DL Jeremiah Caine, DB Dajour Nesbeth
Key losses: WR Treon Harris, OL Chidi Okeke, LB Blair Edwards
Outlook: EIU plays TSU on the road after its idle week, and it should win games like this if it wants to display a noticeable step forward in Cushing's first season.
9. Murray State
2018 in review: Murray State played all three games of its non-conference slate on the road and dropped each, but went 5-3 in the OVC and defeated top-three finishers SEMO and Eastern Kentucky. First-team all-OVC linebacker Quincy Williams became the program's highest-drafted player ever when the Jacksonville Jaguars took him in the third round.
Coach: Mitch Stewart (15-29) has spent the entire decade in Murray, first as the receivers coach, then offensive coordinator and now five seasons as the head coach. Last year was his first winning record in conference play.
Key returners: OL Cam Carter, OL Levi Nesler, LB Kendrick Catis, LB Anthony Koclanakis, RS/WR Malik Honeycutt
Key losses: Williams, QB Drew Anderson, RB D.J. Penick, DL Kenney Wooten, DB Marquez Sanford
Outlook: Murray hasn't been a conference title or playoff contender, but no one outside of Jacksonville State can quite get a handle on the Racers. They've been good enough to surprise someone but also not above dropping a game to a team low in the standings.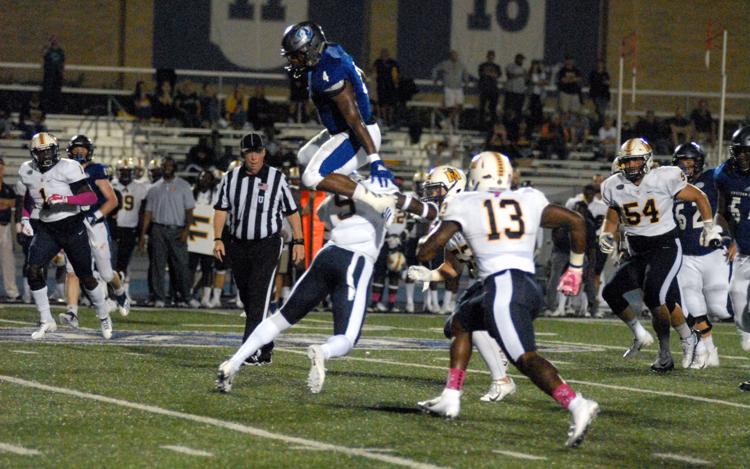 8. Austin Peay
2018 in review: The next step after snapping a 29-game losing streak in 2017 was competing over an entire conference season. The Governors did that and finished 5-5 against FCS competition, with two of those losses coming by four points. A defense that gave up at least 30 points in five of those FCS games broke down in a few blowout losses.
Coach: APSU hired proven head coach in Mark Hudspeth (0-0 APSU, 95-59 overall) to replace the effervescent Will Healy, who engineered the program's climb from the below bottom rung before becoming the head coach at Charlotte last December. Hudspeth produced five bowl wins in seven years at Louisiana, but his tenure there ended in 2017 after three straight losing seasons and NCAA violations. He previously spent seven years at then-Division II North Alabama, where he reached the playoffs five times.
Key returners: QB Jeremiah Oatsvall, RB Kentel Williams, OL Kyle Anderton, DB Juantarius Bryant
Key losses: OL Ethan Self, OL Byron Glass, DL Jaison Williams, LB Gunnar Scholato, DB Malik Davis
Outlook: The Governors have just 10 starters back and lost Healy, but that does not mean there's necessarily any instability or a letdown coming. EIU beat APSU by 31 a year ago and goes to Clarksville for the final regular-season game of the year.
7. Chattanooga
2018 in review: A 6-2 start turned into a three-game skid that featured one-possession losses to Furman and Mercer. It caused Chattanooga to miss the playoffs. All told, each of the Mocs' four FCS losses came by no more than 11 points in a tough SoCon, and they defeated playoff team Samford.
Coach: Former Chattanooga player and assistant Rusty Wright replaces Tom Arth, who left to become the head coach at Akron. He was Georgia State's inside linebackers coach from 2017-18. He spent 2013-16 as the linebackers coach and special teams coordinator at Chattanooga, which won three straight SoCon titles in that span.
Key returners: QB Nick Tiano, RB Tyrell Price, WR Bryce Nunnelly, OL Cole Strange, OL Noah Ramsey, DL Devonnsha Maxwell, DB Brandon Dowdell
Key losses: DL Isaiah Mack, DL Derek Mahaffey, LB Marshall Cooper, DB Kareem Orr
You have free articles remaining.
Keep reading for FREE!
Enjoy more articles by signing up or logging in. No credit card required.
Outlook: Like EIU, the Mocs have a brutal non-conference slate. After opening with the Panthers, they play at Jacksonville State and Tennessee before hosting another top-10 FCS opponent in James Madison. This is still a strong team that should compete in the SoCon, even if it doesn't win the league or make the playoffs.
6. Eastern Kentucky
2018 in review: The Colonels flipped their record from 4-7 to 7-4 and earned third place in the OVC. They did it against a tough schedule that featured two FBS opponents, and they defeated second-place SEMO in September by holding the Redhawks to 14 points. EKU ended the year on a four-game win streak and finished with the fifth-most interceptions in the FCS (19).
Coach: Mark Elder (12-19) has signed four FCS top-25 recruiting classes in his four years since coming to EKU. The next task for the former Tennessee and Cincinnati assistant is to get EKU to the playoffs for the first time since 2014.
Key returners: RB Daryl McCleskey Jr., DL Aaron Patrick, LB Leodis Moore III, LB Steven Crowder, DB Ben Bascom
Key losses: RB LJ Scott, OL Cameron Kowalewski, OL Justin Myles, LB Gavin Bryant, DB Cornelius Floyd
Outlook: With 16 returning starters and just one FBS game on this year's schedule, EKU should threaten for a playoff spot and challenge SEMO again. The Colonels roll into Charleston in late October for EIU's homecoming. For EIU, it comes right before an idle week, while EKU comes off a trip to Murray State.
5. SEMO
2018 in review: The Redhawks felled the seemingly infallible when they smashed Jacksonville State at home, ending the Gamecocks' 36-game OVC win streak. Remarkably, it may not even be the crown achievement in a breakout 9-4 season. SEMO notched its first playoff win in school history when it defeated Stony Brook in the first round. Ex-Northern Illinois quarterback Daniel Santacaterina totaled 26 touchdowns and was an all-newcomer team selection.
Coach: Tom Matukewicz (24-34 SEMO, 25-34 overall) will encounter an old coworker when SEMO visits EIU in November – he and Panthers offensive coordinator John Kuceyeski were on staff together at Toledo in 2013. He suffered through a 15-30 mark in his first four years before last season's surge, which earned him the OVC's coach of the year award.
Key returners: Santacaterina, WR Kristian Wilkerson, LB Zack Hall, DB Bydarrius Knighten
Key losses: RB Marquis Terry, OL Drew Forbes, OL Lucas Orchard
Outlook: SEMO has 10 defensive starters back in addition to its quarterback and top receiver, putting the Redhawks in position to threaten Jacksonville State again.
4. Indiana State
2018 in review: It was an impressive turnaround that happened stunningly fast. The Sycamores went 0-11 in 2017, but finished 7-4 (5-3 Missouri Valley) and was one of the first teams left out of the playoff bracket. Ryan Boyle, a former Iowa backup quarterback, was the MVC's newcomer of the year after totaling 18 touchdowns, and his breakout began by leading Indian State to 55 points in a Sept. 15 road win at EIU.
Coach: Curt Mallory (7-15) suffered through that winless campaign in his first year, then oversaw the seven-win improvement. He's a former Indiana, Illinois and Michigan position coach and Illini defensive coordinator who interviewed to replace Dino Babers at EIU before the Panthers hired Kim Dameron.
Key returners: Boyle, WR Dante Hendrix, OL Wyatt Wozniak, LB Jonas Griffith, CB Kaelub Newman
Key losses: RB Ja'Quan Keys, LB Katrell Moss, CB Rondell Green
Outlook: The Sycamores don't own as much preseason hype as Illinois State, but they're popping up as a preseason top-25 team that should boast a strong offense yet again. Indiana State may be the third-best opponent on EIU's non-conference schedule, a sign of just how difficult those opening four games project to be.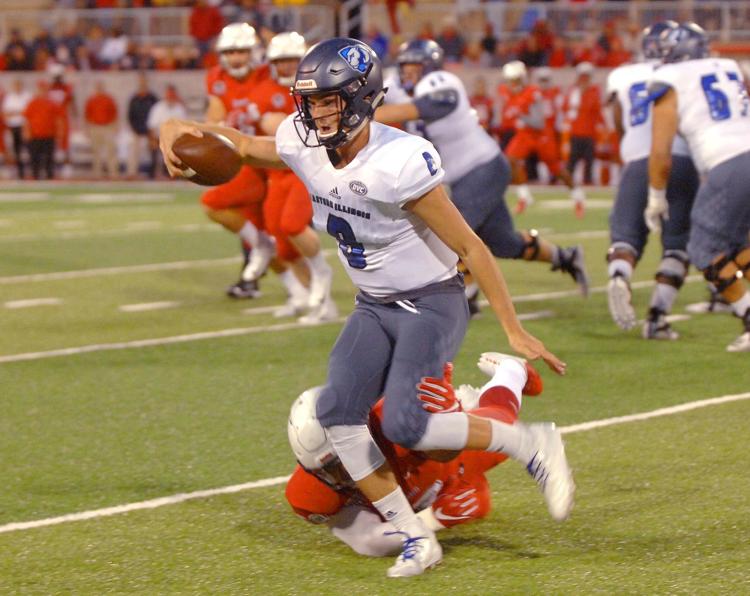 3. Illinois State
2018 in review: Despite an FBS win over Colorado State, the Redbirds disappointed relative to preseason expectations. They entered ranked No. 12 in the HERO Sports FCS preseason top 25, but finished 6-5 (3-5 MVC) with a final ranking of 21 and missed the playoffs. Four of those five losses came by 10 or fewer points.
Coach: Brock Spack (74-45) returns once again to Eastern Illinois, where he was an assistant from 1987-90. He owns a 6-4 career record against the Panthers. The Redbirds have reached the playoffs four times on his watch, but have been stuck on six wins in each of the past three seasons.
Key returners: QB Brady Davis, RB James Robinson, WR Andrew Edgar, OL Drew Himmelman, DB Luther Kirk, DB Devin Taylor
Key losses: WR Spencer Schnell
Outlook: With 16 returning starters, ISU has a case as the best FCS team on EIU's schedule. The Redbirds may not have the goods to dethrone North Dakota State atop the Missouri Valley, but they're a consensus preseason top-15 team. The last two Mid-America Classics haven't been close, and Dameron was 1-4 in the series. Cushing has faced Spack's teams twice before as an assistant, most recently in 2016, when Illinois State came to Northwestern and pulled an ugly 9-7 upset.
2. Jacksonville State
2018 in review: The Gamecocks lost their imposing conference winning streak, but still went 9-4, won their fifth straight OVC title, reached the playoffs and won a game. It was the first season in John Grass' tenure in which they failed to win at least 10 games or finish in the top 25. Zerrick Cooper, a former four-star recruit and Clemson quarterback, totaled 38 touchdowns in his first season at JSU.
Coach: Grass (52-12) enters his sixth season at JSU after 23 years as an Alabama high school coach. He has lost one OVC game, that 42-17 uncharacteristic road defeat at the hands of SEMO last October.
Key returners: Cooper, WR Josh Pearson, WR Jamari Hester, TE Trae Barry, OG Darius Anderson, OT Hunter Sosebee, LB Christian Wafford, LB Jalen Choice, DB Marlon Bridges, DB Traco Williams
Key losses: OG B.J. Autry, OC Tyler Scozzaro, DL Randy Robinson, LB Connor Christian
Outlook: The Gamecocks boasted an explosive offense that returns nearly all of its key playmakers and two of its four all-conference offensive linemen. They're the favorite in the OVC yet again.
1. Indiana
2018 in review: A 3-0 non-conference season that included wins over 8-5 Virginia and 9-4 Florida International spiraled into a 2-7 Big Ten mark. The Hoosiers dropped close home games to Penn State and Purdue and battled Michigan on the road in an 11-point defeat, but took blowout losses to Ohio State and Iowa. Their conference wins came against Rutgers and Maryland.
Coach: Tom Allen (10-15) spent 19 seasons toiling in high school and lower divisions before taking an assistant job at Arkansas State in 2011. From there, his career took off. He spent three years as Ole Miss' linebackers coach, a year at South Florida as the defensive coordinator and was Indiana's DC for a season before a December 2016 elevation to head coach.
Key returners: QB Peyton Ramsey, RB Stevie Scott, WR Donovan Hale, WR Nick Westbrook, DB Marcelino Ball, DB Bryant Fitzgerald
Key losses: OG Wes Martin, OT Brandon Knight, DB Jonathan Crawford, returner J-Shun Harris
Outlook: The Hoosiers are likely to finish in the bottom half of the Big Ten again, but they're still an FBS team and obviously pose EIU's toughest challenge. The Panthers' main goal here should be staying healthy with the Mid-America Classic on deck.