CHARLESTON – J.J. Ross is out of place.
He's out of place because his 6-foot-1, 190-pound frame as an 18-year-old cornerback would earn him meaningful reps in fall camp and potential early playing time at plenty of FBS programs.
He's out of place because a series of late twists in his recruitment left him without any suitors from the FBS – where his mix of fluidity and instincts should be and where he expected to be – on National Signing Day in February.
But one thing is obvious to everyone around Eastern Illinois, to the coaching staff that saw the opportunity, swooped in and signed him from the leftover pile the minute he fell into it.
J.J. Ross wants to be here.
He reported to EIU in June already in stellar shape, having put himself through workouts the strength staff sent him. He struts around practice free of entitlement, his demeanor self-effacing even after he intercepted two passes on the first day of fall camp and drew incredulous reactions from teammates' first glance at him, as if to suggest, "This kid is really here?"
"My first impression was that he's big," linebacker Joe Caputo said. "That's always good to see as a corner."
Ross is, unsurprisingly, listed on EIU's two-deep for Thursday's opener at Chattanooga. He's a No. 2 corner, but expected to play a noteworthy role. The three-star recruit and former Cincinnati commitment who once held a few Power Five offers stepped onto EIU's campus as one of its most naturally gifted players. But he and EIU are a match born from seizing an opportunity, strengthened by frankness and the appearance of stability after a few months of a pronounced lack of it.
"I'm just blessed to have the opportunity to be here, because for a moment, I didn't think I would be able to play anywhere," Ross said. "I'm glad I'm here. I want to get to work with my boys. This is my family right here."
About 15 months ago, the idea that Ross would put forth any such sentence was beyond preposterous. He held offers from Kentucky, Indiana, Minnesota, among others, a rising senior with a rising stock from a Cincinnati-area high school, Lakota West, that boasts three current NFL players.
Then Memorial Day weekend brought stunning news. Larry Cox, who led Lakota West for the prior 21 years, was parting ways with the school. Assistant Jeff Wadl was named the interim head coach.
"When we heard, it was like, 'What?' Jaw-dropping," Ross said. "But we had to come together, bring the energy and come every day focused."
That was the first in a series of sudden changes.
Ross committed to Cincinnati in early June, turning down those Power Five programs. It was his hometown school. It fit and felt right.
The Bearcats started 2018 with six straight wins, a surprise surge after a 4-8 debut season for head coach Luke Fickell. Ross, meanwhile, transcended any lingering effects of Lakota West's offseason turmoil and intercepted a conference-best six passes.
Somewhere in there, that honeymoon phase of Ross' commitment wore off, and like driving a car left-footed, a feeling of uncertainty and awkwardness descended upon it. There's no true consensus on the whole ordeal, but what's clear is this: both sides' interest in the other began to wane. Cincinnati took the action first, though, Wadl said. (Cincinnati did not respond to a request for comment from Fickell). On Dec. 5, Ross tweeted that had re-opened his recruitment.
You have free articles remaining.
Keep reading for FREE!
Enjoy more articles by signing up or logging in. No credit card required.
"You kind of felt he wasn't really interested in Cincinnati and they could sense that," Wadl said. "They want guys who are committed. It's not a knock on J.J., it's more along the lines of, 'Hey, if you don't want to go here, that's OK. But we'll pull the offer and open things up."
Ross' take on it echoed some similar themes. Asked about it, he exhaled, the hectic nature of it still registering.
"It was crazy, man," he said. "I was down a little bit, but I had to bounce back, stay positive and know something would come."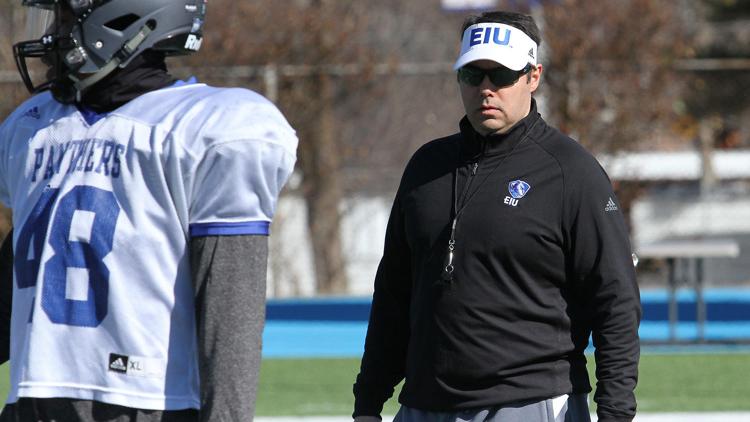 Ross said he did grow unsure of his pledge and admitted he was not entirely surprised that Cincinnati made the initial move to sever ties, yet it still stung. He shoved aside any lingering disappointment and turned his attention forward.
"I felt it. I think they did too. It is what it is," Ross said. "By the time it ended, it was cool. We parted ways, ended on a good note. Best of luck to them."
The bigger issue though, was that the early signing period neared and some of the teams once interested in him were out of space. At this point, Ross was open for anything. EIU learned no one was seriously pursuing, so defensive coordinator Chris Bowers dropped by Lakota West on one of the first days of the January contact period.
"His openness struck me," Bowers said. "You could tell he was thoughtful and could articulate the issues of recruiting and what happened. It just gave me a good insight as to who he was."
EIU offered shortly after. Bowers knew he had a chance, but January is the time where recruiting runs on optimal mania. Things change overnight. Surely some FBS team would step in. Until one did, all EIU's staff could do was sell him on their vision and be straightforward.
"We didn't do anything tricky," EIU head coach Adam Cushing said. "We were just honest every minute of every day with exactly what we saw and how we thought it would play out."
A late FBS call did come through. Kansas and newly minted head coach Les Miles hosted him on an official visit the weekend before the February signing day. He'd still play at his expected level after all, he thought.
Afterward, though, Kansas' staff delivered a small haymaker. They did not have a spot for him. Part of reasoning involves digging deep into tricky NCAA recruiting rules, but the short version is that a school cannot sign more than 25 initial counters (new scholarship players) in a year. Some of those spots were already used by the Jayhawks' previous coaching staff with transfers or "blueshirt" players, which count toward a later year's class.
That left EIU as Ross' last option, the backup to his deepest backup plan. Not that he viewed it that way. He took a visit and committed. EIU announced his signing in late February.
"He's happy to have this opportunity, we're happy to give it to him and I expect him to have a great career," Bowers said. "You have guys like that on our team that for whatever reason, find their way here. And it's not like they can come in on Easy Street. Those guys are all over this league and J.J. is no different. This was the opportunity that came to him. He's making the most of it."
And the key to that is, of course, wanting to be there. Even if you appear to not belong.
"My dream was to play college football, and I'm fulfilling that," Ross said. "Wherever I'm at, I'm going to ball."