CHARLESTON — A state budget impasse looms like a tornadic storm cloud, viewable for everyone as it approaches but stoppable by no human measure.
It's ominous, a threat that feels interminable once it commences and worsens as it continues. For university administrators, it's different than a straightforward personnel or money allocation decision. All control of it rests in the state capitol building. It festers as everyone inside cannot agree to stop it, while outside that building, that very inaction brings unease that it will hit and hit hard.
This is akin to the thought process of affected administrators and leaders as the prospect of a budget crisis grew into a reality in 2015, then struck, lingered and left a path of destruction.
"It was so unprecedented what we were going through at that time, and we had no idea that it was going to last as long as it did," Eastern Illinois athletic director Tom Michael said. "There's a little bit of disbelief, a little bit of uncertainty to say, 'What does this mean? Surely they're going to give us money and eventually pass this. It's just a power play. It's politics.'"
"As things continued to matriculate through, it's like, 'Holy smokes, this is some serious stuff that really impacts a lot of what we're doing.'"
On July 1, 2015, the state of Illinois officially stepped into a budget impasse. It lasted until August 31, 2017 — 793 days — and was finest example of its government's proclivity for prolonged discord.
Without a budget, Illinois' public universities could not receive state funding. At flagship institutions such as the University of Illinois, it failed to cause even a minor tremor. Down the ladder rungs, though, institutions like Eastern Illinois suffered through drastic cuts in state funding, a critical part of a mid-size, "directional" state school's revenue.
The consequences trickled down to EIU's athletic department, an already small-budget operation with little wiggle room was forced to, well, wiggle. Michael, about a year into his job, needed to make difficult decisions and trim wherever he could. Already frugal coaches had less money at their disposal. Two years later, the athletic department remains affected and not quite back to its pre-impasse funding levels.
"We're operating as thin as we can operate right now," Michael said.
But the department is stable, and those inside it own a noticeable degree of confidence thanks to Michael's leadership and the cooperation from his coaches and constituents during the uncertainty of 2015-17. There's a feeling of optimism and of self-assuredness now that the clouds have lifted and stayed away for two years. The win-loss records, especially from the revenue sports, may not reflect it, yet those are not the best measure of a tight operation that successfully fought through being stretched beyond its preconceived limits.
"We're not out of the woods, but at least we're talking about expanding, talking about enrollment going up," EIU basketball coach Jay Spoonhour said. "We're talking about good things, instead of ... you know. At the time, there were some worries. I don't worry anymore and we can look at going forward."
Short-term solutions
David Glassman began his tenure as EIU's president on June 1, 2015, when the impasse appeared increasingly likely. He hopped two feet in anyway, though the need for major cuts and layoffs had not yet arrived. As it struck and persisted, though, those discussions needed to be had. Athletics, like the rest of the units on campus, would receive less money from the school. Glassman decided to cut funds allocated to the academic affairs by a smaller percentage than the rest of the campus divisions.
"We tried very diligently to keep the instructional dollars right where they needed to be," Glassman said. "We wanted our students to not even know as best as we could that there was this impasse going on in Springfield. Of course they knew it, but we didn't want it to affect their educational experience."
In the early part of the decade, EIU received $2 million in annual appropriated money from the university. Appropriated money is the combined revenue from tuition and state funding. It is put into one pool and distributed from there as Glassman decides. EIU received more than $40 million in annual state funds before the impasse, but that was slashed to about $12 million in fiscal year 2016, the first year of its reign. Enrollment declined by 1,100 students between fall 2015 and fall 2016.
With revenue from those two major sources plummeting, the university had less appropriated money to give. It lowered funding across all departments and laid off more than 400 employees.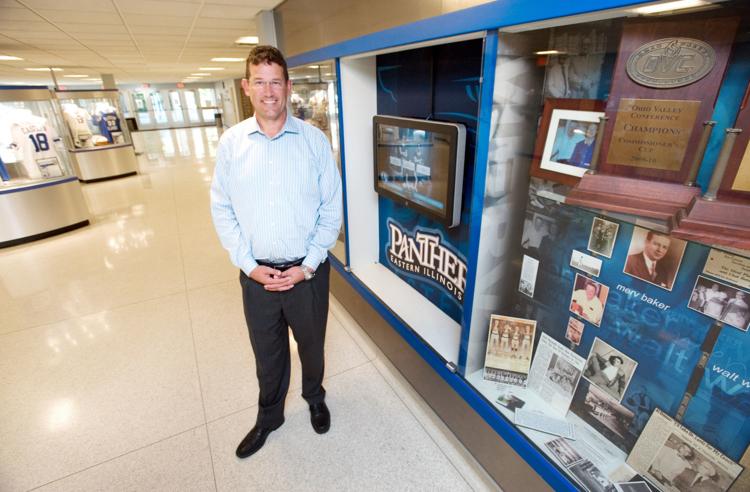 Athletics' appropriated funding shrank to $1.8 million prior to Glassman's arrival. Glassman then cut it to $1.3 million — a decrease of about 25 percent. It remains there today.
"When I told him (Michael) that we needed to cut down to $1.3 million, he said, 'Boy, that's going to cause me some challenges, but I understand that I have to take on that responsibility,'" Glassman said. "He didn't question that."
All other campus units saw a decrease in appropriated funds by the same percentage. Athletics, though, has a unique challenge. An enrollment drop does not equal a drop in student-athletes, but it means less money from the percentage of student fees that goes to athletics. And that's before a drop in appropriated funds.
EIU still had 20 sports and 450 athletes to serve, even as the drop in enrollment resulted in about $400,000 less revenue from student fees. Michael, Glassman and the board of trustees discussed all cost-saving options, including cutting sports. They chose to stay at 20.
"What we didn't want to do, and what the board of trustees didn't want to do, was to have a short-term solution like cutting some sports that would have a long-term impact," Glassman said. "As universities have experienced challenges in their own athletic areas, we know when you cut a sport, it tends not to come back."
The solution was cutbacks in two major areas: The number of athletic scholarships and personnel decreases.
You have free articles remaining.
Keep reading for FREE!
Enjoy more articles by signing up or logging in. No credit card required.
Nine athletic department positions were eliminated during the impasse, Michael said. Some of those positions were open and simply not filled. Others moved to different spots in the university. And others were laid off.
"The first thing that we tried to determine was what positions had some risk and liability in them," Michael said. "We wanted to make sure those weren't the areas we were going to impact. Whether that was sports medicine or strength and conditioning, we really wanted to look at what impacts our opportunity from a wins and losses perspective. When you go through that piece, you feel like you all have an impact on the day-to-day and the overall mission. But those are how we tiered some of those responsibilities and looked at where we could make some adjustments."
Athletics no longer has multiple full-time sports information directors or a football secretary. It has a smaller marketing department. After the layoffs, Michael's main task became boosting morale, a tricky task in a situation that had derailed careers of close friends and maintained a chokehold on the entire state.
"I have to bring energy, enthusiasm and passion to what I'm doing every day," Michael said. "If I'm walking around the hallways with a little giddyup in my step and a smile on my face, then it's a lot more difficult for people to be hanging their heads."
Cutting scholarships comes with complications too: EIU could not jettison current players off their teams. The reduction could not start until the scholarships were freed due to graduation. Twenty-two scholarships were cut over a two-year span. In 2018-19, EIU cut the first 17. This next year will account for the remaining five. All of them are in sports with either no conference-imposed minimums or teams that would still be safely above the minimum: golf, soccer, swimming and diving, tennis, baseball and softball.
"We'll sit down and determine where we can have money back into the scholarship lines," Michael said.
No on-field coaches were laid off as part of the cutbacks. Football and basketball did not face scholarship reductions, and their coaches were asked to be even more mindful of spending than they already were. That meant scheduling for maximum travel efficiency (the Ohio Valley Conference's basketball travel partners helped), relying more on video and phone calls for recruiting or waiting a year to order new uniforms or practice gear. These were all prior initiatives that took on heightened importance. Overall, EIU spent about $320,000 less on travel and $16,000 less on recruiting in 2017, the heart of the impasse, than it did in 2014.
"There are people that I know — friends — that lost their jobs here," Spoonhour said. "That's worse than cutting some things back, and it was hard. I never complained, or heard anyone around here complain, because we all knew people whose jobs were discontinued."
The irremovable thorn in Spoonhour and other coaches' sides, though, was the perception and resulting opportunity for negative recruiting, a common practice that's within reason but sometimes contains exaggerations. EIU's financial trouble was the lowest possible hanging fruit.
All anyone needed to do was whisper into a recruit's ear that EIU was on shaky ground and direct him or her to Google, where a quick search of "EIU closing" turned up pages of results. No recruit would ever confess another school's negative recruiting tactic, but coaches can spot the fuel for it like a meteorologist can detect the ingredients for severe weather.
Glassman and Michael said there was never any discussion or concern over the university shutting its doors. But a budget crisis that causes mass layoffs and lasts for more than two years naturally foments such inquiries and feelings.
"You had all the talk about, 'Well, is the school even going to be standing in a year?' That was never a concern," Spoonhour said. "But it was difficult to deal with from a public perception."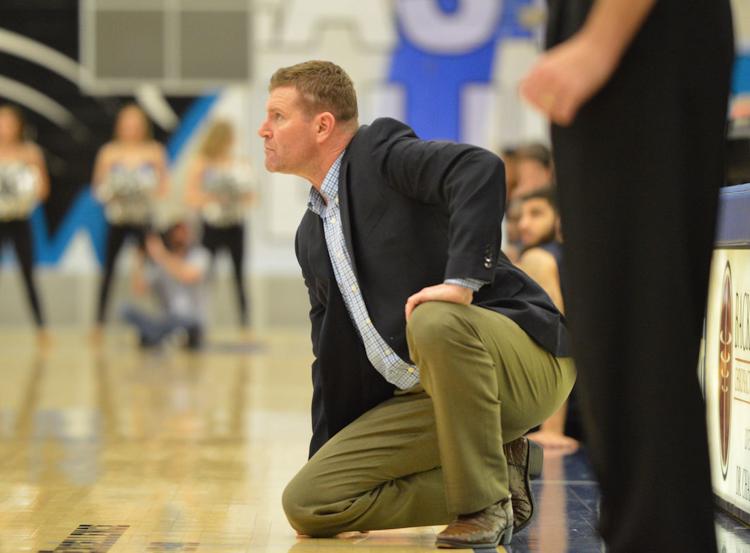 The realization that the crisis might endure hit around the beginning of 2016, a particularly inconvenient time for football recruiting with National Signing Day a month away and the scramble to fill and retain a class in full swing.
The strategy in combating negative recruiting was discretion, which in the age of Twitter, is not exactly a confident proposition. All Spoonhour or any other coach could do is hope that word didn't spread about his interest in a particular recruit so that the other suitors could not mention EIU's perceived instability.
"If a kid ever tweeted it out, we were going to be in trouble," Spoonhour said. "And you couldn't tell a guy not to let anybody know that we like you."
"But we still got players; we got good guys."
At ease
Glassman wants to raise the athletic department's share of appropriated funds back to $1.8 million as soon as the school's budget allows. Conditions are favorable – EIU's enrollment rose 7.1 percent between fall 2017 and fall 2018 and increased by about 500 students from spring 2018 to spring 2019. Glassman will wait, though, until he can raise all the other affected units back up by the same percentage at the same time, just as he dropped them.
"It's a slower transition than if you said, 'We're going to choose this one area,'" Glassman said. "That group would change very rapidly, but the other groups would spend much longer in the need basis. We've chosen to bring everybody up together as more funds come into the university."
In some ways, EIU's on-field product could survive a budget cut and not worsen because its lower-budget habits predate the impasse. This is, after all, not a program or department that has ever kept a private jet on retainer for its coaches. Attempting to field winning teams with less money than many of its conference counterparts has been its long-standing challenge and the reason coaching at EIU — and at schools of its profile — is considered a difficult job.
Even if the appropriated funds rise to $1.8 million in the near future and student fee revenue increases, it will not present a large enough hike to reverse the department's spending habits, because those habits were essentially the same before the nightmare. The dollar still has to be stretched. But it can once again be done with peace of mind.
"You look back and think, 'Boy, those were some crazy times,'" Michael said. "Just a little bit of stability now makes everybody feel at ease."