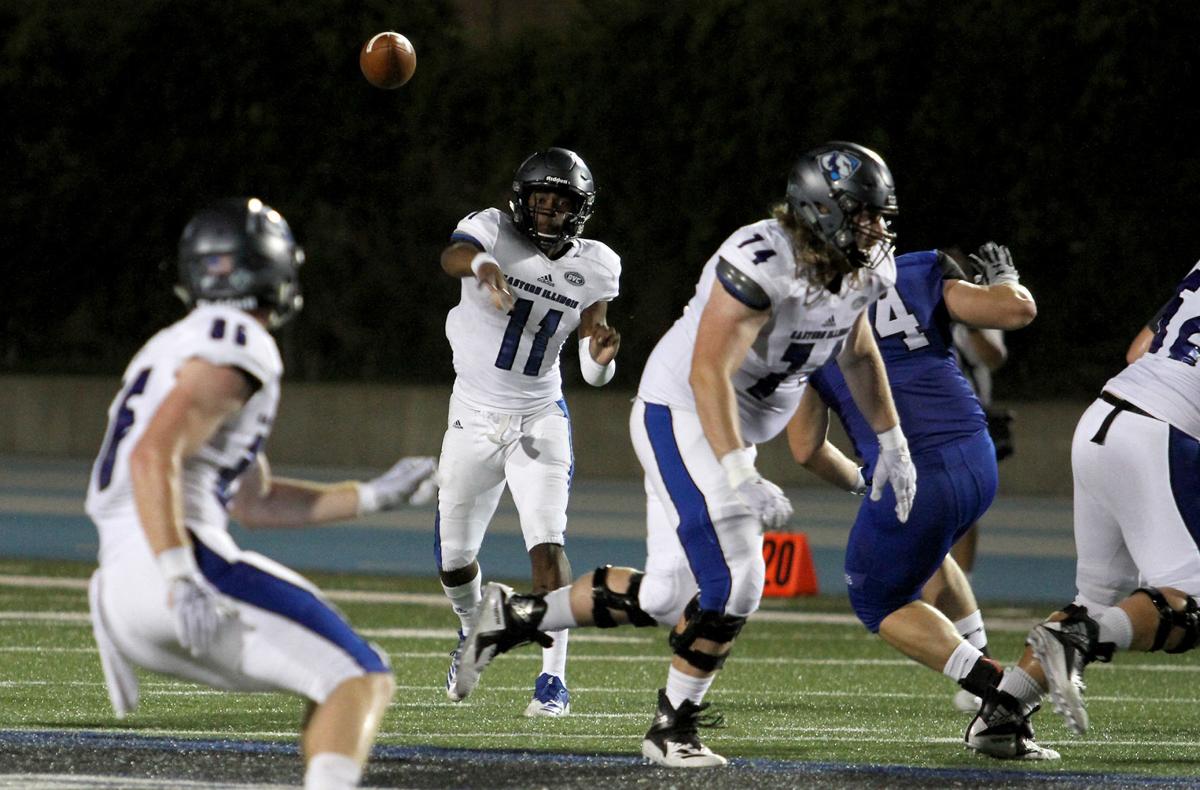 As expected, Johnathan Brantley and Harry Woodbery were listed as co-starters, the word "or" in between their names. Sure, it gives EIU's staff a degree of secrecy, but not naming a starter by now is as much about the coaching staff's realization that those two are among the offense's best players and benching one of their best players is foolish.
"We have to find a way to play them," offensive coordinator John Kuceyeski said.
It's reasonable to expect both to play Thursday at Chattanooga, and possibly beyond. EIU is still leaving the door open to playing both all year, just as the two split time under Kim Dameron's coaching staff last year. Neither has tried to operate Kuceyeski's offense in a game setting, though. A pronounced difference there makes the juggling of playing time less practical and likely to end sooner.
"For me, it's seeing how fast can they take ownership of this?" Kuceyeski said. "They're going to be uncomfortable. They're not going to know the scheme like they think they want to know it."
Jaylon Banks didn't win the quarterback job, but EIU doesn't want to leave him on the bench. And he wants to play. He has already redshirted in 2017 and appeared only in mop-up duty twice last year. Eligibility and playing time window are finite commodities, and when they reach their later stages, players often put preferences aside to get on the field in whatever way they can.
So during Sunday's practice, the redshirt sophomore traded his red quarterback non-contact jersey for a white No. 14 top and lined up wherever Kuceyeski wanted him. EIU's plan for Banks to start the year is to use him in a number of rules. If there's one player who best fits the "offensive weapon" designation, it's now him.
"We want to get Jaylon on the field," Kuceyeski said. "Obviously with two quarterbacks we feel great about, that gives us flexibility to play around with No. 3 and 4 to best help our offense, whether it's at receiver, superback, running back, wherever it might be. They have to help us win. Jaylon's embraced any role he can for this team. Does he want to be the starting quarterback? Yeah, more than anything. But he wants to play football. This is better than holding a headset and doing signals."
Four freshmen OL on depth chart
No starting spot along EIU's offensive line was going to be decided by experience, because no one really has it. Just three players have made starts for EIU along the line. It's no surprise, then, that the Panthers will start freshmen at both guard spots and have a freshman listed as the backup of each tackle spot. Whoever could grasp assignments and prove mentally ready was going to play.
"Anthony Sottosanto and Elkhanan Tanelus have showed us unbelievable mental strength," Kuceyeski said. "They're two of the mentally toughest guys we have on our football team. They showed up and jumped right in. They didn't care. They didn't wait behind seniors, juniors, sophomores. They jumped in. We didn't ask them to. They just did it on their own, and because they did that, they're playing. Obviously they're good players too."
Isaiah Hill listed, not cleared yet
South Dakota State transfer Isaiah Hill will start for EIU…if he's cleared.
Hill left SDSU after two seasons and committed to EIU in the spring. Since he was not a graduate, he needed a waiver to avoid sitting out 2019, in accordance with NCAA transfer rules.
He is listed as a starter on the depth chart, but his waiver has not been approved yet. That could happen at any point this season.
If cleared, Hill would have three years of eligibility left. If his waiver is denied, he will sit this year and have two to play starting in 2020.
-11 total freshmen are on the depth chart: Hayes-Benefield, Manaves, Strickland, Imperio, Tanelus, Sottosanto, Brooks, Leach, Shockey, Ross, Roessler
-Adam Cushing announced EIU's captains for this season: James Sheehan, Joe Caputo, Austin Johnson, Terrell Greer and Jaylon Banks.
EIU football depth chart (starter listed first)
QB: Harry Woodbery or Johnathan Brantley
RB: Darshon McCullough, Jaelin Hayes-Benefield
SB: James Sheehan, Anthony Manaves
LT: Cole Hoover, Chad Strickland
LG: Elkhanan Tanelus, Luther Harris
C: Ben Solomon, Jose Sanchez
RG: Anthony Sottosanto, Drew Walega
RT: Aaron Miller, Anthony Imperio
WR: Matt Reyna, Marques Ray
WR: Isaiah Hill, Ryan James
WR: Xander Richards or Robbie Lofton
DE: Austin Johnson, Charlie Brooks
NT: Terrell Greer, Cameron Leach
DT: D'Mitri George, James Ubaike
DE: Ronell Deo, Kylan Cole
LB: Dytarious Johnson, Skyler Mayes
LB: Joe Caputo, Anthony Shockey
LB: Iziah Gulley, Ray Crittenden
CB: Mark Williams, J.J. Ross
FS: Antonio Crosby, Marcus Bornslater
SS: Bryce Dewberry, Edwyn Brown
CB: Corneliuss Page, Charles Shelton IV
KR: Reyna, Hayes-Benefield
Contact Patrick Engel at (217) 238-6856. Follow him on Twitter @PatrickEngel_