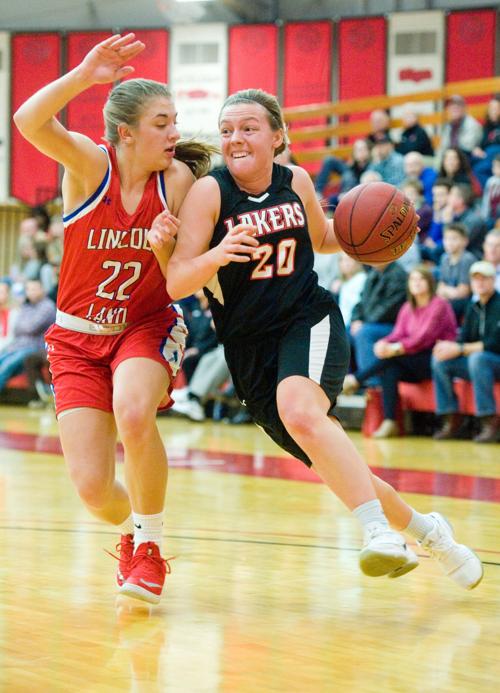 MATTOON -- After leading the No. 8 team in NJCAA Division I for most of the game, the Lake Land women's basketball team saw its upset bid against Lincoln Land slipping away in the fourth quarter.
A 13-2 run by the Loggers gave Lincoln Land its first lead of the game with 2:17 remaining.
The Lady Lakers didn't panic. Instead of settling for a three, the Lady Lakers got a bucket from Avery Jackson to end Lincoln Land's run.
Then Lake Land's defense, after allowing the Loggers to get a few too many good looks, started to get in the right positions again. The Lady Lakers forced four turnovers and didn't allow the Loggers to score in the final two minutes in the game.
That allowed Lake Land to take the lead on Katrina Christian's layup and two free throws by Aislinn Parish, after she got a key steal, iced the game for the Lady Lakers as they knocked off No. 8 Lincoln Land 72-69 on Wednesday at Laker Fieldhouse.
Lake Land, which was receiving votes in the NJCAA Division II poll, improves to 3-0 in Region 24 and 8-2 overall. It was the first loss for Lincoln Land, which is 8-1 on the season now.
Lake Land coach Dave Johnson said relying on the sophomore leadership has helped the team not panic when Lake Land lost the lead late.
"This means a lot. It shows that we have maturity and experience on our team. The sophomores, all of them - Avery, Aislinn, Haley (Gregg), Jamie (Sandschafer), (Zyah Burnett), Gabby (Staub) - are really mentally strong," Johnson said. "We understand there are going to be some runs in the game. They are doing a good job of not panicking. I give our players all of the credit. You can't get overwhelmed by the game and they do a good job of not being overwhelmed. It's a great win."
Lincoln Land struggled against Lake Land's defense until the end of the third quarter when the Loggers got a couple of buckets. Then Lincoln Land was able to get the ball inside and broke down Lake Land's defense. The Loggers scored 22 points in the fourth quarter.
Then with about two minutes left in the game, Johnson brought in Sandschafer, who did a good job guarding 5'10" Lincoln Land forward Katryel Clark. That helped Lake Land force a few turnovers late.
"I thought we were passive defensively in the fourth quarter and let them get deep on penetration. We didn't play to the tendencies that we knew with them. Give (Clark) credit, she played well," Johnson said. "We took an offensive foul and that girl was aggressive all night and we took the foul and that helped. Jamie gave us the flexibility to open up the court and make them guard us more and that got us a couple of layups."
Lake Land led for all three quarters. A couple of three-pointers by Lincoln Land got the Loggers within three at 56-53 right away in the fourth quarter when an 8-3 run put Lake Land back up by eight.
Lincoln Land then went on a 13-2 run to go up 69-66 with 2:17 remaining.
That's when Arie Sims found Jackson down low for a basket to make it a one-point game. Jackson scored 25 points in the game. Before Jackson's basket, the Lady Lakers were struggling to get good looks.
"The biggest thing is we can't just shoot the three when we are down three. We have to get a good basket," Johnson said. "The girls do a good job on the quarter of communicating on the court with each other and are able to at things and be productive. The difference at the end is we were able to stay in some stuff offensively that worked for us. We got away from that in the first part of the fourth quarter."
Lake Land almost took the lead with a minute left when Christian, who scored 15 points, went strong to the basket. The shot went in but she was called for a charge. That didn't stop Christian from being aggressive and after a Lincoln Land turnover, she went strong to the hoop again and made a layup to put Lake Land up 70-69 with 35 seconds remaining.
"I told her not to worry about it. It's a 50/50 call. Don't worry about that, just be strong as you go," Johnson said. "Then we got a matchup the next time and got what we wanted and it worked."
Lincoln Land turned the ball over again but then the Loggers forced a turnover. A few seconds later, Parish jumped in front of a pass to get a steal. She was accidentally tripped and went to the ground hard on the foul.
Despite the hard fall, Parish got up and made both free throws to put Lake Land up 72-69 with 10 seconds remaining.
"That was a great play and then she took a hard foul on the fall and makes both free throws. Toughness doesn't come in size," Johnson said. "I have some small guards but they are all pretty tough kids. I had all of the faith in the world to make both free throws."
Lincoln Land's three-point attempt to tie was off. Clark got the rebound but her attempt rolled out, giving Lake Land the 72-69 win over the No. 8 team in D-I.
Contact Justin Rust at (217) 238-6856. Follow him on Twitter: @JustinRust