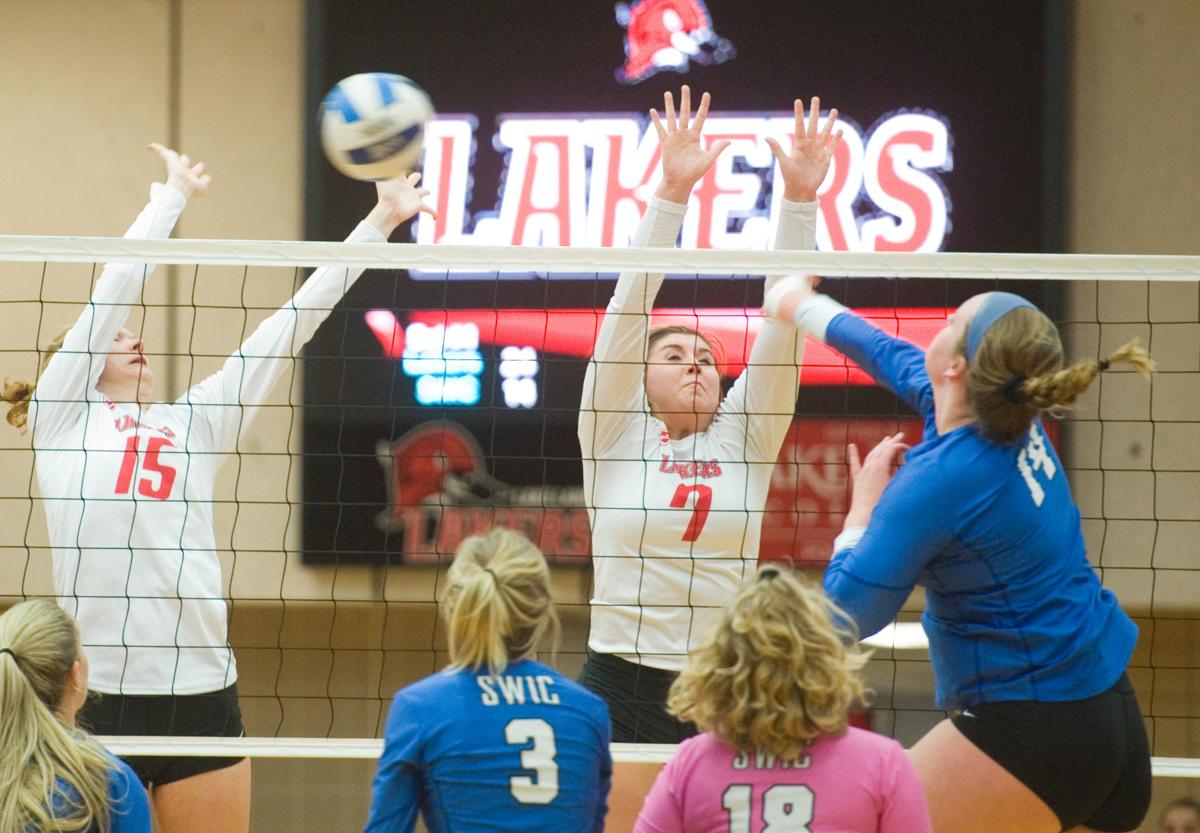 MATTOON — The Lake Land volleyball is starting to get back into a groove. After getting off to a hot start, the Lady Lakers started to cool down. A few weeks ago, Lake Land went through a six-match stretch where the Lady Lakers lost four of those.
Over the past week, the Lady Lakers are getting back on track. Lake Land beat Wabash in four sets last Wednesday and won both of their matches this past weekend. Then on Wednesday, the Lady Lakers winning streak hit four matches as Lake Land defeated Southwestern Illinois College 25-16, 25-20, 25-23.
Lake Land controlled the first two sets before SWIC pushed the Lady Lakers in the third set, but Lake Land was able to hold on for the sweep.
"We just clicked today and I think we were swinging. We weren't afraid of the ball, we were just going at it and it benefitted us," Lake Land sophomore Kristy Burford said.
Lake Land improved to 20-8 with the win and 9-2 in the Great Rivers Athletic Conference. Even with the little lull a few weeks ago, the Lady Lakers still have 20 wins on the season.
Burford said the team needed to go through that rough stretch.
"We had to have that low to realize what we needed to do to go up. We were too confident because of how many games we were winning," Burford said. "It was good to reach that low at that point during the season and now we are just going to keep climbing up."
Last year the Lady Lakers went through a lull but it lasted a good portion of the season since they finished 15-24. Burford said the team has been able to find a way to make adjustments and improve throughout the season compared to last year.
You have free articles remaining.
"We all know what we need to work on and if there is a problem, we fix it. We work so well together compared to last year," Burford said. "I wouldn't want to do this with any other team. They are great and I just hope we keep getting better as the season goes on."
Lake Land coach Ashli Wicker said the third set almost got away from the team but they found a way to finish it out which hasn't always been the case this season.
"That's one of our many enemies this year is not starting out the third set strong, so that was nice to see," Wicker said. "We played really well together tonight. Offensively, we played really well. Ella (McConkey) and Alexandra (Beckers) set pretty consistently down the line and we are lucky to have six live hitters who are well-balanced."
Lake Land jumped out to a 9-2 lead in the first set and even though SWIC went on a couple of small runs, the Lady Lakers controlled most of the first set for a 25-16 win.
Wicker did make an adjustment going into the second set as Ashlyn Clem took over at libero.
"She played a lot of libero this past weekend and she's playing well in the role," Wicker said. "In a few short months, the freshmen are going to be sophomores so I am trying to get some of the freshmen experience now so they feel comfortable next year."
Lake Land once again got out to a nice lead in the second set, going up 10-5. SWIC went on a 4-1 run to get within two. Lake Land was up 12-10 when the Lady Lakers went on a 7-2 run to go up 19-12. SWIC got back into the set with a 6-2 run and was down by three but Lake Land put away the second set with a 25-20 victory.
Lake Land led 4-3 in the third set when SWIC went on a 5-0 run to take the lead. The Lady Lakers slowly chipped away at the lead. A 4-1 run gave Lake Land the lead at 14-13 after a block by Lexi Rankin. Lake Land kept a slight advantage and SWIC tied the match at 19 when Alexandra Beckers tipped one over for a kill and then Arielly de Souza put a kill down for a 21-19 lead. SWIC kept it close but Ashlyn MacDonald put down a kill for Lake Land for the 25-23 win and the sweep for the Lady Lakers.
Wicker likes how the team has responded these last four matches but she still sees plenty for the team to work on.
"Our energy and communication are kind of lacking but that's something that we are continuing to work on during practice to help that," Wicker said. "As far as physicality, we are doing pretty well."
Contact Justin Rust at (217) 238-6856. Follow him on Twitter: @JustinRust