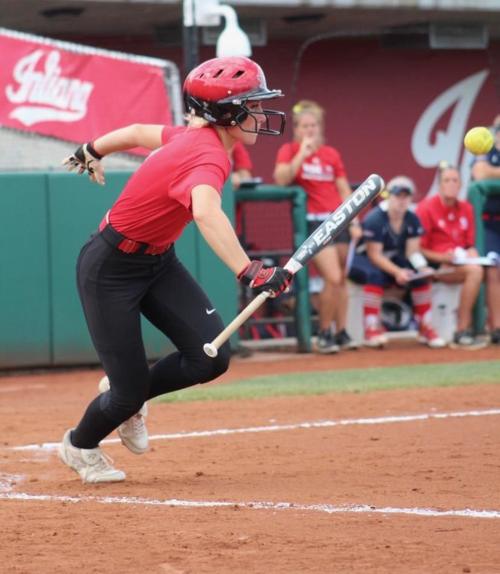 CHARLESTON — Katie Nicholson, a speedy outfielder at Lake Land the last two years, has signed to continue her softball career at Eastern Illinois under Tara Archibald, who was hired in Aug. 2019.
"She brings a lot of speed," said Lake Land coach Nic Nelson. "She and Frankie Izard were the two fastest on my team. She can absolutely fly. Pitchers are always hard to find, but so is speed. She is a left-hander and will have speed at the Division I level. She can punch the ball also."
Nicholson was the leadoff or No. 2 batter for Lake Land and made the NJCAA All-Region 24 team in 2019 and 2020.
"It is hard to get recruited during these times," said Nelson. "Coach Archibald is excited to have her. Other coaches were looking at her also."
Nicholson, a Bedford North Lawrence, Ind., graduate, didn't visit any colleges, but said she was also interested in Tennessee-Martin (Division I), St. Leo (Division II school in St. Leo, Fla.), Francis-Marion University (Division II in Florence, S.C.) and Lindenwood University (Division II in St. Charles, Mo.).
"I love coach Archibald," said Nicholson." She tried to make a connection with me. She put a lot of effort in a Zoom call when she had a counselor and the strength coach. That just meant a lot to me.
"I also like that EIU is a little smaller so classes are not as big. So I will have a better connection with the professors. I got to talk to a counselor specific to my major and she helped me decide what is best for me. I think there are great opportunities at EIU."
Nicholson finished with a 3.65 grade point average and is majoring in exercise science and business.
In the 2019 and 2020 seasons combined, Nicholson played in 76 games and hit .333 with 41 runs batted in and an on-base percentage of .374 and 33 stolen bases.
In 2019 and 2020 fall scrimmages, Nicholson hit .335 against Division I teams, including Eastern.
Lake Land was 50-19 in 2019, competing in the NJCAA Division I National tournament. The Lady Lakers were 27-7 in the Great Rivers Athletic Conference, good for second place.
This spring she hit .340 for the 21-4 Lady Lakers, who finished at No. 14 in the NJCAA Division I poll. She only struck out five times in 50 at-bats.
Nicholson, who has played all three outfield positions, was a slap hitter in high school and planned to go on to play at a four-year school after Lake Land.
"It really means a lot to me," said Nicholson. "It has been a dream of mine to play at the college level. It is a huge accomplishment. I am excited to learn more about the game and the training program. I love working out."
One reason Nicholson likes working out is that her dad (Eric) is a certified personal trainer, who pushed Nicholson and gave her the drive for fitness.
"I have two older brothers (Tate and Chandler, who played football at DePauw) that push me a lot," said Nicholson. "We (including her mom, Sally) work out as a family (during pandemic) and I have a field available so my dad and I go hit and practice."
As for what coaches have helped her along the way, Nicholson said Nelson, Denny Throneburg, travel coach Mike Hayes and Melissa Gardner (former Indiana coach) were big influences.
"Nelson helped me a lot," said Nicholson. "When I came to Lake Land I was more of slap hitter and bunter and he got me to hit for power. He would make me hit away even though I was not comfortable with hitting. Now, I don't mind hitting away.
"Hayes helped me decide what school to go to. He played a huge part in me going to Lake Land. Gardner pitched to me throughout last Christmas break and was a consultant for coach Nelson. She was amazing to have throughout this past year before it got short. And coach Thorneburg helped me so much during my time at Lake Land."
Izard, MacDonald honored
CLEVELAND — Lake Land softball player Frankie Izard and volleyball player Ashlyn MacDonald were named to the first team and honorable mention all- National Alliance of Two Year College Athletic Administrators (NATYCAA)  team. It is the inaugural year of the selections.
"NATYCAA is proud to recognize student-athletes who excel in the classroom, on the field and in the community," said Community College of Rhode Island interim Athletic Director Kevin Sallisbury, who also chairs NATYCAA's scholar-athlete committee. "The NAYTCAA scholar-athlete program names one male and one female award winner each year. This year we are excited to expand the program to recognize a male and a female from each of the nine districts as finalists for the NAYTCAA Scholar-Athlete Award.  The accomplishments of the student-athletes are simply outstanding  and we congratulate all of the nominees and finalists."
Izard was the District 4 female winner, while MacDonald was one of 28 to receive honorable mention.
Izard, who is headed to Louisiana-Lafayette, had a 3.71 grade point average and set Lake Land career records in triples (12), stolen bases (42), runs batted in (76), on-base percentage (.551) and batting average (.510).
MacDonald, a Mattoon grad, had a 3.69 grade point average as a physical education major. MacDonald was a first team all-region 24 member, who led the Lady Lakers in kills (4.51 average) and hit .251 with 34 blocks.
To be eligible for the award, nominees must have a minimum 3.6 grade point average on a 4.0 scale with a minimum of 36 semester hours at the school they attended and must compete in a minimum of one complete season of varsity competition, have outstanding athletic success, and show outstanding qualities of leadership and citizenship.
---
PHOTOS: Lake Land College
Contact Mike Monahan at (217)-238-6854. Follow him on Twitter: @monahanmikejgtc
Be the first to know
Get local news delivered to your inbox!