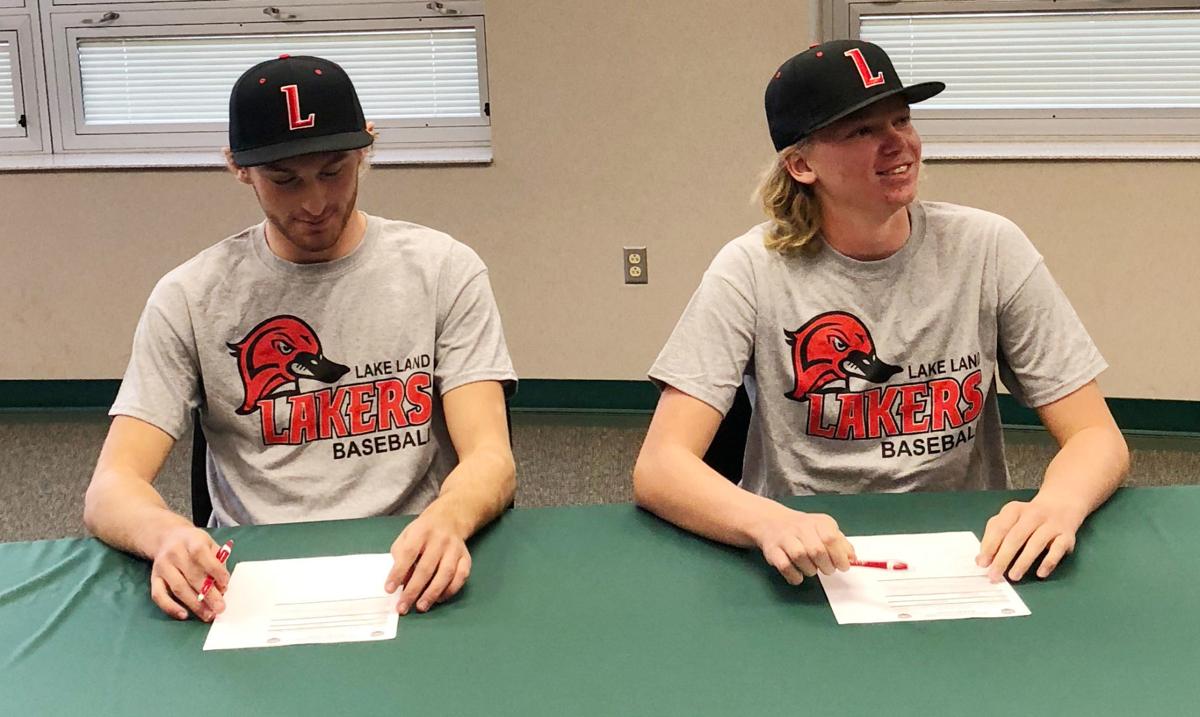 MATTOON — Jackson Nichols and Hayden Birdsong will be teammates for at least the next two years after they graduate in the spring.
On Monday, the two Mattoon High School baseball players decided to stay in the area as both of them signed with the Lake Land College baseball team. Nichols and Birdsong were excited to continue their careers in the hometown.
"I was very excited to finally get done with the stress of deciding where I was going to go. Lake Land was the first college to offer me and I like staying home and I think I can compete in this league," Nichols said. "It was fun signing with Hayden. He's one of my better friends playing baseball so it is cool that we can go to the same school."
Lake Land offered Nichols toward the end of his junior season. Nichols was also considering Eastern Illinois and SIU Edwardsville. The chance to play right away for Lake Land was a key factor for Nichols.
"(EIU and SIUE) offered me redshirts and I wanted to compete that first year and didn't want to go and sit on the bench," Nichols said. "I thought coming here for a year or two, I could come in and compete."
Birdsong said it was a lot of fun to sign with Lake Land. Birdsong was also considering Quincy University and Danville Area Community College.
"It's close to home and I can go home every night after practice. It's a good program and hopefully, I prosper in it. I've always wanted to go to college for baseball and it helps that I am going here because I can get two years out of the way and it's a great program," Birdsong said. "It's very fun to sign with Jackson and going there with him because I am used to playing with him."
Lake Land head coach Bill Jackson is excited to add two quality starters to his program who are right in the program's backyard.
"They both have huge upside. When we were looking at it, these are two of the best arms in the area and that's where our recruiting starts, right here in the area," Jackson said. "Both of them have a lot of upside and we expect huge velocity jumps with them the next two years."
Former Mattoon baseball coach Mark Jackley, who is now at Cumberland after retiring at Mattoon, thinks Lake Land is getting two quality arms.
You have free articles remaining.
"Both of those guys have a lot of upside and the disappointing part of me retiring last year is knowing we have a good pitching staff coming back with those two and Jacob Spitz," Jackley said. "Those two are not only great baseball players but great individuals. They are great students and work hard and that's what is exciting for me to watch them play at Lake Land is to see their improvement because they are the kind of kids that are going to get better."
Mattoon Post 88 Senior Legion coach Stacey Birdsong, who is also Hayden's father, said it was fun to see both players realize their dreams as they signed with Lake Land.
"It's a great event and what you dream about when you are young. You get to see them and be a dad and friend and watch them do that. It will be great to see," Stacey Birdsong said. "Congrats to both of them. They have done the work and still have work to do. It's great to see a couple of Mattoon kids at Lake Land. They have to do a good job and set the tone for everyone else. I am proud and happy for them both."
Mattoon baseball coach Jimmy Schmitz said having two players sign show the good job Jackley and Stacey Birdsong have done with the players in the high school and Senior Legion program.
"It's really good for the program and it shows what Mark and Stacey have done. I am just coming in now. I am glad, this is what we need, having local colleges see the talent we have here," Schmitz said. "A lot of it has to do with what Mark and Stacey have done. It says that they have done it the right way and that's a good sign."
Nichols thinks he can have a good impact at Lake Land right away but also knows he can develop more as a pitcher.
"I think we both can do very well and help turn Lake Land's record around. Hopefully, we can make a positive impact," Nichols said. "I think I have more room to grow. Me and Hayden both, we aren't overpowering but we can change that and throw faster."
Birdsong thinks he can jump into the rotation and he knows he has room to grow as a pitcher yet.
"I should make a big impact. I should be one of the better pitchers on that team I hope. It should be a lot of fun," Birdsong said. "I can get bigger and stronger and throw harder I hope."
Lake Land pitching coach Zach Stuart said both pitchers have the potential to add velocity and develop another pitch.
"It's 1A and 1B with them. Hopefully, that will translate to us at Lake Land," Stuart said. "Jackson has a little more velocity and his big second pitch is a slider and hopefully we can develop another one. For Hayden, it's just a little bit of growing and maturing and once he captures that, the sky is the limit for both of them."
Contact Justin Rust at (217) 238-6856. Follow him on Twitter: @JustinRust