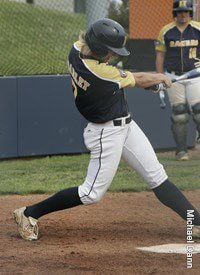 MATTOON – Jenna (Bradley) Hilligoss, a 2007 graduate of Mattoon High School, was already the member of one Hall of Fame as she was inducted into the Lake Land Athletics Hall of Fame in 2016 as part of the inaugural Lake Land Homecoming weekend.
Now the daughter of Wade and Kathy Bradley will be inducted into the Murray State University Hall of Fame, which is to take place as part of Hall of Fame weekend Nov. 13-14.
"It means a lot," said Hilligoss." I put so much work in as a kid when playing sports and I know people need to look past sports, but gosh I lived at that time. Being in the hall of fame in two colleges lets me know it was worth it and I am pretty proud to be in those."
She is the first player of the Murray State softball program to be honored with a spot in the MSU Hall of Fame after competing in the Racers' inaugural season of 2010. She is one of nine to be inducted overall.
Hilligoss found out a few weeks ago about the induction from the call by Murray State athletic director Kevin Saal.
"I was not expecting it all," said Hilligoss. "It was a shock. It was an amazing day. Gosh, what a feeling. My softball life is behind me, but I miss it tremendously. Being honored with this brings a lot of emotions, including joy, back. My life was surrounded by softball for so long this will be a cool experience."
Even though her last at-bat was 10 years ago, Bradley still ranks among the best in MSU Softball history. In only 103 games, Bradley is still first in runs, second in slugging (.671), third in home runs (30) and third in on base percentage (.431), fifth in RBI (105) and eighth in batting average at .408.
Bradley was the first 30/30 player in Racer history with at least 30 home runs and 30 stolen bases and she did it in only two seasons (2010-11).
Bradley's senior season of 2011 is still one of the top seasons at the plate as she became the most feared hitter in the Ohio Valley Conference. In just the second season of MSU Softball, Bradley was honored as the OVC Player of the Year. Bradley led the OVC with 18 home runs, 121 total bases and was second in slugging (.807) and second in RBI (56).
In addition to the 2011 OVC Most Valuable Payer award, Bradley was also named to the All-Region Team by the National Fast Pitch Coaches' Association.
"The hall of fame weekend is when both the football and basketball teams are playing," said Hilligoss. "It will be a big weekend, assuming we have it (COVID-19 might force problems). "I went to Murray, Kentucky A few weeks ago and saw my assistant coach, Kara Amundson, and she is the head coach now (ninth season). I was there visiting a friend before I found out about the hall of fame."
Murray State was 22-29 in 2010 and 24-28 in 2011.
"It was an awesome experience to play at Murray State," said Hilligoss. "That was fun and if I could be 18 again, I would do it all over again! Just being part of the first softball team at Murray State, it was interesting. We got to set the standard and I hope my teammates can come back to campus in November and celebrate this with me."
At Lake Land Hilligoss, a 2009 graduate, was an All-Great Rivers and All-Region Tournament team member in both 2008 and 2009 seasons. The second baseman was also a NJCAA (National Junior College Athletic Association) Division II All-Region 24 member and All-Midwest second team pick. She helped the Lady Lakers, coached by Nic Nelson (it was the current coaches first year) and 36-9 in 2008 under Denny Throneburg. She hit .441 her sophomore season and .401 as a freshmen.
Her sophomore year she batted in 52 runs making her the Lake Land Softball career leader in runs batted in with 104 until the record was broken in the 2015 season. In 2009 Jenna finished her season with seven home runs, four triples and 15 doubles. Those 15 doubles her sophomore year made her the Lake Land Softball career leader in doubles with 29 until that was beaten in 2014. Lake Land finished at No. 11 in the national ranking and Great Rivers Athletic Conference championship and was the Region 24 tournament runner-up in 2009.
Bradley was an assistant coach for Lake Land in 2011 and also helped coach Mattoon Pride 16-and-under and 18U softball teams run by her dad.
Bradley played for the Pride for many years and her last year (2008) they went 29-5, including 1-2 in their first-ever American Softball Association 18-and-under National Fastpitch Tournament. The Pride did win the National Softball Association title and the ASA state title.
In 2007 Hilligoss was asked by the JG-TC what was her most memorable sports moment and her answer was getting second in National Softball Association World Series as a member of the Pride Orange 16-and-under in 2006.
At Mattoon she played under Dave McDowell and was a member of the National Honor Society. Hilligoss earned first-team All-Big 12 honors her first three seasons and was Throneburg's first Mattoon recruits signed directly out of high school (along with Lauren Covington and Megan Glosser. She helped the Lady Wave go 30-4, which were the most wins in school history.
Bradley played center field and batted .635 with team highs in home runs (eight), RBIs (56), doubles (18), walks (20) and on-base percentage (.702). The Green Wave also won a class AA regional.
In 2006, Bradley led the Green Wave with a .476 batting average and tied the school record with two home runs, both out of the park.
She had a .518 on-base percentage and a .957 fielding percentage at second base.
Her sophomore year Mattoon was 25-6 and her freshman season they went 29-4 reaching the Sweet Sixteen in Class AA. Bradley was a catcher her sophomore season and a left fielder her freshman season.
Hilligoss works at Sarah Bush Lincoln Hospital as a healthy community's educator, but will be starting this fall as fifth grade teacher at Riddle Elementary School.
She lives in Mattoon with her husband Mitch Hilligoss, a 2003 graduate of Windsor. The couple has two girls, Tipper 3, and Dottie, who will turn 2 in less than a month. All of which will be headed to the induction ceremony along with Mitch and Jenn's parents.
---
Contact Mike Monahan at (217)-238-6854. Follow him on Twitter: @monahanmikejgtc
Be the first to know
Get local news delivered to your inbox!