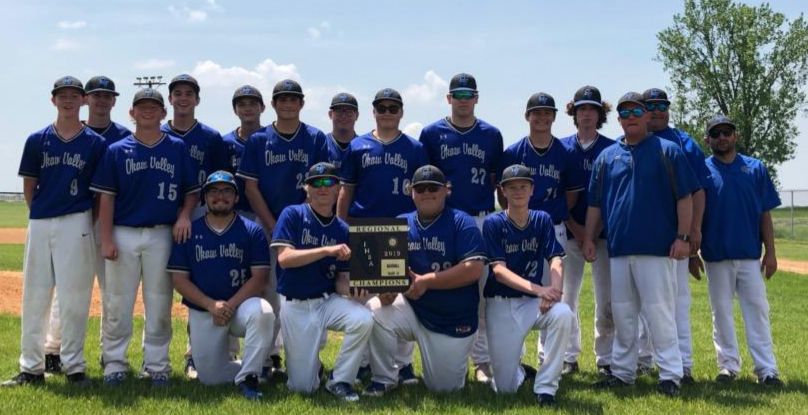 ASSUMPTION -- Okaw Valley trailed 4-2 after five and a half innings of Saturday's Class 1A Regional Championship in baseball in a game featuring two Little Okaw Valley Conference Northwest Division teams. In the sixth against Decatur LSA  Hank Yowell's double drove in two runs as Okaw Valley won 6-5. It was the Timberwolves its fourth regional title in six years and second straight. Okaw Valley has been in six consecutive regional championship games.
Okaw Valley, 16-8 and winners of six of its last seven games, will play Salt Fork at 4:30 p.m. Wednesday in the Danville Schlarman Sectional at historic Danville Stadium, one that has been in existence since 1946. Salt Fork is 21-4. 
Camden Coleman was 1-for-3 with a home run and an RBI, while Eli Hagerman was 1-for-3. 
Hagerman was also the winning pitcher throwing five and two-thirds innings and allowing three hits and one run with four walks and seven strikeouts. Tim Montgomery pitched a one-two-three seventh for the save with one strikeout. 
Okaw Valley lost to LSA 2-1 and 10-4 during the season. 
Errors hurt Cumberland in loss
NOKOMIS - Cumberland committed four errors in Saturday's Class 1A regional championship and lost to Nokomis 3-0. 
The game was scoreless until the seventh when the Redskins scored three runs, which were all unearned.
The Pirates were held to just two hits. 
Cumberland's Brrennyn Cutts was the losing pitcher giving up only three hits with four walks and 10 strikeouts. He had one of the hits and Ross Hemmen had the other. 
The Pirates finished with a 23-4 record with the 23 wins setting a new single-season school record. 
Slow start hurts Shelbyville
PANA -- Shelbyville fell behind to Carlinville 5-0 after two innings. The Rams tied the game with five in the third only to have the Cavaliers answer with five of their own en route to a 13-5 regional championship win. 
Mason Miller was perfect in two at-bats with a run batted in for the Rams. 
Shelbyville finished with a 21-12 record its best since going 22-10 in 2016. 
Casey-Westfield/Martinsville places fifth in sectional
EFFINGHAM -- Casey-Westfield/Martinsville placed fifth out of nine teams with eight points, while Shelbyville tied for ninth with two points in the meet won by Teutopolis with 28 points. 
No Casey or Shelbyville singles player or doubles team advanced to the state tournament. 
Shelbyville falls in regional championship
TEUTOPOLIS -- Shelbyville lost to Teutopolis in a Class 2A regional championship 3-0. 
Joeselyn Lewis allowed just four hits and one earned run with no walks and eight strikeouts in the loss. 
Alexis Rhodemann and Kayden Tucker were both 1-for-3 for the Lady Rams, who finished with an 11-15 record. 
Get in the game with our Prep Sports Newsletter
Sent weekly directly to your inbox!