CHARLESTON — The clip lasts 28 seconds, a handpicked section of the Migos hit "Danger" that Keagan Brady deemed the ideal clip to serve as the soundtrack to his strut to home plate and lengthy routine that accompanies it.
Jim Pogue, Charleston baseball's public address announcer, estimates Brady exhausts at least 20 seconds of it — he has hit 25 and even the whole 28 on occasion — as he performs his customary drawn out yet hardly unnecessary or flamboyant regimen.
Brady, Charleston's senior center fielder and 33-game starter, strolls toward home with his bat on his right shoulder, both hands grasping the handle. He takes a couple half-swings, bringing it to waist level and back as he continues his journey. Often, he pauses to pick up and throw back the discarded bat of his predecessor.
He stops on the fringe of the dirt around home, takes two practices swings, and stares down at the third base coaching box. He's loose but dialed in, assiduous but not rigid.
Finally, he steps in, right as his song begins to fade. He extends his left arm toward the umpire, a "request" for another moment or two as he digs into the right-handed batter's box, bat under his shoulder, then assumes his stance.
"He has a lot of habits that are very unique to him that nobody else does," says Brady's mother, Kelly Sparrow.
This is his routine, and no one dares change it or ask him to speed it up. To observe him in it is to witness a player in total control and complete assurance of himself — his resting demeanor.
The Lake Land College-bound Brady has aided the Trojans in reaching 20 wins, their expected yearly mark, and securing the No. 4 seed in their regional. They begin the playoffs Wednesday against Mahomet-Seymour. He's a fixture near the top of the lineup, a calm hitter who has walked nearly twice as often as he has struck out and one of Charleston's best baserunners. In center field, he's a rangy defender with the arm to gun down runners on the fly at third or home.
"Swag would be a great definition of his approach," says Charleston assistant coach Jim Miller.
It's rooted in his skill and enhanced by the trials he has endured. The latter is where his story becomes deeper. Brady overcame a career-threatening and potentially life-altering injury so inconceivable and jarring, one that would challenge even the most unflinching and self-assured young men. It left Brady questioning everything about his future — his baseball career, his basic motor functions, his quality of life.
Hardship finds its way to most athletes at some point in their careers — slumps, benchings, losing, to name a few. But this is not a story about normal, natural adversity. There are extreme types that no one should endure, frightening situations that do not discriminate or come with any warning. Months later, even after an aggressive comeback and stellar senior year, those close to Brady, and even Brady himself, still describe the entire ordeal with a sense of disbelief.
"It was the worst time we'd ever gone through as a family," Sparrow says.
'He thought it was over'
Brady played baseball, football and ran track in grade school, but his strongest passion was for the diamond. He lived next to a baseball field in Charleston in elementary school and watched with envy as travel teams with kids his age practiced. He tried out for the first time in seventh grade and made the team. Everything took off from there. Brady became a varsity starter as a junior at Charleston, and after a late-season slump in his high school season, batted over .400 in legion ball last summer.
To jump-start his recruitment, Brady attended a few showcases in front of college coaches. He stood out at a July 2018 one at Eastern Illinois and caught the attention of EIU coach Jason Anderson, who told Lake Land coach Bill Jackson about Brady. Jackson watched, left impressed and later viewed a few of his games in a summer tournament at Lake Land. An offer came shortly after that.
"Really athletic kid, and that's what we look for in our outfielders," Jackson said.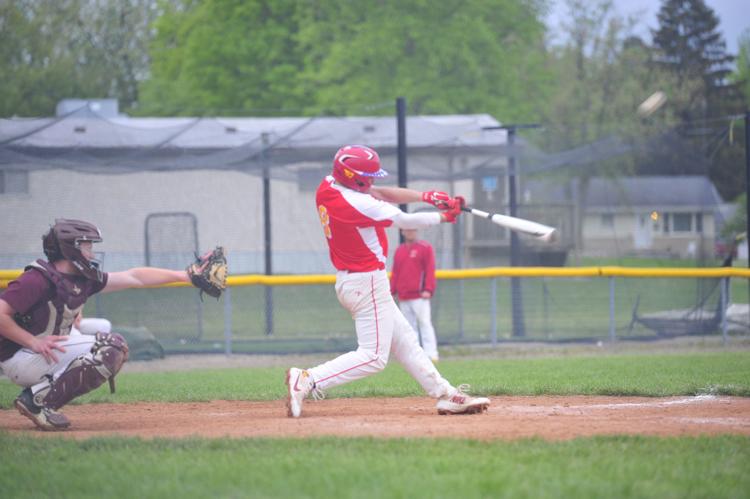 All of it — his goals, his dream and that athleticism — nearly evaporated that fall. During a Sept. 28 football game against Lincoln, Brady felt a sharp pain in his leg. He figured it was a cramp, so he stretched, rolled out and went back in the game.
Later that night, about an hour after the game, the discomfort returned as he sat in his car. This time, it was worse.
"I felt down my leg and it was tense, the muscle right there was tense," Brady said, pointing at his left calf area. "I thought, 'this isn't normal.' I got home, and there was a big knot. I tried heating it and icing it and nothing really worked."
The pain persisted, so Brady and Sparrow drove to Sarah Bush Lincoln hospital around 2 a.m. They expected to have a nurse inject some fluids into Brady's leg and be sent home. Instead, he was admitted.
"I couldn't lay in the bed because my leg would go super numb. I had to sit in a chair," Brady said. "If I would make a certain movement, it'd be a sharp pain, like someone was stabbing me."
The diagnosis was lateral compartment syndrome, a rare condition where pressure within muscles builds to dangerous levels and disrupts blood flow to nerves. It's often caused by overexertion.
Doctors told Brady he could lose his foot or never regain feeling in it. Two days after being admitted, he underwent emergency surgery on his leg to relieve pressure.
"They talked about all the possible outcomes. There was loss of limb, kidney failure," Brady said. "Then it all kind of hit me. We didn't know what was coming after that."
This is where the doubt, the lack of assurance, the decidedly anti-Brady traits seeped in. He saw the demons encircling him. The basic abilities and baseball future he never considered anything other than a lock were all of a sudden hanging in the balance; the clear path ahead of him now at risk of erosion at the hands of something completely out of his control.
"That was probably the first time I've seen him unsure of himself," said Ken Ratliff, Charleston's defensive coordinator and one of Brady's mentors.
You have free articles remaining.
Keep reading for FREE!
Enjoy more articles by signing up or logging in. No credit card required.
His mind raced not to his foot, not to the homecoming dance he was forced to miss, not to the surgery, but to his offer from Lake Land. He had not committed yet. Would Jackson still honor it amid the uncertainty and potential long-term hindrance on his ability to play? Even the doctors' declaration soon after than he could expect to make a full recovery didn't parry the dark thoughts.
"You could see this depression come over him. I thought there was nothing I could do," Sparrow said. "We were reaching out to family and friends trying to give him pep talks, because there was just no reasoning with him. He thought it was over."
Friends and family brought food, encouraging messages and well wishes. Nothing seemed to work until Ratliff visited nearly every day with the same message: Have faith, listen to the doctors' and physical therapists' instructions and things will be all right.
"If it wasn't for him…" Sparrow began, "I don't know. He was big."
Turns out, though, Brady had nothing to worry about with his offer. Jackson told him after the surgery that the offer was still good. There was never a chance it would be pulled.
"We're still with you, we're in your boat and we'll support you through it," Jackson said, remembering his message.
"Even the nurses and doctors realized the difference and the mood change," Sparrow said. "He had something to really fight for now. If he didn't have baseball, I don't know what else he'd do. It's his life, it's all he's known since he was 4 years old, and he's fought for what he has."
'Little victories'
Brady left the hospital on Oct. 4, five days after arriving. Sarah Bush Lincoln room 244 ("I think that was it, low 240s") was now a memory, and the focus shifted to his recovery. The timeline was six to 10 months, putting his senior baseball season at risk. For him, that possibility was akin to the Pope being locked out of the Vatican.
Thing is, though, Brady needed to regain full feeling and range of motion in his foot. There's only so much control over that natural process he could have. Nerves needed repairing. He had no feeling in his toes after the surgery.
He attacked therapy right away, starting from the absolute basics. He went to the hospital three times per week for sessions. A few days after his release, he could wiggle his toes.
"It was the little victories when he was able to take an step forward," Sparrow said.
Therapy was arduous, sometimes mundane. Progress came gradually. For a kid wanting to beat that recovery timeline and play baseball, patience waned. Frustration occasionally set in when he'd struggle with an exercise or wish the process could speed up. It's what happens when trying to shoehorn a long recovery into a smaller window.
"I think even the trainers were telling him not to overdo it," Sparrow said. "You could see the frustration on his face, because it wasn't going as quick as he wanted it to."
By January, Brady could participate in Charleston's indoor workouts. He attacked those with all his might, too. Trojans coach Derrick Landrus recalls one post-workout instance where Brady put himself through an explosiveness drill, first lying flat on the ground and then bursting up and into a sprint to test how fast he could jump up and run.
"I had to tell him to slow down, but I know he looked good doing it," Landrus said.
The rehab process also reversed an old habit. Doctors told Brady that one of the possible factors in his injury was that the combination of the amount of water he was drinking and his frequent intense physical activity (he played offense and defense in football) was pushing electrolytes out of his body. In short: He was overhydrating.
Brady rarely drank soda and, following the advice of a youth football coach, stayed away from Gatorade, Powerade and other electrolyte-filled energy drinks because of their high sugar content. He drank only water.
"Now, we buy Gatorade all the time," Sparrow said. "We're on top of all that."
With the aggressive rehab plan and new venture as a sports drink connoisseur, Brady regained enough motion and feeling in his foot to be ready for opening day.
"A week before games started, he was ready," said Miller, the Charleston assistant. "It was, 'Coach, I can't wait to put that uniform on.'"
Brady started both games of Charleston's season-opening doubleheader vs. Shelbyville, going 2-for-4 with three RBI, two steals and two walks. He wasn't all the way back to his pre-injury form, but it was close enough. His coaches noticed him begin the season a little rigid, but that was short-lived. He collected three hits on April 6 and hit his first home run on April 15.
He still doesn't have 100 percent feeling in his toes yet, though no one can tell. One of Landrus' favorite traits of Brady's is that he's nearly on second base when he hits a routine fly ball because he sprints out of the box despite the poor contact. He ended the regular season second on the team in stolen bases.
Just like his walk-up song says, he's once again a danger.
"That swagger…," Miller said. "It's back now."