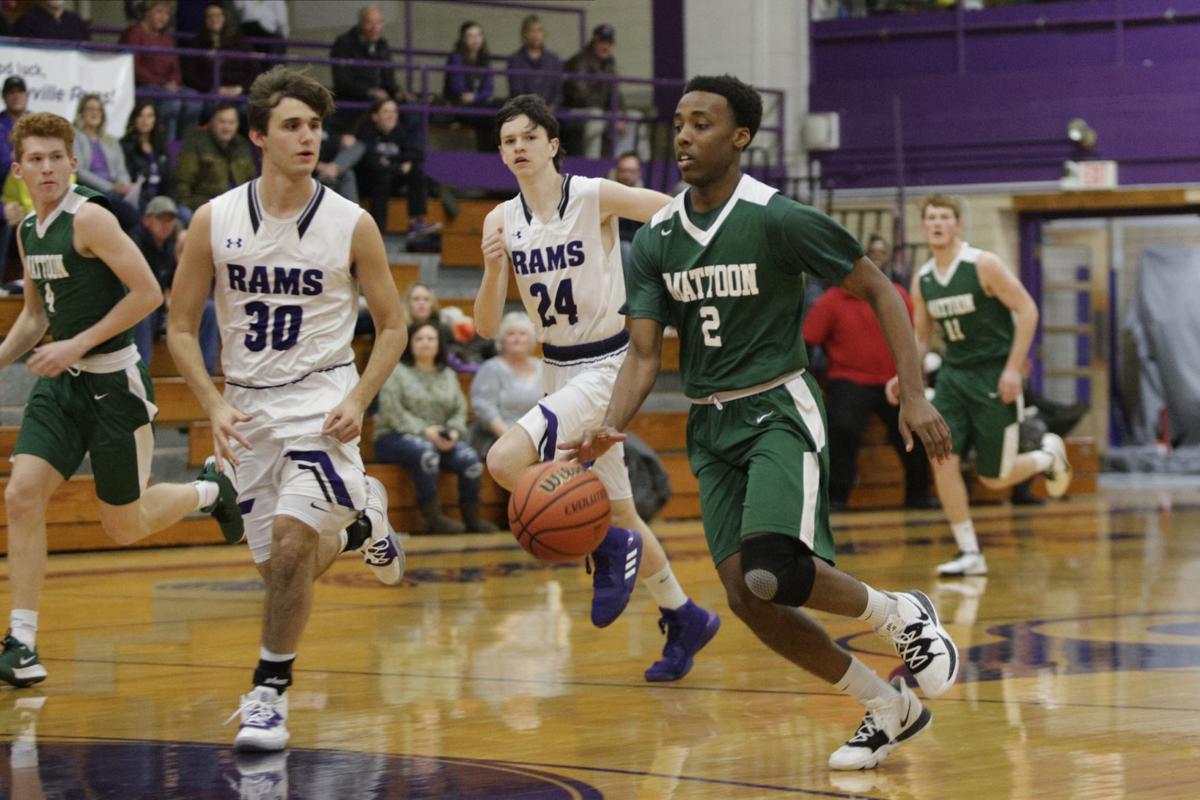 MATTOON — The discussion surrounding Cam'Ron Thomas is not one related to his basketball ability. At every level, from freshman/sophomore to JV to varsity, he wielded the skill set to take over a game.
"In practice, there are days where he's unstoppable – not minutes, days," said Mattoon assistant Jordan Coleman, Thomas' JV coach a year ago.
Thomas has, though, needed time at each level of high school basketball to make it translate on a nightly basis. Whatever level he plays at, his role is to score. It's one thing to understand it, but another to strike a balance between being a scorer and recognizing there's not always a cinder block on the gas pedal.
"He always had moments where we'd look at each other and say, 'You don't see that all the time.'" Coleman said. "But he'd also, I don't want to say force, it, but he'd get in a mode where it's like, 'Go, go, go.' Even coach (Ryan Ghere) told him tonight that he's so much better when he lets the game come to him."
Now, 20 games into his first season as a varsity starter, Thomas is averaging a team-best 14.5 points per game while blending that ever-present athleticism and skill with an advanced feel for the game, never seeming too sped up or overeager to get going. He jets by defenders with the burst of a cheetah all while, when at his best, playing with the self-control of a burglar trying to avoid motion sensors. He can get shots off and contort himself in unimaginable angles when he's in the air. After some games spent finding his footing, he has embraced what he is there to do and found the clear headspace with which to approach it, the grasp of a tricky balancing act.
There have been lengthy jumps in scenery. Thomas was a freshman starter two years ago on Mattoon's frosh/soph team after "barely playing" in seventh and eighth grade. Last year, he was a JV starter, but Mattoon's senior-laden backcourt presented no opportunities for even fleeting varsity minutes.
"It took a minute," Thomas said. "It was hard, coming up as a junior after playing no varsity. I had to realize I needed to be comfortable, start shooting the ball more so my teammates have someone to rely on."
Even in a Mattoon offense with four guards who can score and a hulking center in Sam Bradbury, it's Thomas who keeps finding himself in the middle of Mattoon's best offensive stretches. Fittingly, his scoring sometimes comes along later in the game. In a Jan. 21 win over Paris, he dropped 14 points in the fourth quarter after going scoreless through three when nothing presented itself for him. He deferred to other teammates until sensing his moment.
"He can drive through anybody," guard Mason Wright said. "And when they stop his drives, he can shoot it.
"We just mostly look to him."
Friday, Thomas authored one of his most explosive outings, patience mixed with aggressiveness. He put 22 points on Charleston in a 67-43 win, including 10 straight in the second quarter after scoring none in the first. He shot it over defenders. He scooted by over-extended defenders for layups and floaters. He sparked a 21-0 Mattoon run that turned a close game into a 44-17 lead, supplying 14 of those points. He started it with a 3 when Charleston's zone sagged too far off and ended it with a layup. All in all, it was a display in make the right decisions.
"He's so versatile," Ghere said. "Goes inside, goes outside. He doesn't rush things. He didn't score in the first quarter, but there was no panic and he just took over the last three quarters. It's maturity, letting the game come to him."
In these spurts, everything appears natural for Thomas, almost like muscle memory. On a team whose unofficial second home is the YMCA, Thomas is one of its most frequent residents, playing pickup games with teammates or whoever is there. This, he says, is where he credits the development of his feel for the game that gives his outbursts a casual air. If he's not playing pickup, he's putting himself though drills or practices moves found through YouTube tutorials. The whole thing is self-made.
"I think I'm playing at the Y when I play now," Thomas said.
Indeed, he scored 10 points in two minutes in Friday's second quarter and barely seemed to notice it. Ordinary, at this point, and to be expected from someone in total command of his role – and, more importantly, himself.
"When he lets it come to him, he's hard to stop," Coleman said. "I don't know how stop him as a coach, so I'm glad he's on our team."
Contact Patrick Engel at 217-238-6856. Follow him on Twitter @PatrickEngel_
Get in the game with our Prep Sports Newsletter
Sent weekly directly to your inbox!