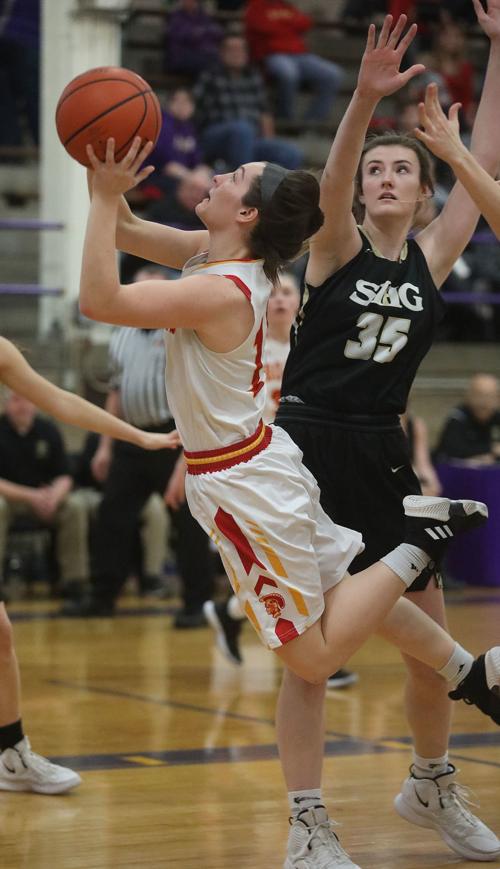 BEDFORD PARK — Charleston sophomore Shae Littleford continues to receive awards. This time the 5-7 guard was on the 10-member All-Illinois Basketball Coaches Association Class 3A first team. 
Also among the 28-member honorable mention was Mattoon freshman Mallory Ramage. 
Littleford led the Lady Trojans, which set a record for the most wins in boys or girls history going 29-1, with an average of 23.6 points per game. The previous record was set by the 1956-57 boys team that went 27-5. 
Littleford was 258-of-574 (45 percent) from the field, including 30-of-93 (32 percent) from beyond the 3-point line. She was 161-of-195 (83 percent) from the free-throw line. She led the team in free throws made and free throw percentages. She averaged 3.7 rebounds, a team-high 3.8 assists and a team-leading 3.7 steals per game. 
Littleford set the single-season scoring record for Charleston with 707 points, breaking the previous record held by Morgan Sherwood in 2015-16 at 587. She also set the single-season record in steals at 111, breaking the previous mark held by Emily Garrett in 1999 of 110. 
Ramage, a 5-9 guard, helped Mattoon to a 16-15 season. Ramage led the Green Wave in scoring at 19.5 points and 5.4 rebounds per game. She shot 46 percent from the field to lead the team and was second in free throw percentage at 67.2 percent and second in 3-point percentage at 35.5 percent. She was first in steals at 2.2 and second in assists at 0.8.  The Green Wave finished 5-6 in the Apollo Conference. 
A total of 10 were on the second team and 10 on the third-team all-IBCA as well. 
---
Want to see more local sports coverage like this?
Our Sports Newsletter email is for you! Delivered twice weekly, it is full of local sports content just like this article!
I understand and agree that registration on or use of this site constitutes agreement to its user agreement and privacy policy.
---
Get in the game with our Prep Sports Newsletter
Sent weekly directly to your inbox!