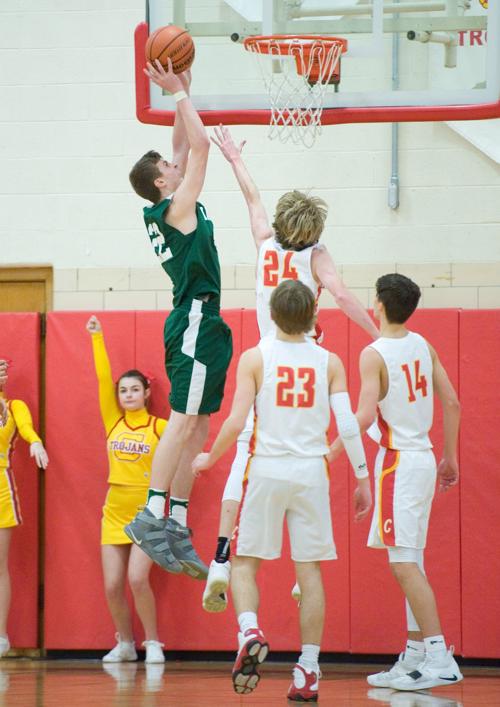 CHARLESTON — The jersey-clad Mattoon student section moshed around the upper concourse of Baker Gym, chanting the name of Friday's hero while leaning over the railing.
"JAY-DON NOE!" they bellowed, the chorus overtaking a stunned Charleston crowd.
Noe and his teammates high-fived just inside midcourt, soaking it all in.
"That makes you feel good about yourself," Noe said.
Noe made a tiebreaking 3-pointer with 1.3 seconds left that propelled Mattoon past Charleston 50-47 Friday night at Baker Gym, moving the Green Wave to 14-5 and 5-2 in the Apollo Conference. He finished with a game-high 21 points and four 3-pointers.
"Just a good team play," Noe said of his final shot.
Charleston, led by Isaac Miller's 11 points, fell to 8-13 and 1-7 in the Apollo.
Mattoon held the ball for the final minute, milking the clock so it could take the last shot. Head coach Ryan Ghere called a timeout to set up a play with five seconds left. Mattoon inbounded on the baseline, bouncing a pass to Alex Yardley in the paint. He was promptly double-teamed.
Yardley kicked out to Jadyn Princko, who found Noe several feet behind the arc on the right wing.
"Pulling up for it, I had no doubt it was going in," Noe said. "It's just my game. I pulled up for it with complete confidence. It's just another 3-point shot."
Ghere drew a play for Yardley to score in the paint or Noe to get a layup coming to the basket. Charleston denied both.
"I told the guys sometimes you just tip your cap when a kid makes a shot from the volleyball line with a hand in his face," Charleston coach Blain Mayhall said. "There's not much else you can do."
Mattoon has now won seven straight and has yet to lose in 2019. Two of those were on buzzer-beating shots, and the other was an overtime victory.
The second meeting between the rivals started like a redux of the first matchup played 20 days ago in Mattoon, an 81-47 Green Wave dusting of the Trojans that ended with a running clock. Charleston, just like before, scored four points in the first quarter. Mattoon was rolling.
This time, Charleston erupted after the poor start. The Trojans poured in 11 straight points, four apiece from Cory Spour and forward Sam Bickford, who had spent most of the season playing with the JV team and scored 18 points in the JV game less than an hour earlier. They took a 21-19 lead into halftime.
"We just never really got a run today," Ghere said. "It was two, four, or six points at most at a time. It was back-and-forth. You have to give Charleston credit. They played. They battled. I thought the first half they outplayed us, played harder than we did and rebounded better than we did. But I thought our experience helped us out."
The teams spent the entire second half going swing for swing, trading big shots for big shots. There were six lead changes in two minutes late in the third quarter. Charleston took a 43-36 lead early in the fourth quarter on three straight baskets. Mattoon answered with an 8-0 run, capped by Jake Ghere's free throws. Spour quickly untied it with a short jumper.
Charleston didn't score in the final 3:41. Princko tied the score at 47 with a 3-pointer. Mattoon's leader in points per game coming in, he finished with just nine points.
No one scored in the next 2:26 before Noe's shot.
Contact Patrick Engel at (217) 238-6856. Follow him on Twitter @PatrickEngel_
---
Want to see more local sports coverage like this?
Our Sports Newsletter email is for you! Delivered twice weekly, it is full of local sports content just like this article!
I understand and agree that registration on or use of this site constitutes agreement to its user agreement and privacy policy.
---