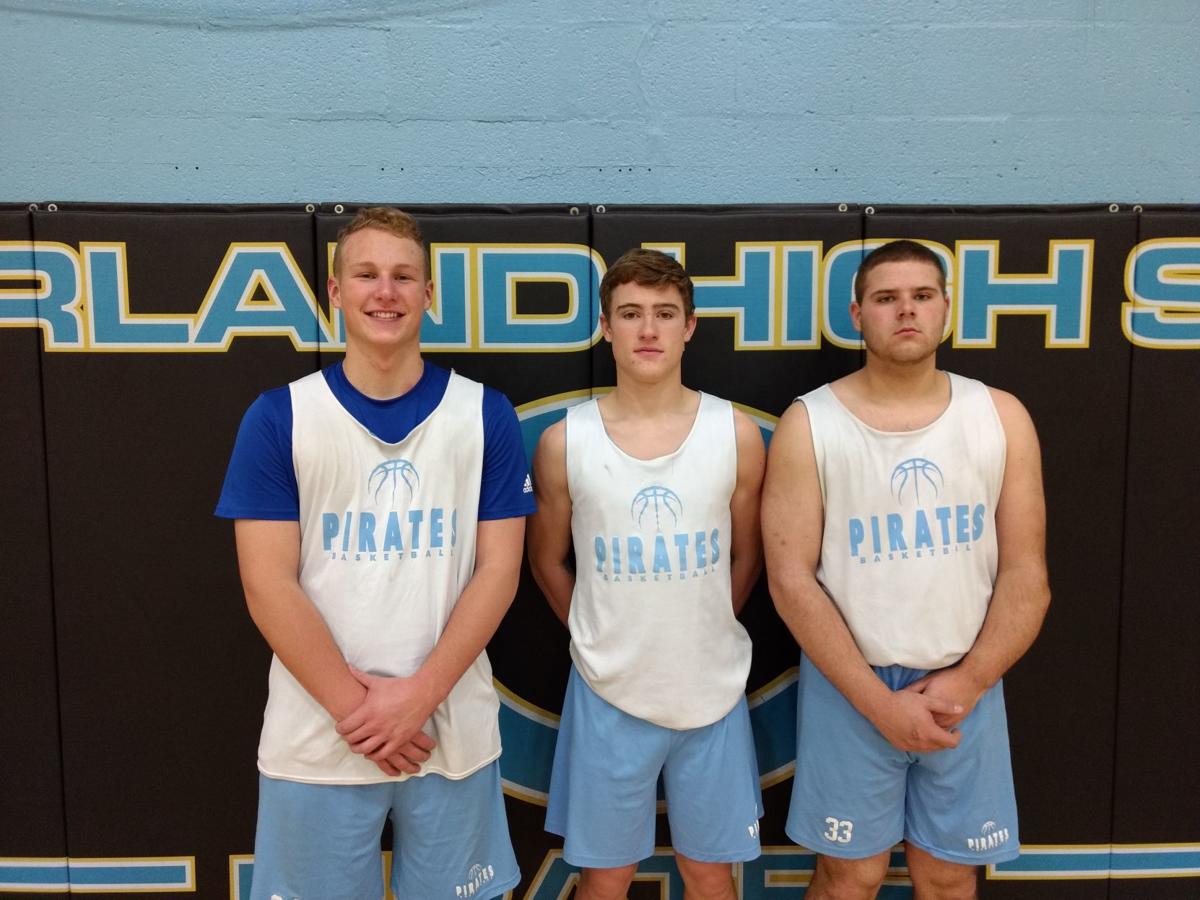 TOLEDO — This is a year of change for the Cumberland boys basketball team, with the Pirates playing their first game in the Lincoln Prairie Conference and dropping to Class 1A after five seasons in Class 2A.
There are also plenty of new faces — the Pirates lost seven players from last year's 18-13 team. 
There are some familiar faces besides coach Justin Roedl, who is in his 12th season. The three returning lettermen — Ross Hemmen, Wyatt Napier and Brennyn Cutts — are juniors. 
"We are a very inexperienced team that is eager to learn and get better," said Cumberland coach Justin Roed, who is in his 12th season. 
The Pirates went 4-1 in the final year of the Little Okaw Valley Conference Southeast Division, good for second place. 
Cutts is a 6-3 forward who was a unanimous first team all-LOVC SE Divison player last year. He averaged 13.7 points, 5.6 rebounds, 1.4 assists and 1.2 steals. 
"Cutts is our leading returning scorer, but I think Napier and Hemmen should score their fair share of points," said Roedl before the season started Nov. 26 in the 23rd annual Cumberland Thanksgiving Tournament. 
Through three games, the 1-2 Pirates are led by the three returning lettermen — Hemmen at 14.3 points followed by Napier, a 6-2 forward, at 11.3 and Cutts at 8. 
Cumberland lost to Dieterich 50-35 and to Vandalia 65-54 before finishing in seventh with a 63-40 win over Oblong. 
"The tournament gives us a comfortable environment to start the season and eliminated the bus rides that everyone dreads," said Roedl. "I also feel we get more practice time along with being able to spend more time with family over the holidays because we don't have to travel."
You have free articles remaining.
The seniors on the team are Nick Dill and Cameron Jones. 
The varsity consists of the two seniors five juniors, five sophomores and three freshmen. One of the freshmen is 6-4 center Jaxson Boldt, the son of assistant coach Greg Boldt. 
"I hope the strengths of the team are the overall attitude of the players and the effort that they compete with every day," said Roedl. 
Cumberland will play host to Altamont on Tuesday. Roedl is a 1996 Altamont grad. 
Gone from last year is JG-TC All-Area player Zach Wolke, who led the Pirates in points (21.6), rebounds (9.6), blocked shots (1.3), steals (1.4) and assists (4.1).
As for leadership, Roedl said that is something the team is looking for. 
"I think that is something we really need to find and a lot of guys are stepping up and trying to fill that role," he said. "Hemmen, Cutts, and Napier have to be leaders as they are the only ones back with varsity experience. I also see Wyatt Brant (junior), Jones and Memphis Waggoner (junior) as players that can provide leadership."
Cumberland averaged 58.6 points per game last year and allowed 54.5. The Pirates will play mainly man-to-man defense. 
As for the LPC, Roedl said he thinks Okaw Valley, Arcola, Decatur LSA, and Villa Grove/Heritage are all teams that should do well. 
The Pirates open play in the conference Jan. 7 at Kansas against Tri-County. 
"Our goals are to look at each game individually and take them one at a time, said Roedl. "We want to play with great effort and maintain a positive attitude no matter what may happen. We look to improve each and every day."
Contact Mike Monahan at (217)-238-6854. Follow him on Twitter: @monahanmikejgtc