The first day of Illinois High School Association football practice for the upcoming season, which starts Aug. 30, began Monday at eight JG-TC small schools. 
While most went three hours in the afternoon, Shelbyville went in the morning (7-10 a.m.) and had to move inside because of lightning. The Rams also went again from 5:30 to 6:30 pm. Cumberland went from 8-11 a.m. and after lunch did whiteboard work and had a walk-through ending at 3 p.m. Sullivan/Okaw Valley also went in the morning but finished just before the lightning (7-9:15 a.m.).  
Other teams went from 3-6 p.m. or from 4-7 p.m. Teams have to be in helmets only with no pads for the first two days, with helmet and shoulder pads only from day three through five. 
Arcola
Arcola, which reached the second round of the Class 1A playoffs last year, going 8-3, has about 50 players according to coach Nick Lindsey. 
"That is a good number for our size," said Lindsey, whose team practices from 3-6 p.m. "All 50 have been committed to the weight room and have been here since November/December."
For the first day, Lindsey said, "We just try and get everyone acclimated to our tempo and getting in shape. Those are always our goals. We are bringing guys up to speed and picking up where we left off in the summer."
Arthur-Lovington-Atwood-Hammond
Ryan Jefferson starts his second year at the helm after his Knights went 2-7 and is happy with the numbers. 
"All through the summer and especially the team camp, the culmination of the summer, the numbers were very good," said Jefferson. "You would think that anyone that went through the camp will stick it out in August. That puts us at 47. Last year we had 40 at the start of the season, but ended up in the low 30s due to injuries and other things."
ALAH has 20 juniors and 13 freshmen. 
"The difference between last summer and this summer is night and day," said Jefferson. 
Casey-Westfield
Not only has Casey's record improved the last two seasons, going from 2-7 in 2017 to 5-4 last year, but the numbers have also increased. 
"We had 23 in my first year, 28 last year and now we have 40," said Casey coach Jay Bohner. "We are trending in the right direction."
With 25 days of contact allowed in the summer, Bohner installed the offense and defense then.
"We are finishing what we are trying to do so that we will all be ready because we have three tough ones (Olney, Paris and Newton) right off the bat," said Bohner. "We have to be in mid-season form in week one."
Cumberland
Cumberland's numbers dropped from last year's 47 to 38. 
"I was hoping to get 40," said Cumberland coach Lucas Watkins, who led the Pirates to a 7-3 Class 1A playoff appearance. "We have only Monday and Tuesday to practice during the day. We have a teacher's institute day Wednesday and start school Thursday. You always hope you are further along on day one than you are."
Watkins said the team focused on the offensive side of the ball, did drills, ran the team offense and worked on linemen and defensive back coverage.
"I felt like we got a lot accomplished during the summer," said Watkins. "We are always fighting with other schedules, but it was productive."
Register for more free articles.
Stay logged in to skip the surveys.
Martinsville coach Shane McDearmon was hoping for 15 players as he drove to practice Monday afternoon. 
"We have had 13 players that have been showing up regularly," said McDearmon. "We did well in the summer and well in camps and stuck with the weight lifting program. Overall, we had good attendance considering the numbers."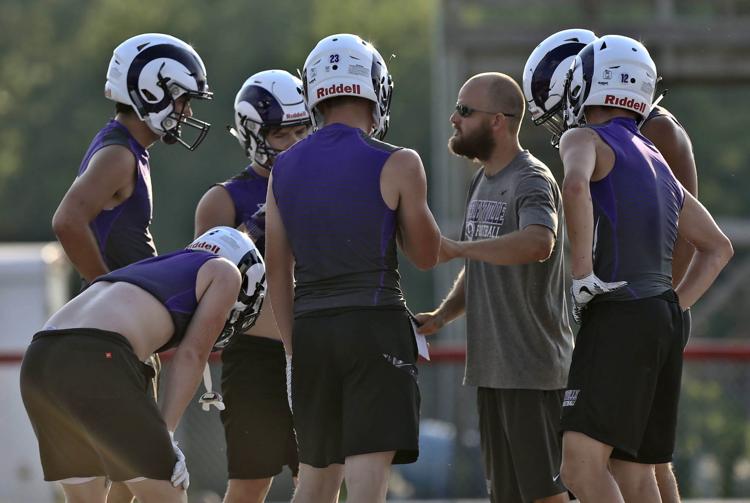 Shelbyville coach Bill Duckett had never had the first day of practice where they had to move inside due to lightning. 
"We had good numbers with 48," said Duckett, whose team went 3-6 last year. "It is always good if you can get 12 per class. It is always good to see us get in the upper 40s or low 50s. We have been in the 40-50 range in the last four or five years."
There are 17 freshmen for the Rams. 
"It is always good to have a freshman, junior varsity and varsity team," said Duckett. "We had good attendance during the summer. We have a good mixture of young guys and returning players and guys coming back from injuries."
Like most teams, Shelbyville had a team camp right before the dead period that started Aug. 1. 
"We hope kids come back after two weeks and have good remembrance of what they learned. The guys are retaining information and we will build on that," said Duckett.
Nathan Becker, a Sullivan graduate who has been an assistant for the Redskins, found his first day of practice as the head coach a little different. 
"The biggest part is being aware of everything that is going on at each position," said Becker. "As an assistant, you were focused on your position group. For the most part, it was nothing new."
The Redskins had 30 players the first day but could see that number increase when school starts Friday. 
"We have more than what we ended up with last season, but fewer than what we had during the summer," said Becker. "The kids that were there did a good job and we got the reps in. It was good to be out there and get going."
Okaw Valley starts school Tuesday, so this was the only morning practice. 
"This week you couldn't ask for better weather," said Becker. "It is not terribly hot. Now, of course, this means that the night of the first game it will be in the 90s."
Tri-County
Brian Anderson was hoping for 30-32 players less than an hour before the first practice of his second year. He got 30.
"Obviously, I wish we had five more, but we don't," said Anderson, whose team went 4-5 in 2018. "Last year we started with 34 and finished with 30. This year we want to start and finish with 30. The 30 players have been working hard all summer.
"We are going to do a lot of fundamental stuff since all we have is helmets. It will be a defensive day. We will be going over the things we did in the summer."