Fire up that stirring Kenny Chesney song, scribble your car windows with red and gold, green and gold or whatever cheer you fancy, and paste the schedule to your fridge, window or desk.
Take a walk down Broadway in Mattoon or the square in Charleston, and businesses have already decorated appropriately. The Boys of Fall are back in season. Finally.
Friday is opening night for high school football, and at no time is excitement and optimism at a higher level. For a day, it doesn't matter what happened last season, how many seniors departed, or how tough the schedule may be. The purity and buzz of that first Friday night trumps all of that.
"We just have to go play," Charleston coach Jerry Payne said.
Mattoon and Charleston each head some distance west to kick off their seasons. The Green Wave visit Troy Triad, their first test in proving they're still a playoff team after a larger-than-normal class of departed seniors, a hurdle that 11th-year head coach Troy Johnson has grown to enjoy coaching through. Charleston, meanwhile, heads across the state to Macomb for Payne's varsity coaching debut. He's the latest intrepid adventurer to take on the challenge of turning Charleston into a winner again. Both teams enter seasons of change in entirely different areas.
Football, in its endless variations, offers something new, something surprising every year. Might one episode of this season lead to Charleston's first win since 2016? Payne and the Trojans' goals don't include a specific desired record. They do, though, have every intent of stopping the skid this year, and Payne thinks the important preseason groundwork has been established. Much of that involves shoving every memory of last season aside, believing that this year is different and bound to be fruitful. Those are the type of feelings that permeate opening day.
"We hope to compete," Payne said. "You look at the last three years and it hasn't been real good here. But we'll see what happens.
"We did a lot of teaching all summer, and kids are buying into it."
You have free articles remaining.
Keep reading for FREE!
Enjoy more articles by signing up or logging in. No credit card required.
Just ask Charleston players for confirmation.
"With all the changes, they keep pounding that into our head," senior receiver/defensive back Jordan Socarras said. "It's the only thing we can really think about."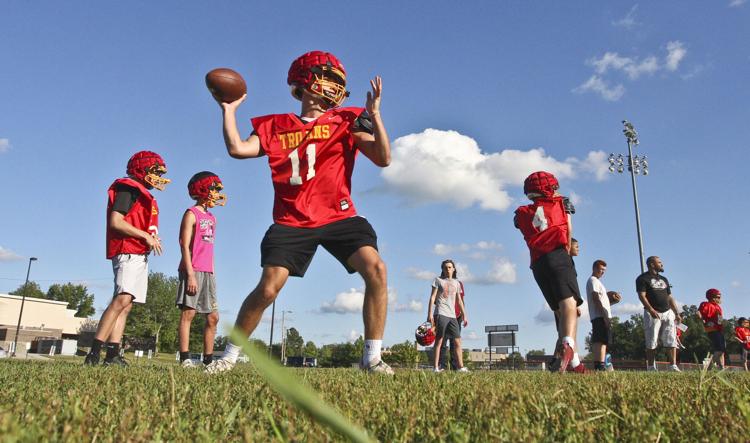 Charleston's personnel will look different too. Two of its primary losses, defensive tackle Nathan Price and offensive lineman Ricky Newby, now play for Illinois Wesleyan and Monmouth, respectively. The Trojans will trot out a few familiar faces, namely running back Brayden Doyle and receiver/defensive backs Cory Spour, Brayden Rennels and Sam Schuette. Nick Cheney is expected to start at quarterback.
"We're realists. We realize that we have some talented guys, but everything else is unsure," Payne said. "We have a team where very few people saw much varsity time. Everybody else played behind seniors who played a lot."
Back at Mattoon, brothers Dylan and Jackson Spurgeon (senior and sophomore) competed to replace Pilson. Johnson said earlier in camp he might play both, and confirmed that Thursday. He thinks each can bring something unique to Mattoon's offense. Above all, his plan for both is to keep things simple. Don't do too much, and don't try and be the guy who preceded them. Running back Abe Baker, who rushed for 799 yards in 2018, should help take some pressure off both quarterbacks.
"They're not Jack. They're their own entity. They have some good qualities," Johnson said. "They've had a nice battle. It's fun to watch. I'm glad I'm not in the household."
These two Apollo Conference rivals meet on Sept. 6 at Eastern Illinois for the Route 16 rivalry, a game during which hysterics and mania operate at their optimal levels. But that's for next week. Right now, football is to be savored, enjoyed, greeted with enthusiasm that fall is unofficially here and any perceived limits or shortcomings are temporarily alleviated by the inherent sanguinity and nostalgia of that first Friday night.