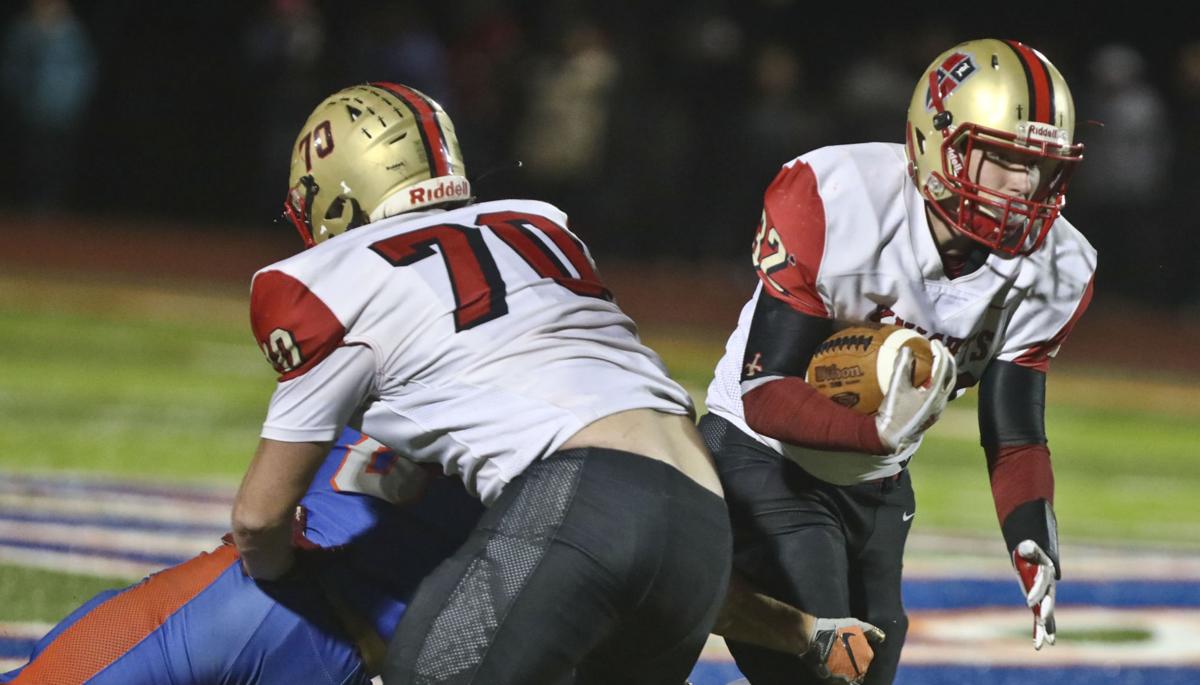 The final regular-season weekend of football season arrives with Cumberland, Arthur-Lovington-Atwood-Hammond and Casey-Westfield all playing for an automatic playoff berth as they go for win number six. 
Cumberland is at Sangamon Valley/Tri-City and A-L-A-H hosts Villa Grove/Heritage, while Casey-Westfield travels to face Red Hill.
Shelbyville goes for win No. 5 to become playoff eligible against Decatur St. Teresa, while Tri-County plays at Cerro Gordo/Bement.
All games start at 7 p.m.
Villa Grove/Heritage (5-3, 4-2) at A-L-A-H (5-3, 3-3)
A-L-A-H is assured of its best since going 7-3 in 2015. While five wins should be enough for its first playoff appearance since then, second-year coach Ryan Jefferson said, "Hopefully we automatically clinch with a sixth win to be sure."
To do that, they must beat a Villa Grove team that has won four of its last five games, including a 40-0 victory over Decatur LSA last Friday, a team A-L-A-H beat 41-0. 
"The Concern with Villa Grove's offense is their quarterback," said Jefferson. "He's fast and a shifty runner, and he seems to always make connections on long passes. They have a lot of formations that they make you defend and usually put new stuff in each week. We need to be ready."
The Knights have three running backs that average between 52.6 and 67.4 yards per game in Billy Fifer, Kaden Feagin, and Ben Carroll. Carroll had eight carries for 134 yards and two touchdowns and six catches for 45 yards in last week's 42-34 loss to last year's Class 1A semifinalist, Argenta-Oreana. 
"He is a tremendous offensive weapon," said Jefferson. "What makes him great with the ball in his hands is that he is such an elusive runner. He's not a big kid, but he breaks a lot of tackles because of his elusive and smooth running style. However he has the ball, whether it is on a run or a pass, he's a threat to score."
It is also Senior Night for the Knights. 
"It would be so awesome to see these seniors realize they qualified for the playoffs on their Senior Night," said Jefferson. "After all of the hard work they've put into this program, they deserve it. The key to coming out on top will be getting defensive stops. I think we'll be able to move the ball and we're pretty evenly matched teams. We're going to have to get some stops so that we're in position to pull ahead."
Casey-Westfield (5-3, 4-3) at Red Hill (1-7, 0-7)
Last year Casey was in the same spot, lost to Red Hill and didn't have enough playoff points. 
"The senior class has had one goal this entire season and off-season and that is to qualify for the playoffs," said Casey coach Jay Bohner, whose team is coming off a 54-19 win over rival Marshall. "A sixth win would mean everything to this team and would validate this senior classes' hard work and dedication this entire year."
Red Hill is coming off a 22-6 loss to Lawrenceville, a team Casey beat 17-8. 
"Red Hill runs a very potent power running attack," said Bohner. "They are very effective with it, but they also try and lull you to sleep with the run game and create a big play with there play-action passing game. So our primary job is to contain their running game while eliminating any explosive plays coming off their play-action passing game."
The Warriors have a foreign exchange student from Germany, Alex Schumacher, who is the kicker and made two field goals last week and had five touchbacks on kickoffs. 
"I believe we have a real weapon in Alex," said Bohner. "Over 85 percent of the time when we kickoff our opponents start on their own 20. In high school football, that is huge. Also knowing that if we crack the 20 offensively we are guaranteed at least three points and that is a big advantage as well."
The Warriors will finish with 37 points. So, a loss would put them on the bubble. 
Casey enters with an average of 24.5 points per game, compared to 14.8 for the Salukis. On defense, the Warriors allow 18 per game compared to Red Hill's 32.3 per game. 
Cumberland (5-3, 4-2) at Sangamon Valley/Tri-City (3-5, 2-4)
Cumberland lost tough games, 34-33 to Tri-County and 14-10 to Villa Grove/Heritage, but dominated Cerro Gordo/Bement 55-8. 
"It was very satisfying to get the bad taste from our mouths after the two previous losses," said Cumberland coach Lucas Watkins, who is hoping his Pirates make their fourth straight playoff appearance. "The keys to victory were not turning the ball over and minimizing penalties."
Sangamon Valley has lost three straight, including a 48-6 loss to Arcola, a team Cumberland beat 28-26. 
"My main concern with Sangamon Valley's defense is they like to mix their fronts and coverage," said Watkins. "We must recognize that to execute our offense."
The Storm is a double-wing team offensively that likes to run the option. 
"Any team that runs the option concerns me because you need to be sound in your defensive responsibilities," said Watkins. "We can't turn the ball over and make penalties."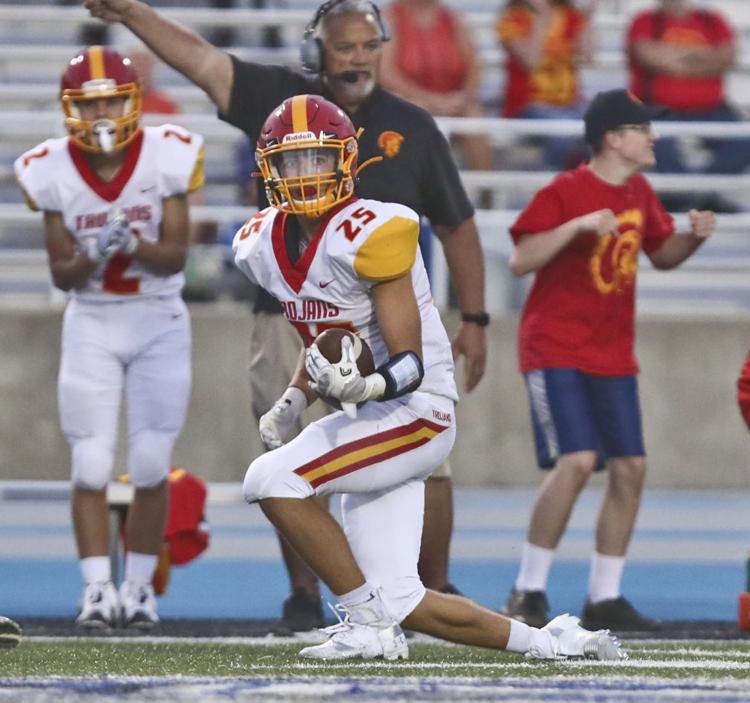 Charleston (3-5, 2-4) vs. Highland (5-3, 4-1)
The Trojans matched their win total from the previous four seasons combined with a 28-10 win over Taylorville last week. An up-and-down passing attack had its best game of the year. Nick Cheney threw for 303 yards on just 23 attempts.
Highland started the year 1-3 and isn't quite the machine-like team that went 11-1 and knocked Mattoon of last year's playoff, but the Bulldogs have won four straight games and are playing for an automatic postseason spot.
Charleston would match its highest win total since 2012 with a victory Friday.
Mattoon (2-6, 1-5) at Marion (7-1, 4-1)
The Green Wave lost 29-28 in overtime to Lincoln last week, though it was one of their better passing displays of the year. Lincoln erased a 21-13 lead late in the fourth quarter and just one a minute to score the tying touchdown.
Marion is a 5A school and received votes in this week's poll.
Tri-County (4-4, 4-2) at Cerro Gordo/Bement (3-5, 2-4)
Tri-County coach Brian Anderson feels that if his Titans win, they should have enough points. They're assured of having 40. 
Last week, they beat Sangamon Valley/Tri-City 35-7 and led 21-0 after the opening quarter. 
"It would be nice to get off to a good start again," said Anderson. "We'll just worry about that first drive. We'll really focus on either punching it in or getting a three and out."
Tri-County had over 400 yards of total offense last week.
"Four different guys (Dameon Bolton, Lane Bisby, Daniel Drake, and Mitch Pollock) rushed for touchdowns and the defense shut out Sangamon Valley in the second half. Our offensive line kids had a really good night."
A victory could give Tri-County its first playoff berth since 2014, which was also the last time the Titans had five wins or more, going 6-4. 
While the Titans have won four of their last six the Broncos have gone the other way winning only one of their lost five.
"It looks like they are a 4-4 team," Anderson said of the Broncos defense. "They've got a middle linebacker that makes a bunch of tackles. We need to get a hat on him every play."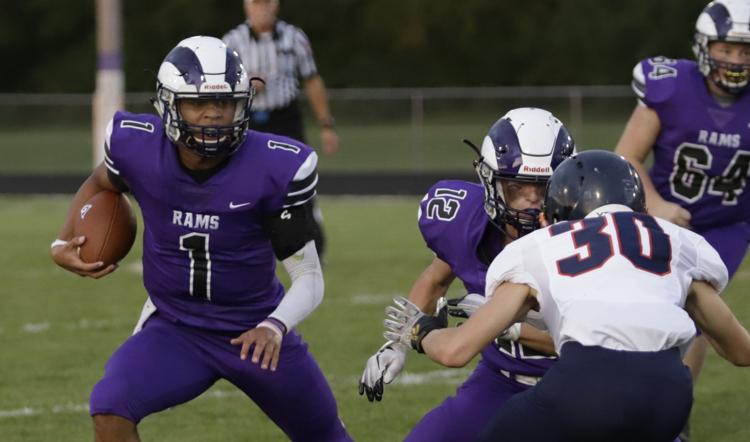 Decatur St. Teresa, No. 5 Class 2A (7-1, 5-1) at Shelbyville (4-4, 3-3)
Shelbyville nearly upset Tuscola last week, 54-48, as Kentrell Beck had 17 carries for 199 yards and two touchdowns and completed 28 of 36 passes for 357 yards and a touchdown. 
Now the Rams face the top defense in the CIC, one that allows just 6.6 points per game. 
The Bulldogs have won three straight by an average score of 49-2, including last Friday's 49-0 win over Warrensburg-Latham, who Rams beat 28-20. 
Arcola (6-2, 5-1), No. 15 in Class 1A at Decatur LSA/Decatur Christian (1-7, 1-5)
Arcola goes for win No. 7 and their fourth straight win against a team that is tied for the lowest offensive average among the Lincoln Prairie Conference teams at 12 and lost to Villa Grove 40-0 last week. The Purple Riders beat the Blue Devils 41-6 in week three. 
The Purple Riders who with a win would improve their playoff seed, have averaged 52.7 points per game during the winning streak, including a 49-13 win over Blue Ridge/Deland-Weldon last Friday. 
The Lions won win was against Blue Ridge 26-6. 
Central A&M (8-0, 6-0), No. 2 Class 1A at Sullivan/Okaw Valley (0-8, 0-6)
Sullivan faces a team coached by Brent Weakly, a former Sullivan assistant coach. The Raiders have the second-best scoring defense in the CIC, allowing an average of 12.1 points per game. 
The Redskins are coming off a 66-38 loss to Clinton. 
Martinsville (2-5) at Oblong/Palestine-Hutsonville (0-8)
A Martinsville win would give them their best record since going 4-5 in 2011. The 2017 team went 2-6 and the 2012 team went 2-7. 
The Bluestreaks were off last week.
The Panthers have struggled offensively averaging 5.3 points per game. 
Contact Mike Monahan at (217)-238-6854. Follow him on Twitter: @monahanmikejgtc