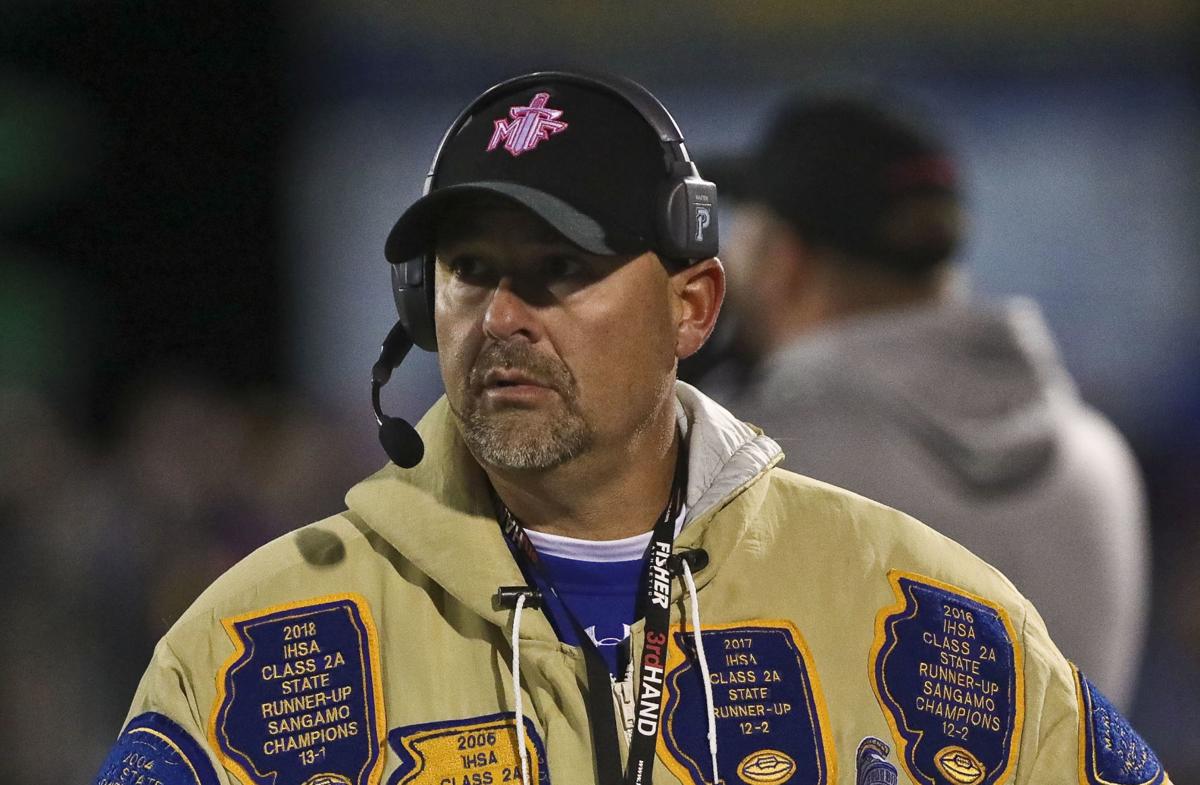 BLOOMINGTON — Illinois Gov. J.B. Pritzker appeared to double down on his stance that high school football, though taking place in neighboring states, won't happen in Illinois this fall.
"I'm not willing to sacrifice people's lives or their health," Pritzker said at a press conference on Tuesday. "Neither the children nor their parents who would be affected also. We are being careful about it but I'm relying on doctors and researchers to give us the information. This isn't a political decision. I know that there are people who would like me simply to make a political decision to allow people to endanger themselves."
That won't stop high school coaches from rallying on Saturday in both Springfield and Chicago in a #LetUsPlay rally. The hour-long rally will begin at 1 p.m. Saturday in front of the Illinois State Capitol Building in Springfield, three hours after the Chicago rally begins at 10 a.m. at the James A. Thompson Center.
"I'm sickened actually right now — I just am," Jostes said. "I just have watched (the press conference). I just don't know. His responses make it very hard for him to sound like he's listening to anybody. I don't feel good about any of our seasons right now after hearing that. … That doesn't leave a lot of room for interpretation."
The flyer began circulating on social media on Sunday night with a pre-written letter with spaces for personal information to be filled in and sent to local state representatives ahead of the rally. Jostes has been a proponent of playing football as soon as possible, though he notes the rally isn't simply about the immediate return of football.
"The hope was that sports were going to have a chance to return, whether that was the fall season or whatever," Jostes said. "Our data shows there is not a spike among other schools and states and he just made it pretty clear he doesn't care. I'm not sure that we accomplish anything right now. I just watched the press conference — unbelievable."
It's not for any particular sport, said Sacred Heart-Griffin High School athletic director and football coach Ken Leonard, who was instrumental in organizing the Springfield rally. 
"With every state surrounding us doing it and doing it safely and proving that it's safe, I think there's a lot more damage being done to the kids mentally," Leonard told the Springfield State-Journal Register. "You only go through high school once. This is for the kids. They talk about safety. This is all about the kids' safety because we're harming them by not allowing them to participate."
Similar rallies have taken place in other states, including Michigan and Connecticut. Michigan reversed course and will allow football as well as other fall sports to proceed this month, but Connecticut appears to have upheld its decision to not allow fall football after a meeting with state officials Friday.
"There have been no discussions, let alone proposed timelines, for resuming any sports at this time," IHSA Executive Director Craig Anderson said in a statement. "Should our office receive a positive response from government officials, it could result in the IHSA reexamining its previously released season schedules, as well as postseason schedules, for the 2020-21 school year.
"It is important to note that, under the leadership of Governor Pritzker, Illinois has attained one of the lowest COVID-19 infection rates in the country. Additionally, several surrounding states have successfully conducted sports categorized as medium and high risk here in Illinois, and we believe sports and activities are safest when conducted under the IHSA safety protocols by school personnel. Those combined factors led us to issue this letter, and we will respectfully await response to it."
Illinois reported a seven-day statewide positivity rate of 3.6% on Tuesday. According to Johns Hopkins University of Medicine, Iowa has a rate of 13.6%, Indiana is 6.1%, Missouri is 10.7%, Wisconsin is 15.5%, Tennessee is 6.2% and Kentucky is 3.3%.
"We have the lowest positivity rate in the Midwest," Pritzker said. "Still too high. The states you are talking about all have very high positivity rates. Double-digit positivity rates in most. Those are states, fine, if they decided to endanger children and families in those states by allowing certain contact sports to take place that is their decision. It's not something that is good for the families and the children of Illinois."
Jostes isn't one to simply pack it in and give up.
"I will still move along and help and fight for kids in anyway that is possible," he said. "It'd be great if you had somebody who was willing to listen to that. ... His comments from (Tuesday) seem to leave very little room for wiggle or even interpretation for the IHSA to even have a chance to take back over or lead anything."
The Springfield State-Journal Register Contributed to this report.
---
PHOTOS: 35 high school football photos from the archives
🏈 Recognize anyone? 35 high school football photos from the Herald & Review archives
Contact Joey Wagner at (217) 421-6970. Follow him on Twitter: @mrwagner25
Get in the game with our Prep Sports Newsletter
Sent weekly directly to your inbox!